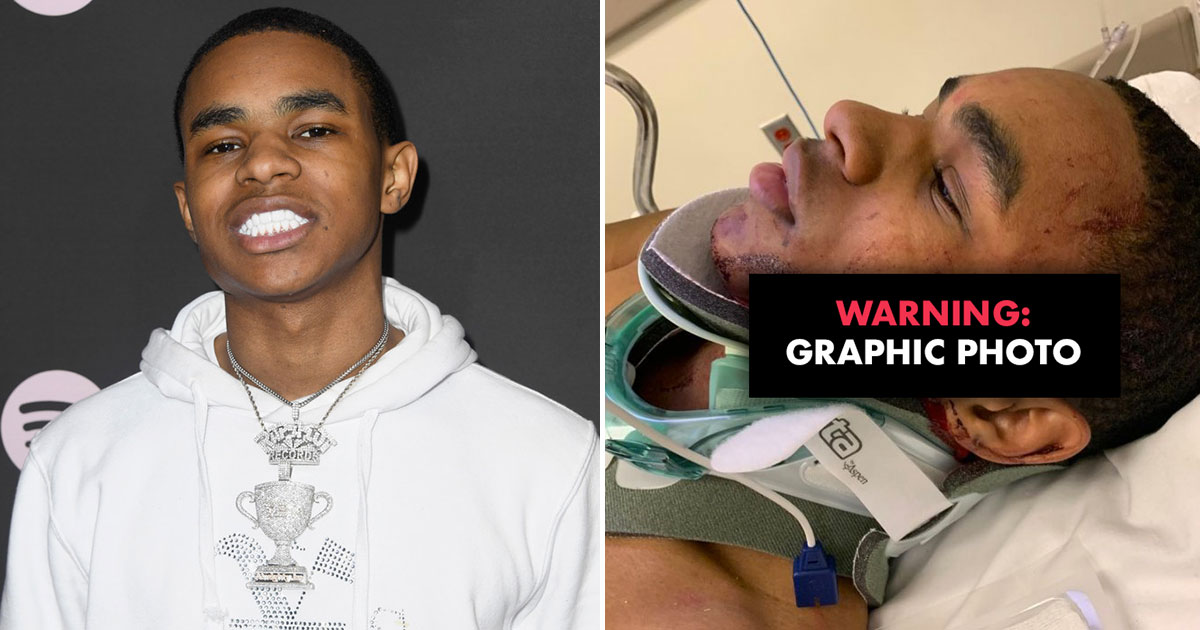 YBN Almighty Jay is on a long road to recovery after being violently attacked in New York City.
TMZ reports that the rapper has been released from the hospital and is now at home recuperating after the assault, which was captured on video.
YBN was hospitalized over the weekend for injuries he sustained after getting into two separate incidents with apparently the same group of people.
According to reports, the first brawl happened outside of a Saks Fifth Ave. in Manhattan.
Jay was reportedly shopping with friends when another up-and-coming rapper Lil Tjay, walked into the store with his crew. Witnesses said both sides exchanged words and then things quickly turned physical.
The fight eventually spilled out into the street, and later, when Jay was separated from his boys, he was jumped by members of the opposing crew in the lobby of a residential building in Manhattan.
Jay tried to run, but was eventually caught by his attackers, and you can clearly see in the video footage someone kicking him in the head and someone else kicking him in the back.
He ended up with serious head and face wounds after being stabbed several times with a blade and hit over the head with a Hennessy bottle, according to TMZ.
YBN's face was reportedly sliced up so bad that doctors had to use more than 300 stitches to close the wound.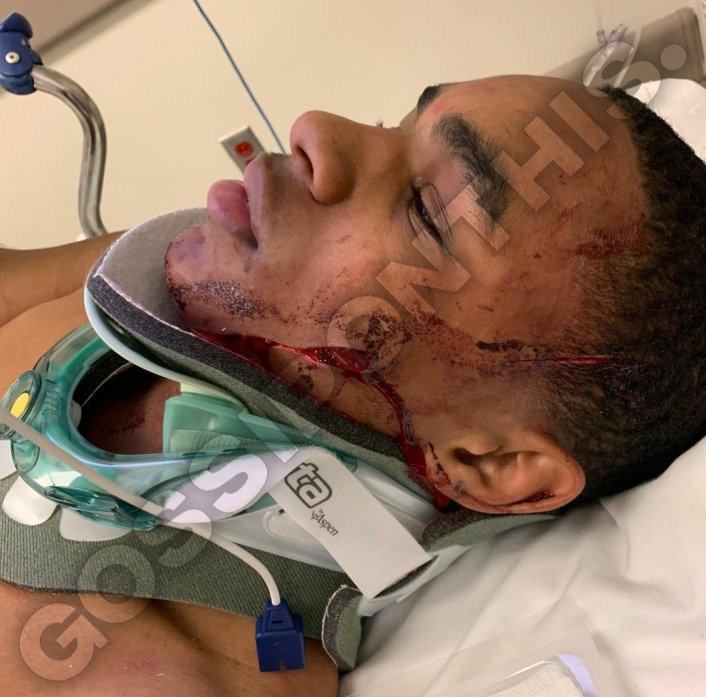 According to MTO News, the wound was so deep that the doctors had to use something called two layer suturing, which involves stitching the wound internally before suturing at the surface.
Jay's people said scarring should be very minimal because the surgery was done by a special plastic surgeon who is familiar with Black skin, MTO News reported.
Police said they responded to a call about a fight in the lobby of a hotel around 12:30 a.m. Saturday, and when they arrived on the scene, Jay was bleeding from the face. The rapper was then rushed to the hospital and treated for his injuries.
Jay initially reported the incident to police, but became uncooperative when they tried to interview him. A large number of eyewitnesses also refused to talk to police.
YBN Almighty Jay's alleged attackers proudly show off the chain they stole from him in a new music video from rapper Zae Numbafive, who was a part of the crew who attacked Almighty Jay and the man J. Prince is accusing of carrying out the robbery.
https://www.instagram.com/p/Bu4JC6shpoT/
The video was released right after J. Prince called on his "mob ties" (via Instagram) to enact revenge on "Zae and His Crew."
"Mob Ties Call To My Real Street N***as Around The World But Especially On The East Coast In The Bronx," Prince wrote. "There's A Clown By The Name Of Zae And His Crew Who Want To Become Famous By Bragging About Robbing Rap Industry N***as. They Recently Bragged About Robbing The Artist YBN Almighty Jay Whom I'm Invested In. They've Robbed Him Of His Money And Jewelry Including A Rap-A-Lot Piece. So Therefore They Have Robbed A Piece Of Me."
He added: "To Ignore This Is A Recipe For Disaster. Other Than That It's These Clowns Vs The Realest N***as In Every Hood Around The World And That's The Meaning Of Mob Ties. "
Prince went on to tag a number of Bronx artists such as Cardi B, Remy Ma, Fat Joe, Swizz Beatz, Cory Gunz, A Boogie wit da Hoodie, and others.
Hocus Pocus, one of the rappers tagged in J. Prince's post, is the only person who has publicly responded to the post so far.
"First I wanna start by saying I respect everything you did for the culture and I respect you as a god father of hiphop and of the streets @jprincerespect … Your name has always been A1 in these streets… and I tilt my hat to you for that," Hocus wrote on Instagram, "but Since you said to ignore this is a recipe for disaster and I was tagged in your post I have to tell you that I'm SEX MONEY MURDER my n***a and we don't give it up like this."
Hocus continued on, saying: " I don't do this internet sh*t… IDK who told you to tag me but I'm a street n***a for real! Had you hit me up personally through DM or by other means privately I would have made some calls to see what I could do because I respect u as a real OG but you went to social media and even said the person name who allegedly robbed him… I don't want my name publicly attached to a public robbery.."
https://www.instagram.com/p/Bu5XvDUgLXt/
Be the first to receive breaking news alerts and more stories like this by subscribing to our mailing list.