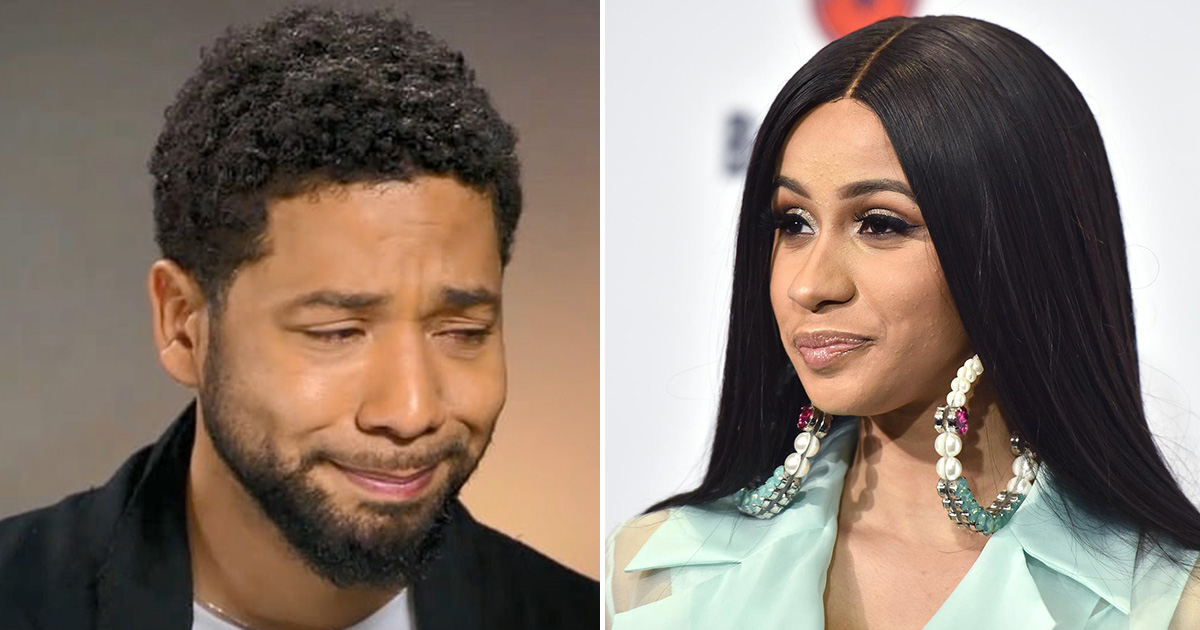 Cardi B says she's "really disappointed in Jussie Smollett" because she feels like "he f**ked up Black History month."
On January 29th, Smollett, who stars on the hit Fox show Empire, told Chicago police that he was assaulted by two masked men who beat him, poured a chemical substance on him, placed a rope around his neck, and shouted at him: "This is MAGA country!" The Chicago Police Department investigated the alleged attack as a "possible hate crime" because Smollett told them that the men screamed racial and homophobic slurs at him.
But in mid-February, which just so happens to be Black History Month, Smollett's story began to unravel as the Chicago PD released more details about the alleged attack. The two men in the alleged assault were apparently friends of Jussie, police said, and they were paid by the actor to stage a hate crime so that Smollett could get a pay raise on Empire.
Cardi B does this thing where she says what everyone is thinking, but doesn't want to say it out loud, and, if Jussie Smollett really did lie to us about being attacked, Cardi pretty much nailed it right on the head with this one.
"I'm really disappointed in Jussie Smollett," she said on Instagram Live last Monday (Feb. 18). "I feel like he f**ked up Black History Month, bro."
Cardi, however, is still holding on to hope that Jussie is somehow telling the truth and he's simply being framed as a liar by Chicago police.
"Like, damn. I'm not gonna say, yet. Until he say it out his mouth that it was fake and the sh*t was staged, I don't want to completely blame him, because somebody I was talking to they said police in Chicago are racists," she said. "So they might probably try to frame him and make him look like he's a liar. But if he's not, then bro you f**ked up, for real."
"Like, why would you do that?" the Grammy Award winner asked. "Then you give f**king Donald Trump immunity to laugh at n***as and sh*t, to make motherf**kas look bad. This sh*t crazy, girl."
Jussie Smollett, for his part, has maintained his initial story and even referred to himself as the "Gay Tupac" when he addressed a crowd at a concert following the incident.
He was arrested on Thursday (Feb. 21) and spent a few hours in Cook County Jail before paying $10,000 bond on a $100K bail to be released.
After leaving jail, he went straight to the Chicago set of Empire where he was met with a group of angry cast and crew members who later told producers that they didn't want him a part of the show anymore.
Fox announced last week that Smollett's character had been written out of the final two episodes of the current season, and there are reports that he could possibly be replaced by a new actor next season. Empire is currently in its fifth season, which comes back from hiatus on Wednesday, March 13th.
Be the first to receive breaking news alerts and more stories like this by subscribing to our mailing list.