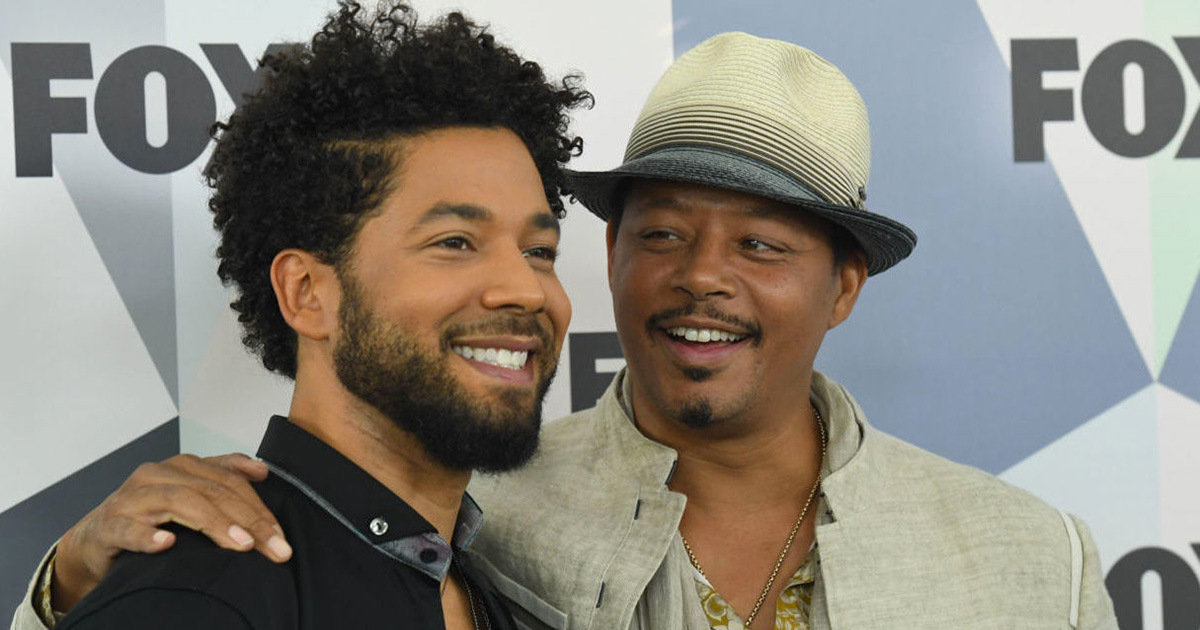 In public, Terrence Howard is the biggest supporter in Jussie Smollett's corner. Behind the scenes, however, is a totally different story.
TMZ reports that Howard had a "complete meltdown" Thursday (Feb. 21) on the set of Empire after Smollett's arrest for felony disorderly conduct for allegedly lying to police about being attacked by white Trump supporters. Sources told the gossip that the Empire set was a "complete disaster" due to the day's events.
Terrence was reportedly so pissed at Jussie that he locked himself in his trailer for most of the day.
A source close to Howard told TMZ that he never believe Jussie's story from the beginning because the sequence of events never added up to him. In the days and weeks leading up to Jussie's arrest, Terrence would periodically grill his TV son as holes in his story began to emerge.
Tensions reportedly "boiled over" after Abel and Ola Osundairo, the two Nigeran brothers who allegedly helped Jussie stage the attack, were detained by police on Friday, February 15th. After Jussie's arrest the following week on the 21st, Terrence confronted Jussie again, this time screaming at him to tell the truth.
Further showing that he isn't here for Jussie's alleged shenanigans, Terrence was nowhere to be found Thursday night when Jussie addressed everyone on set and apologized for tying them up in this mess.
"I'm sorry I've put you all through this," Jussie said, according to TMZ. "I wanted to say I'm sorry and, you know me, I would never do this to any of you, you are my family. I swear to God, I did not do this."
Apparently, Terrence Howard isn't alone in his feelings either. TMZ reported on Friday (Feb. 22) that several of Jussie's castmates were "f**king furious" with him and want him either replaced or written out of the show.
The reason why they're so pissed with him is that everyone on set (cast and crew alike) had Jussie's back after the "attack." But when Chicago police revealed new evidence suggesting that Jussie and the Nigerian brothers staged the whole thing, many of them felt hurt and embarrassed because they were really riding for him and he (allegedly) betrayed them.
There are, however, some cast and crew members who believe Jussie's telling the truth because they refuse to believe he would pull off a hoax like this.
But, unfortunately for Jussie, the ones who don't believe him far outweigh those who do, and producers ultimately decided to have him written out of the last two episodes of Season 5. There are also rumors that he could possibly be replaced next season.
It's interesting … because just this past Saturday (Feb. 23), Terrence Howard posted a throwback video on Instagram of his TV son playing with his real-life son Hero. Jussie and Hero are on a private plane as Hero breaks into giggles after Jussie tickles him.
"All your lil homies got you…We love the hell outta you," Howard wrote in the caption along with a heart emoji at the end.
Howard also fired back at a fan who criticized him for supporting Smollett.
"Sorry you feel that way but that's the only Jussie I know," he commented. "The Jussie I know could never even conceive of something so unconscious and ugly. His innocence or judgment is not for any of us to decide. Stay in your lane and my lane is empathy and love and compassion for someone I've called my son for 5 years. It's God's job to judge and it's ours to love and hope, especially for those that we claim to have loved. There's nothing more harmful than a fake friend! Real talk."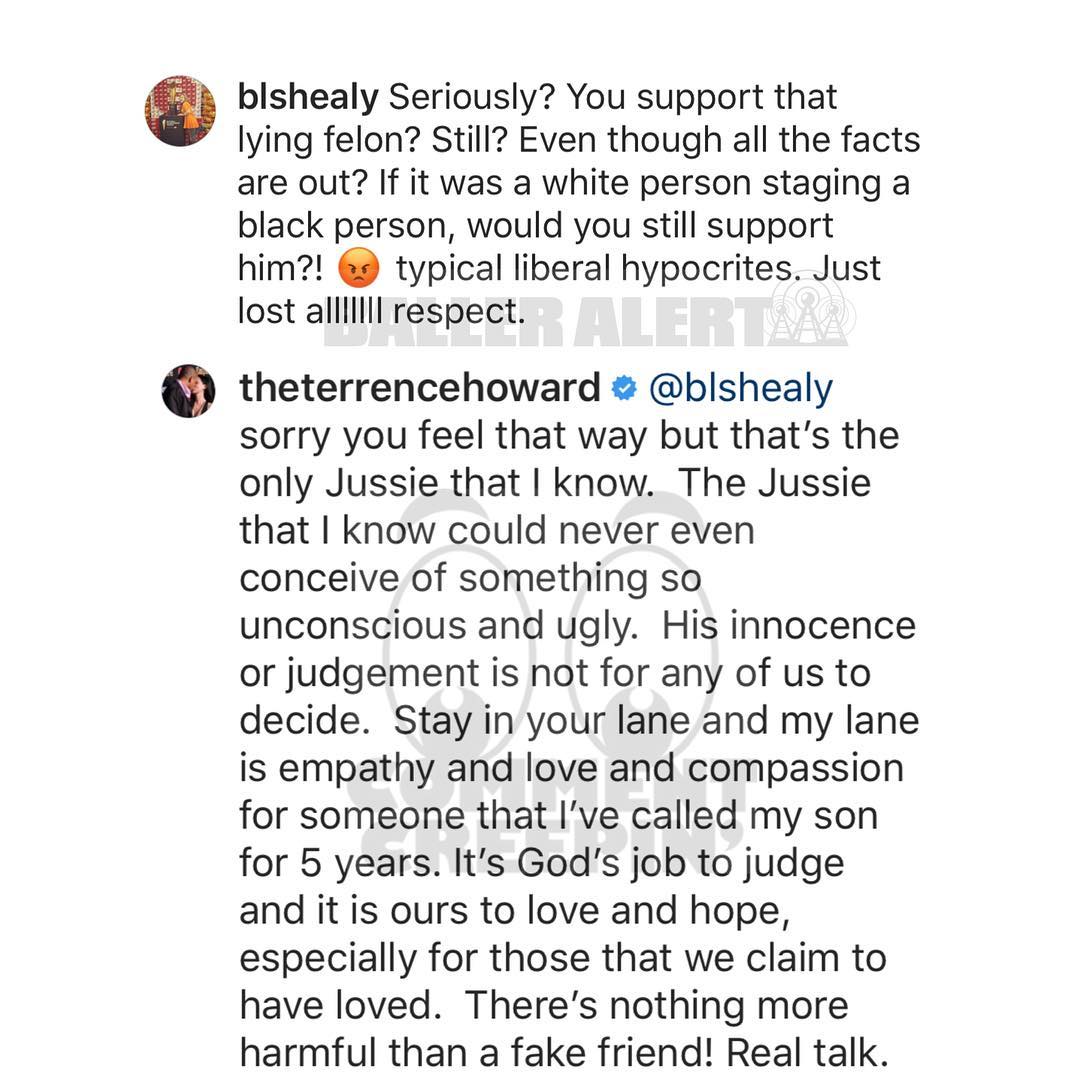 This is a stark contrast to what reportedly happened Thursday on set, but it has been a few days since then, so maybe Terrence and Jussie had a come to Jesus moment and are back on good terms (for now).
Meanwhile, the FBI is disputing the Chicago Police Department's narrative of events.
Chicago PD said Jussie sent a threatening letter to himself before allegedly staging the attack. But the feds say they have no idea who wrote the letter because they're still investigating.
Jussie also said the $3,500 check he wrote to Abel Osundairo Chicago police said was payment for the attack was actually for training.
Be the first to receive breaking news alerts and more stories like this by subscribing to our mailing list.