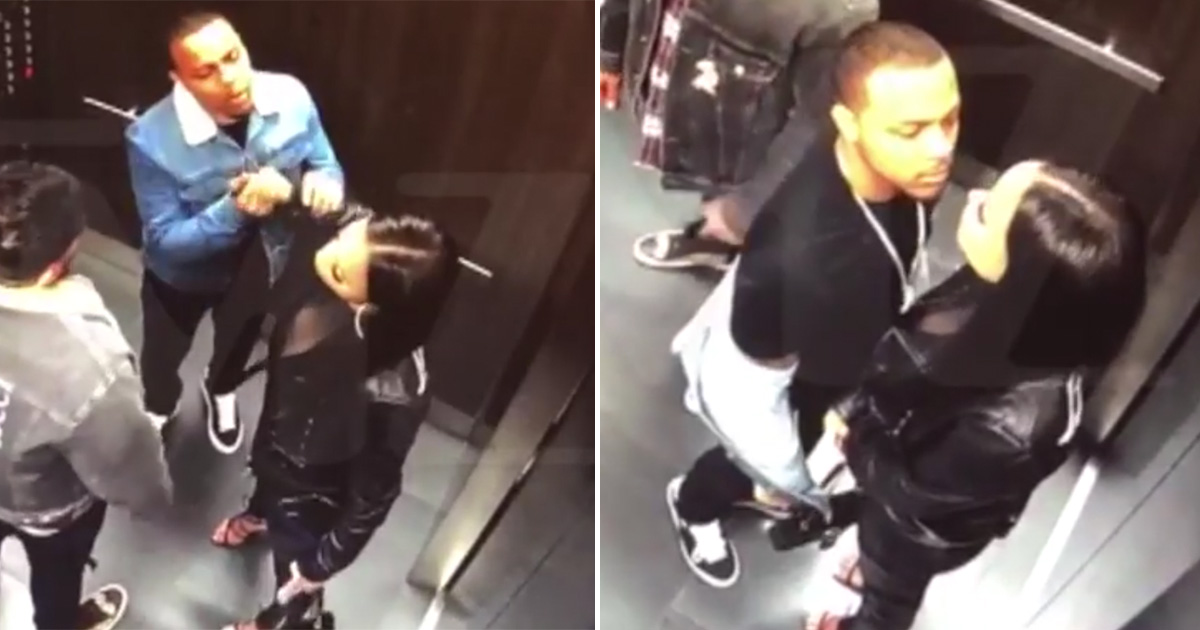 Throughout this whole domestic assault situation between Bow Wow and his girlfriend Kiyomi Leslie, Bow has been painting himself as the victim.
However, new footage may show that he's the one who actually started the fight that landed the both of them behind bars during Super Bowl weekend in Atlanta.
Surveillance video obtained by TMZ shows a tense moment between Bow and Kiyomi (real name: Leslie Holden) in an elevator prior to the knock down drag out brawl in which they both were arrested and charged with misdemeanor battery.
Bow Wow (real name: Shad Moss) is clearly pissed with Holden, as he's seen in the footage snatching something out of her hand and verbally accosting her. Moss then paces around the elevator before eventually taking his jacket off and getting all up in Holden's face.
There's no audio, so you can't hear the words coming out of his mouth, but it doesn't look like he's saying nice things. His overall demeanor at this point is pretty aggressive.
The clip ends with Moss, Leslie and a third person in the elevator with them walking away.
Not long after that, a physical altercation ensued, police were called and Bow and Kiyomi were both hauled off to the Fulton County Jail in handcuffs. They both were released the same day on $8,000 bond.
Kiyomi reportedly told police the fight started because Bow caught her talking to another man at a party. Bow corroborated her story, but said that Kiyomi called him a "bitch ass n***a."
Leslie reportedly called 911 after the physical altercation claiming that Bow Wow hit her several times, took her phone and wouldn't let her leave.
The apartment building's manager also called 911, TMZ reported, claiming that a resident had complained about the fight and allegedly heard a male voice saying he would "slap the f**k out of this bitch."
Bow Wow submitted images to TMZ showing the physical damage he sustained at the hands of Kiyomi, including deep scratches on his face and bite marks on his body.
It's interesting because Bow Wow has maintained that Kiyomi was the aggressor throughout the altercation, and while he does appear to have more visible injuries, the elevator video shows that he may not be as innocent as he claims.
Be the first to receive breaking news alerts and more stories like this by subscribing to our mailing list.