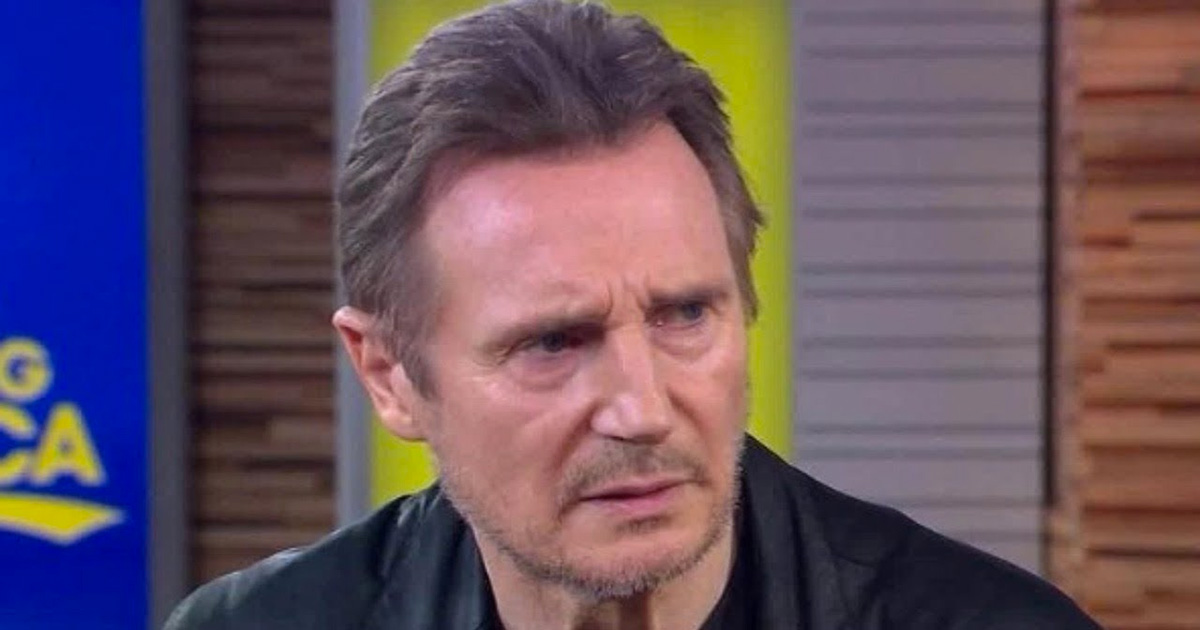 On Tuesday morning (Feb. 5), Liam Neeson—the actor best known for playing the same role in every movie—appeared on Good Morning America to clear up allegations that he's stone-cold racist.
The day before, the UK's Independent published an interview with the actor in which he revealed he had once roamed the streets for an entire week searching for a random "black bastard" to kill after a close friend of his was allegedly raped by a black man.
This somehow related to his role in the new movie Cold Pursuit where he plays a father seeking revenge (YOU SEE! THE SAME DAMN ROLE EVERY MOVIE!) after his son is murdered by a drug lord's gang.
It was some time ago. Neeson had just come back from overseas to find out about the rape. "She handled the situation of the rape in the most extraordinary way," Neeson says. "But my immediate reaction was…" There's a pause. "I asked, did she know who it was? No. What colour were they? She said it was a black person.

"I went up and down areas with a cosh, hoping I'd be approached by somebody—I'm ashamed to say that—and I did it for maybe a week, hoping some [Neeson gestures air quotes with his fingers] 'black bastard' would come out of a pub and have a go at me about something, you know? So that I could," another pause, "kill him."
To be fair, Neeson admitted he was disgusted by that impulse, which he said lasted for nearly two weeks. "It was horrible, horrible, when I think back, that I did that," he said. "And I've never admitted that, and I'm saying it to a journalist. God forbid."
He added: "It's awful. But I did learn a lesson from it, when I eventually thought, 'What the fuck are you doing,' you know? I understand that need for revenge, but it just leads to more revenge, to more killing and more killing."
YIKES.
Needless to say, once this interview went viral, Neeson was called out all over the internet for being a racist.
But while on Good Morning America, the 66-year-old actor made it clear to Robin Roberts that he is "not racist." In fact, he said that if his friend had said her attacker was white, he would have looked for someone who fit that description.
"If she had said an Irish, or a Scot, or a Brit or a Lithuanian, I know I would've had the same effect. I was trying to show honor to (and) stand up for my dear friend in this terrible, medieval fashion," he said.
"I'm a fairly intelligent guy," he added. "That's why it kind of shocked me when I came down to Earth after these horrible feelings. Luckily, no violence occurred ever, thanks be to God."
Meanwhile, folks on social media aren't buying this whole "I'm not racist" thing Liam Neeson is trying to sell:
Liam Neeson made it worse. What an awful interview

— Boney Bad Boy Rivers (@JHenryProject) February 5, 2019
I think Liam Neeson took that GMA interview to try to damage control his comments but uhhh he dug himself a deeper hole

— Jonathan Giello (@giello_shots) February 5, 2019
MAGA Man Brady got his 6th ring. Liam Neeson wanting to kill niggas. Virginia going Virginia.

This Black History Month is looking ROUGH, jack.

— Phonte (@phontigallo) February 6, 2019
If Liam Neeson's close friend had confided about being raped by a white man, would he have gone out for a week looking for a random "white bastard" to kill?

No.

All white ppl are not held responsible for the crimes of other white ppl.

— Aisha Sultan (@AishaS) February 6, 2019
#LiamNeeson is a racist and he knows and I know it.

— Larry Hoskins (@petejohnson1952) February 6, 2019
Let's put all these Virginia blackface politicians in a room with Liam Neeson and let this thing sort itself out

— Robby Slowik (@RobbySlowik) February 6, 2019
These Virginia politicians should consider themselves lucky that Liam Neeson wasn't out hunting the night they played dress up.

— Jesse Kelly (@JesseKellyDC) February 6, 2019
Neeson: I'm a successful actor with a new movie coming out and not one person wants to dig into my past to ruin my career?

Everyone: nah you're good

Liam Neeson: *sighs in Irish* pic.twitter.com/uzG6wH1RAM

— Michael (@ChocolateThund9) February 6, 2019
Be the first to receive breaking news alerts and more stories like this by subscribing to our mailing list.