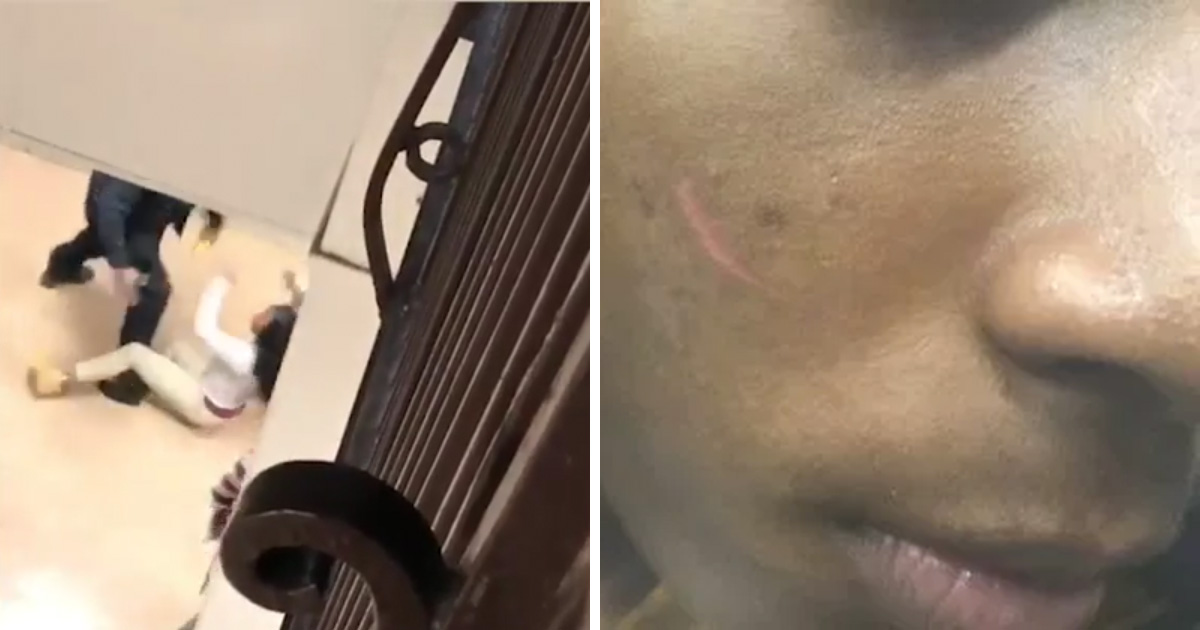 Three Chicago police officers seen on video punching and tasing a 16-year-old female student at a school in the city's West Side have been barred from returning to the campus until an investigation is completed, a Chicago Schools spokesperson announced.
The disturbing video footage, taken at Marshall High School, shows three officers subduing Dnigma Howard, a black student, by repeatedly using a stun gun on her and striking her with a closed fist.
According to reports, Cook County prosecutors said the officers were called to escort Howard off the school's premises after she was suspended the morning of Tuesday, January 29th, 2019 after she got into an argument with the assistant principal and apparently began flipping over desks in a classroom.
When Howard reportedly refused to leave the building, the officers said she kicked, bit and spit on them, and eventually caused the three of them to fall down a flight of stairs. The teen and the arresting officers were taken to two different hospitals following the confrontation to be treated for their injuries.
Dnigma's account of what happened, however, is completely different from the story police told Cook County prosecutors.
The teen told the Chicago Sun-Times that she wasn't asked to leave the building before officers grabbed her. And though she admitted to biting a female officer's hand (the same officer she said struck her several times), Dnigma said she and an officer fell after she was pushed by one of the cops, and she grabbed the officer's vest as she was tumbling down the stairs.
Dnigma's father, Laurentio Howard, was called to the school and he recorded the end of the altercation.
"The police officer tried to push her down the stairs, so she grabbed the police officer by the vest," Mr. Howard told ABC 7 Chicago. "She was basically defending herself."
Howard said he wanted to protect his daughter, but feared he would be shot.
"It was devastating, I couldn't believe what was going on," Mr. Howard said. "I was thinking, 'If I jump in they're going to shoot me. And if I don't jump in, they're going to hurt my daughter really bad.'"
Mr. Howard acknowledged that his daughter has a history of behavioral problems, but he blamed the school for not following proper protocol.
"They're supposed to allow her to talk to her counselor when she asks, but when she asked, they told her he was in a meeting and she couldn't talk to him," Howard told the Sun-Times. "Maybe she didn't know, but the school should have made that known."
The incident has rekindled the discussion over what role, if any, police should play on K-12 campuses.
"I think it really just shows that officers like that shouldn't be in a school," Dnigma's father said. "It was embarrassing," Mr. Howard said of the incident. "[Other students] were watching."
As far as the use of the taser is concerned, Chicago Public Schools have "no specific policy on the use of stun guns" on students, the Sun-Times reported:
A general guideline on Taser use recommends de-escalation by the officer, but allows officers to use a stun gun against "an active resistor or assailant, and only for the purpose of gaining control of and restraining the subject."
Chicago Public Schools (CPS) says they're looking into the situation, but as of now, it isn't clear if and how the officers have been disciplined.
"CPS strives to create safe and supportive learning environments for all students, and this disturbing incident has absolutely no place in our schools," district spokesman Michael Passman said in a statement. "To ensure a thorough review of this situation is conducted, we are asking the district's Office of the Inspector General to review the matter and we will fully support the ongoing investigation by the City's Civilian Office of Police Accountability."
As for Dnigma Howard, she's been charged with two felony counts of aggravated battery to a peace officer and two misdemeanor counts of resisting and obstructing a peace officer.
The teen appeared in juvenile court on Friday, February 1st and she was sentenced to home confinement until her next court date on February 19th, her father said. She was also banned from the Marshall High School campus.
Cook County Juvenile Court Judge Linda Pauel declined to put Dnigma in juvenile detention, citing her lack of a criminal background.
Be the first to receive breaking news alerts and more stories like this by subscribing to our mailing list.