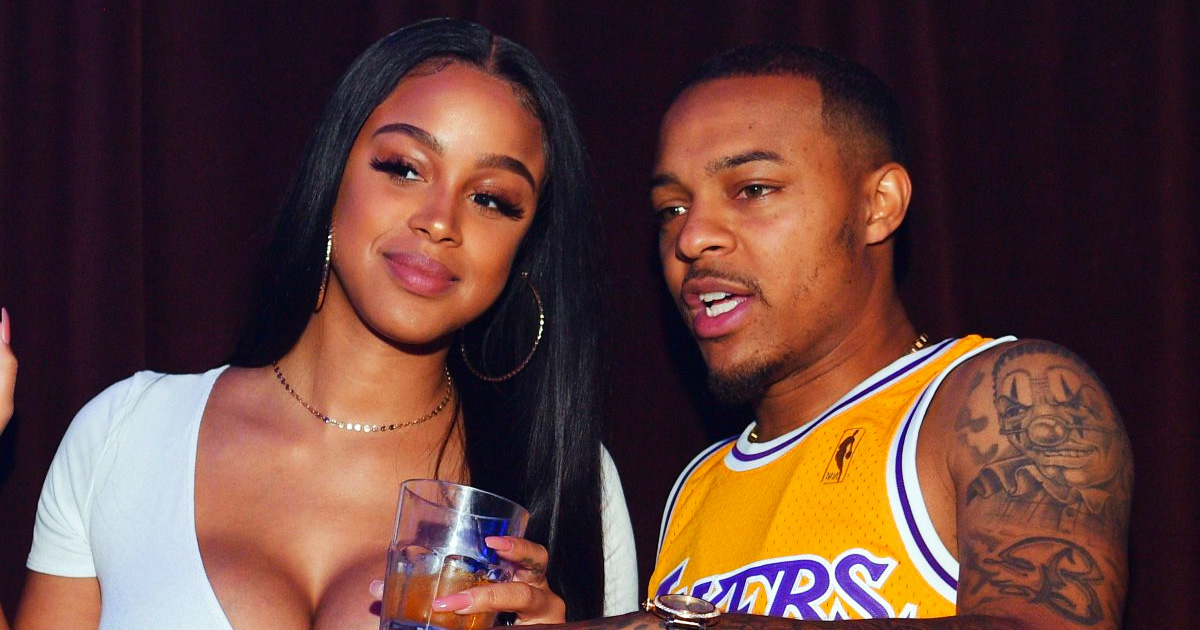 The fight that resulted in both Bow Wow and his on-and-off girlfriend Kiyomi Leslie getting arrested and spending some hours in jail was reportedly the result of an argument that started because he caught her talking to another man at a party.
This past weekend, Super Bowl LIII was hosted in Atlanta, and, needless to say, the party scene was pretty heavy. Bow and Leslie attended a number of events together, but after one particular event, hosted Friday night (Feb. 1), the pair got into a huge argument.
Leslie, who appears on Growing Up Hip Hop Atlanta along with Bow Wow (a starring cast member on the show), claims the rapper/actor wasn't too pleased with her talking to another man at the party, and went off on her about it when they got home early Saturday morning.
TMZ obtained a copy of the police report, which stated that Leslie claimed Bow Wow hit her in the head, pulled her by her hair, dragged her from her bedroom and told her to get out of his house.
Bow Wow, for his part, admitted to being pissed about "the other guy" and told cops that she "disrespected him" by hanging "all over another man's body." He also claimed Leslie called him a "b**ch a** n***a" at one point during their altercation.
As far as him telling Kiyomi to leave his home, Bow also admitted to that, but says he didn't do any of the physical violence she's accusing him of. He said he simply placed her bags by the door, and that's when she attacked him.
Bow said Leslie "grabbed a nightstand lamp and threw it at him," but she missed." She then proceeded to scratch his face, TMZ reported, the results of which can be seen in his viral mugshot.
A responding officer said he noticed a lamp on the ground when he walked into the bedroom, and cops observed marks on Leslie's fingers and broken fingernails, which is nothing compared to Bow Wow's injuries.
Because officers couldn't determine who was the aggressor (though Bow Wow's people say Kiyomi started the fight and was the aggressor), they were both arrested and booked on battery charges. They both eventually bonded out on $8,000 bond.
For what it's worth, Leslie said she broke three ribs during the brawl, according to TMZ.
Meanwhile, Bow Wow's team says that the rapper wasn't the instigator in the fight. On Saturday, his lawyer released the following statement to the media calling Kyimo (real name: Leslie Holden) an "out of control intoxicated female."
"Shad Bow Wow Moss was wrongfully arrested for the first time after being beaten by an out of control intoxicated female, Ms. Leslie Holden, in an Atlanta condominium," the statement from the rapper's lawyer. "The only two independent witnesses both corroborated his version of events indicating that Ms. Holden was simply out of control and was without a doubt the primary aggressor."
The statement continued: "For no logical reason officers arrested both parties despite having clear-cut evidence that Bow Wow was the victim in the case. Ms. Holden beat him with a lamp, bit him on his side, and spit on him while Bow Wow continually made efforts to avoid her. Bow Wow suffered multiple injuries, some of which are visible in his mugshot. Ms. Holden's mugshot on the other hand speaks for itself, despite her allegation to police that she broke a fingernail."