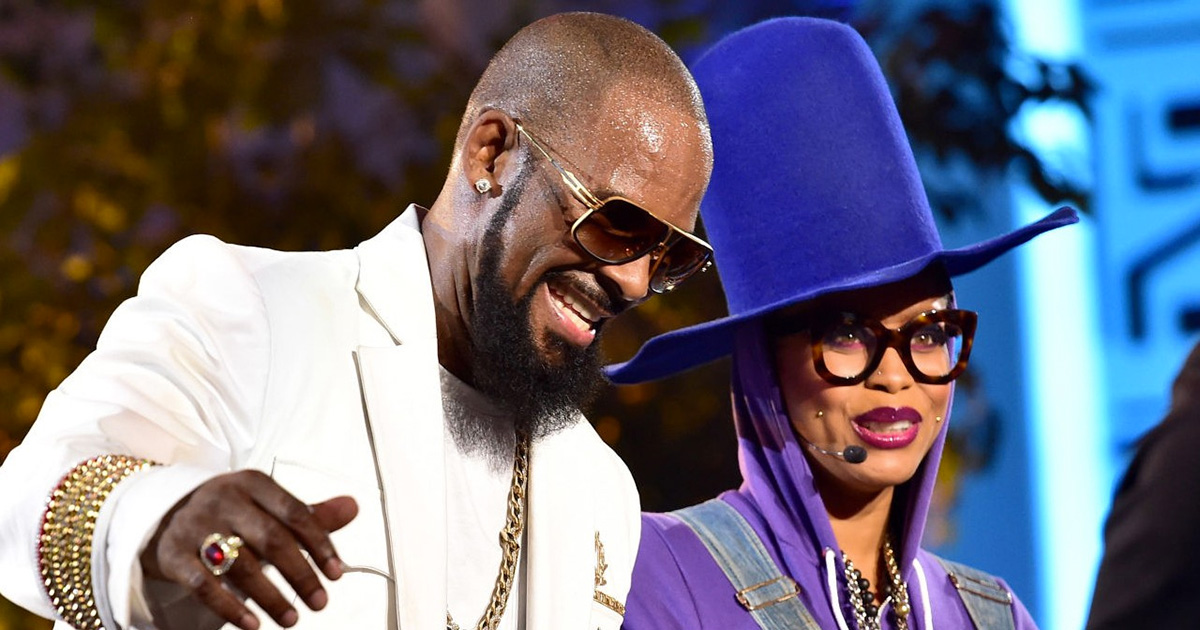 Erykah Badu's recent public support of R. Kelly, which is probably as problematic as problematic can be at this point, has drawn the ire of Black Twitter, and her cancellation papers are being filed as we speak.
In the aftermath of Lifetime's "Surviving R. Kelly," which details several allegations of sexual abuse and misconduct against him, Erykah Badu used her platform to criticize the public outcry of the R&B singer-songwriter.
Badu was performing a concert in Chicago (of all places) when she decided to take a moment and give a shout-out to her boy, R. Kelly.
According to one concertgoer (via the Independent), Badu said: "What if one of the people who was assaulted by R Kelly becomes an offender? We gonna crucify them too?"
Another concertgoer claimed on Twitter that Badu to the crowd to "keep [their] opinion to [themselves]."
As seen in the video below, she also said: "I'm putting up a prayer right now for R. I hope he sees the light of day and if he done all those things we heard on TV […] I hope he sees the light of day and he comes forward."
https://www.instagram.com/p/Bs3RNwmlvI8/
Earlier this month, producers for "Surviving R. Kelly," revealed that Badu was among many artists who turned down the opportunity to appear on the six-episode docu-series.
Though many of Kelly's former collaborators have since denounced their work associated with him over his alleged behavior, Erykah Badu wants the world to know that she still "loves" the singer, despite the allegations.
Needless to say… The crowd wasn't trying to hear all that noise, and they reportedly boo'd her. And when the video hit social media, Black Twitter went off.
We have to truly watch out for celebrities like @fatbellybella sis went from telling us children are responsible for the sexualization of their clothing and is now blatantly telling us she's going to love her rapist friend regardless

— TJ (@indigotawn) January 20, 2019
Erykah Badu came to Chicago and told us all she finna love R Kelly anyway & we can keep our opinion to ourselves. Mad disrespectful to our city and a shitty use of her platform. Crusty ass bitch.

— hot headed yam (@tomapapito) January 20, 2019
Erykah Badu has shown a tendency to throw girls under the bus to defend rapey men. Remember the "little girls need to dress better" to not make grown adults turned on https://t.co/0dZJpySTyQ

— Me (@The_Lion_) January 20, 2019
Erykah Badu saying she still loves R Kelly doesn't shock me. This is the same woman who saw "something good in Hitler"…. ??

— ??Seeester-In-Chief ?? (@TheJessieWoo) January 20, 2019
Woke up to Erykah Badu slander. Decided to look up what the fuss was about. Now I'm like pic.twitter.com/bvoKOZAeen

— Tone Hollywood (@Hollywoodspeaks) January 20, 2019
It hurts me to say this but…

Erykah Badu is CANCELLED ?

She's an R.Kelly supporter ????

— ? ???? ? (@nubianlocz) January 20, 2019
I can't lose Erykah Badu and Gladys in the same week.

— Matty Cowell (@LadyMattress) January 20, 2019
I'm so happy I cancelled Erykah Badu after she said school girls are to blame for their teachers abusing them

— slayoncé (@seluliwe_) January 20, 2019
Let's not forget Erykah Badu was all for victim blaming young girls for grown men not being able to control their fucking eyes. I see exactly why she sides with R Kelly. She been let us knew her thoughts ? pic.twitter.com/UjLGhJDj7A

— 30s L A M E ?? (@majistiii) January 20, 2019
*Sees Erykah Badu trending*
*Clicks on it*
Me: pic.twitter.com/HxONG2ai3V

— Ashtynn (@ThatsSoAshtynn) January 20, 2019
woke up in a world where Cardi B is dragging Tami Lying and Erykah Badu is defending RK. I've never been more proud and ashamed at the same damn time.

— jeezy ? (@welljanelle_) January 20, 2019
Erykah Badu's mindset is the same a lot of older black women have about "these fast ass girls" and why so much incest/assault goes ignored in the black community.

— Sydney Jasmine ?? (@WarnTheWorld) January 20, 2019
"what if one of the people who was assaulted by R Kelly becomes an offender? we gonna crucify them too?" -erykah badu at her chicago concert

— IG: @boydonavin (@boyDonavin) January 20, 2019
Erykah Badu doesn't make music for black women. She makes music for hotep men who think they know what's best for black women. ?

— Highly Critical (@GothicIntellect) January 20, 2019
Idk how many passes Erykah Badu is gonna get, but her goofy ass has to be close to the limit.

— Excelsior! (@Still_Xzav) January 20, 2019
Erykah Badu really don't like black women as she pretends she does.

— Hefty Bag Shawty (@Myrtle_Urkel) January 20, 2019
I really don't want to believe Erykah Badu is sacrificing her music legacy for R. Kelly. I don't. everyone has their ignorance and places that deeply disappoint me, including my favorite artists (and myself), but supporting child predators is such a nefarious thing to do.

— Myles E. Johnson (@hausmuva) January 20, 2019
Y'all gotta stop touting Erykah Badu as some ethereal muva earth bitch. The veil been down. Her thought processes are violent. I feel sorry for her daughters

— thicko mode (@jojobaoilhoney) January 20, 2019
Erykah Badu is proof that if u dress artsy & talk about "vibrations" people will think you're deep, no matter what stupid crap comes out your mouth lol

— Chief ROCKa (@alysSAWRAH) January 20, 2019
I'm finally understanding why so many hotep men who project toxic masculinity look to Erykah Badu cuz sis doesn't speak for women, she speaks for them. She's a false intellectual that's hidden behind ditzy words and chakra crystals.
If you not for black girls, I'm not for you. pic.twitter.com/vcxBII6bfr

— ?Issa Damn Artist ? (@LoneArtistW) January 20, 2019
Erykah Badu is the reason why phrases like "looks can be deceiving" exist. Y'all thought she was the woke queen just because she wear head wraps and hipster teeth. Nah fam, she been a rape apologist bird for a min now.

— Netflix&Chillmonger (@TheThrillmonger) January 20, 2019
Hope R. Kelly was worth Erykah Badu's career. Don't bring you ass back to Detroit with all those tired ass songs. We don't want you no more ?????.

— 30s L A M E ?? (@majistiii) January 20, 2019
Your reminder to unfollow R Kelly and Erykah Badu. Unless you support it

Then let us know so we can unfollow you ??

— George M Johnson (@IamGMJohnson) January 20, 2019
Erykah Badu is ruining her legacy over R Kelly ?! what a fucking joke.

— Yù (@_AndJade) January 20, 2019
Not everyone was against Erykah Badu though; she had a few supporters sprinkled around here and there.
It's real funny how so many people are at the same show but hear things differently. It's blowing my mind how many posts I'm seeing about last night. @fatbellybella didn't defend R. Kelly. Stop cancelling people because the angry mob on twitter says to do so.

— Decay, The Llama (@emceedecay) January 21, 2019
Social media is truly toxic. All of you attacking Erykah Badu for doing the same thing yall was doing BEFORE the Lifetime doc came out. Yall knew R. Kelly was a pedo but continued playing his music. It took a TV show to stop supporting a known pedophile? Yall just as bad as her.

— BEEEN (@Ab2Blue) January 20, 2019
How can you hate on Erykah Badu? What's wrong with y'all? pic.twitter.com/4mKqlUG2sB

— pilot jones ???? (@jennnnvee) January 20, 2019
What do you think about Erykah Badu? Is she canceled or is this a non-issue?
Be the first to receive breaking news alerts and more stories like this by subscribing to our mailing list.