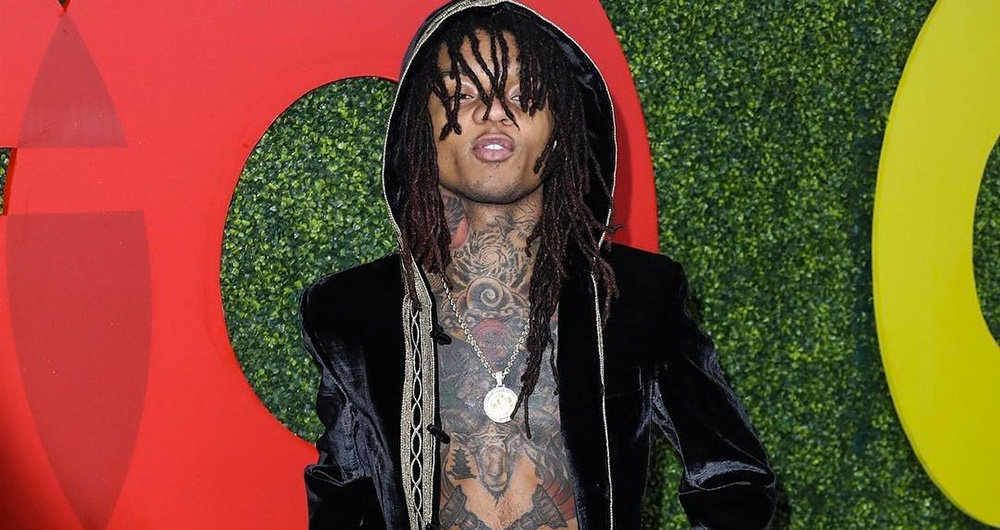 Oops! Swae Lee of Rae Sremmurd was showing fans his new tattoos on Instagram Live Wednesday morning (Dec. 19) when he "accidentally" flashed his penis, which made him a trending topic on Twitter for a few hours.
The video showed the rapper-singer standing naked in a bathroom as he showed off his tattooed body. Seconds later, as he moved the camera towards his lower body, Swae's junk was exposed to the thousands of fans watching his IG Live video.
Of course, screenshots were taken, and the footage immediately surfaced on social media, prompting a wave of jokes and reactions on Twitter.
Once Swae caught wind of the NSFW screengrab, he said the flash was unintentional, and made it clear to those making jokes that he's a grower not a shower.
"I was tryna see my tattoo, accidentally posted," he tweeted. "If you see me in real life you know what's going on. Don't let the camera [angles] make y'all get it twisted. Everything [is] working properly but yes it was an accident."
Hol upppp? Y'all see why #SwaeLee was trending??? |

[MORE] on https://t.co/nl6U4JcRvn pic.twitter.com/O3oJe72xXZ

— Power 106 (@Power106LA) December 19, 2018
Twitter, meanwhile, had a field day with the incident. Peep some of the best/funniest responses below:
swae lee on IG this morning pic.twitter.com/xLjPsIa5pU

— Turner From The Pack (@ttruiett) December 19, 2018
Swae lee accidentally posted his dick pic on Instagram story but it was clearly flaccid so idk why people are saying his dick litttle

— Lol4life (@lol4lfe) December 19, 2018
….. why did i just see Swae Lee's penis? pic.twitter.com/tVbgmX2Ebo

— ? Geeg. (@nxfertiti_) December 19, 2018
When i open Swae lee IG story's pic.twitter.com/qr3s0hrVAJ

— $B (@Ste_Sean) December 19, 2018
Don't watch swae lee's ig story ? pic.twitter.com/pCxpSOwTYA

— ? (@xzemill) December 19, 2018
Swae Lee dropped the biggest 'open for a surprise' type shit on his Instagram story in 2018

— Danial ®? (@dnlhsni) December 19, 2018
*Sees why swae lee is trending* pic.twitter.com/Wyi8F5PGJ3

— Ed boi! (@PurelyAmazin) December 19, 2018
Wake up. Pray. Check ig. Saw #swaelee dick ….it's not even 9am pic.twitter.com/vycxJ0iPku

— Cleopatra (@Cleopatra__Gold) December 19, 2018
Waiting to see if @instagram deactivates Swae Lee's for posting nudity. pic.twitter.com/DTBHjgHEpW

— Kåšhâï Gr?ÿ ? (@KasHIGHH) December 19, 2018
Why they got swae lee dick swinging across the TL pic.twitter.com/bXLbPYn5TX

— XxxTerrorWristxxX (@FrenchiePorter) December 20, 2018
Swae lee when he realized what he posted on his story pic.twitter.com/SYc8mgsNF6

— xavier (@0ll7NK) December 19, 2018
Be the first to receive breaking news alerts and more stories like this by subscribing to our mailing list.