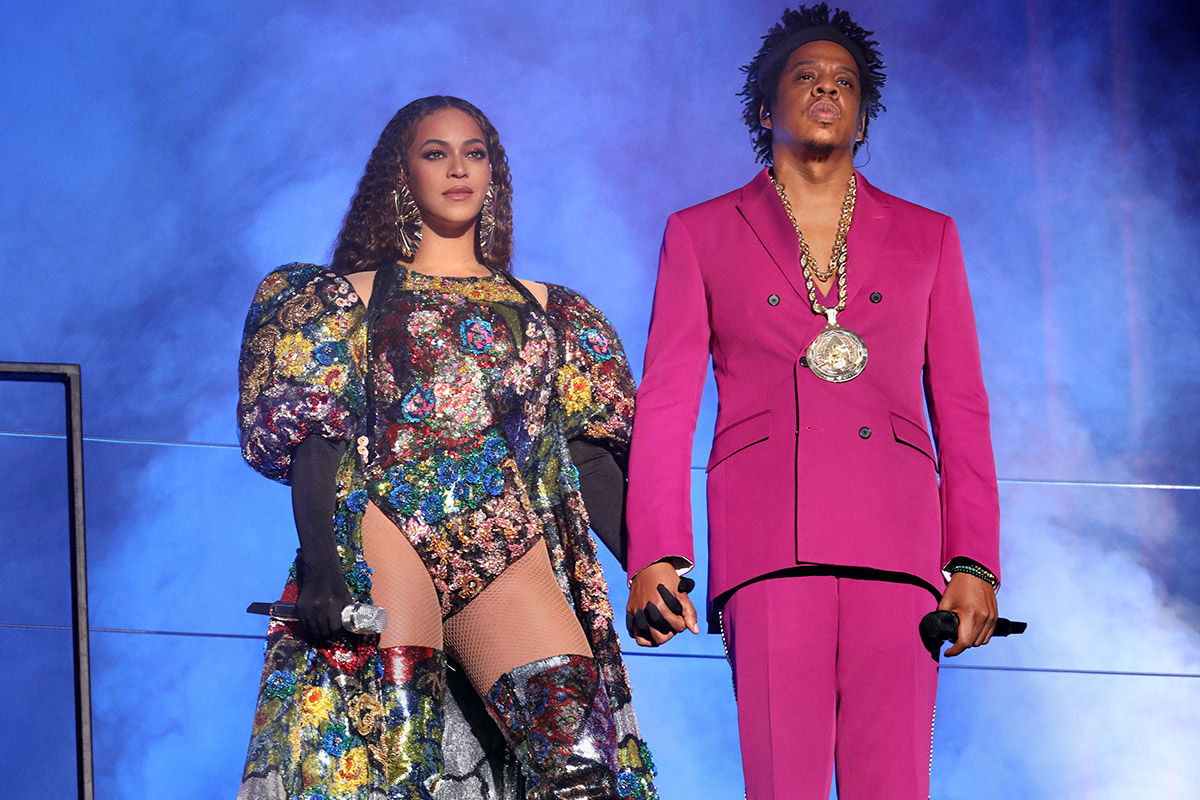 If you've never seen a crowd in South Africa go apesh*t, look no further than Beyoncé and JAY-Z's headlining performance at the 2018 Global Citizen Festival.
This past Sunday (Dec. 2), at approximately 2:45 p.m. EST (9:45 p.m. SAST), the Carters took to the stage for their last concert of the year. After literally killing stadiums all over North America and Europe for their "OTR II" tour, Bey and Jay took their talents to Johannesburg to pay homage to the late great Nelson Mandela in honor of what have been his 100th year alive.
Hip-Hop's royal couple thrilled nearly 100,000 fans following a packed day of performances from American artists such as Usher, Pharrell, Ed Sheeran, as well as local talent like Wizkid, Tiwa Savage, D'banj, Cassper and many others.
Though we only got to see a small portion of their concert (about 30 minutes) because organizers wanted to give the ticketed audience an exclusive experience, concertgoers blessed us with various snippets of the show via social media.
Beyoncé and JAY-Z even invited Pharrell onstage with them to perform "Nice" (which we, unfortunately, weren't able to see in real-time) and later, Bey was joined by Ed Sheeran for their first ever live performance of "Perfect" (which was later included in the broadcast).
Check out the video footage, photos and the setlist below.
VIDEOS:
Jesus Christ. ??#GlobalCitizenFestivalSA #Mandela100 pic.twitter.com/wUB8q3kOuS

— BEYONCÉ LEGION (@BeyLegion) December 2, 2018
Beyoncé, JAY-Z & @Pharrell performing "Nice" tonight. ??#GlobalCitizenFestivalSA #Mandela100 pic.twitter.com/RuiSEV6Yqr

— BEYONCÉ LEGION (@BeyLegion) December 2, 2018
.@Pharrell joins Beyoncé & JAY-Z on stage. ??#GlobalCitizenFestivalSA #Mandela100 pic.twitter.com/F41gg8cbH9

— BEYONCÉ LEGION (@BeyLegion) December 2, 2018
Drunk In Love. ??#GlobalCitizenFestivalSA #Mandela100 pic.twitter.com/e3zoj617Px

— BEYONCÉ LEGION (@BeyLegion) December 3, 2018
This costume. ???#GlobalCitizenFestivalSA #Mandela100 pic.twitter.com/Smho4kAZZB

— BEYONCÉ LEGION (@BeyLegion) December 2, 2018
Formation. ???#GlobalCitizenFestivalSA #Mandela100 pic.twitter.com/Y8iRC5mf7p

— BEYONCÉ LEGION (@BeyLegion) December 2, 2018
Beyoncé brought back Tofo Tofo to slay "Run The World (Girls)" on stage. ???#GlobalCitizenFestivalSA #Mandela100 pic.twitter.com/m4g6SliijQ

— BEYONCÉ LEGION (@BeyLegion) December 3, 2018
PHOTOS:
SETLIST:
01. Holy Grail
02. Part II (On the Run)
03. '03 Bonnie & Clyde
04. Apesh*t
05. Nice f/ Pharrell
06. La-La-La (Excuse Me Again)
07. I Just Wanna Love U (Give It 2 Me) f/ Pharrell
08. Drunk in Love
09. Empire State of Mind
10. XO
11. Perfect Duet
12. Ave Maria
13. Halo
14. No Church in the Wild
15. N***as in Paris
16. Beach Is Better
17. Formation
18. Run the World (Girls)
19. Public Service Announcement
20. The Story of O.J.
21. 713
22. Déjà Vu
23. Show Me What You Got
24. Crazy in Love
25. Freedom
26. Young Forever