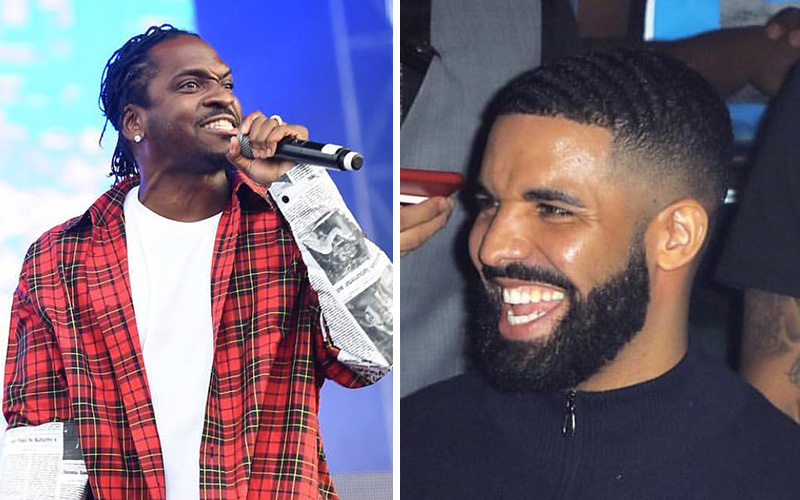 Pusha T performed in Toronto Tuesday night (Nov. 13) at the Danforth Music hall for his "Daytona" tour. While there, he was attacked by concertgoers he later accused of being hired by Drake to sabotage his concert.
During Pusha's set, a group of troublemakers started throwing beer at him while he performed, covering the stage in frothy fluids. In footage captured by audience members and shared on social media, Pusha's team can be seen fighting off stage rushers, forcing them to retreat.
From the looks of it, it seems like the stage rushers were trying to get to Pusha, who was quickly taken backstage amid the commotion.
The guys who threw beer at Pusha T got messed up REAL QUICK pic.twitter.com/rjQmkH5SGt
(via @The_NRNN)

— Complex (@Complex) November 21, 2018
@Drake GOONS TRY TO ATTACK @PUSHA_T ??. Everyone tag @6ixbuzztv @WORLDSTAR !!!!!! pic.twitter.com/4Suo5VgONf

— True North Views (@TrueNorthViews) November 21, 2018
Wellllll a brawl broke out at the Pusha T concert, show ended after 40 minutes pic.twitter.com/9ij3Y8ipCg

— Richie Assaly (@rdassaly) November 21, 2018
According to XXL, some fans say that after security removed the wannabe assaulters from the stage, Pusha T came back to the stage and fired shots at Drake by performing "I Don't Like" and "The Story of Adidon." Pusha then accused the Toronto native of hiring people to cause a scene at his show.
Pusha T has a message for Drake in Toronto after Drake's goons try to jump Pusha T on stage ? pic.twitter.com/VjEu1Lwgrr

— True North Views (@TrueNorthViews) November 21, 2018
Some eyewitnesses claim that police were eventually called and the event was reportedly shut down just 40 minutes after it started.
Back in September, Drake brought Meek Mill out during his concert in Philadephia, leading us all to believe that their longtime beef was squashed. Now, it looks like they're back at odds.
And just last week, the words "F**k Drake" appeared in a large, bold font on the screen behind him during his set at Tyler the Creator's Camp Flog Gnaw Carnival, which Pusha later blamed on a "corny a** tech dude."
Either this is all just some random coincidence, or Pusha T just doesn't have the best luck right now. It'll be interesting to see what Drake does or says next, if anything.
Be the first to receive breaking news alerts and more stories like this by subscribing to our mailing list.