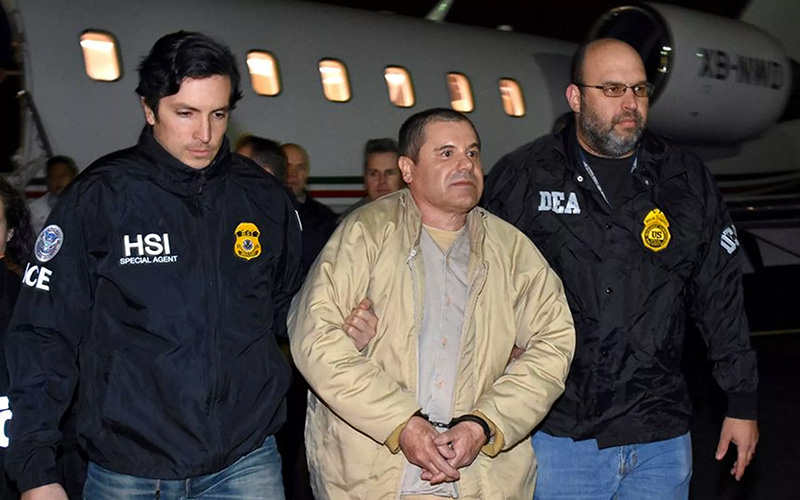 El Chapo's long-awaited trial kicked off Tuesday (Nov. 13) in federal district court in New York, but it was briefly delayed due to an "anxious and upset" juror who brought a doctor's note to court in an effort to help get her removed from the case.
The woman, identified only as juror No. 1, came to court with a doctor's note saying she couldn't serve on the trial, which could last up to three to four months, the judge said.
"I got a handwritten letter which details medical issues that have been brought about by her selection," Brooklyn federal Judge Brian Cogan told lawyers. "This person has been anxious and upset since selection … If I were to ask further questions, it will result in a breakdown and crying."
Juror No. 1 reportedly burst into tears last Wednesday (Nov. 7) after finding out she was among the seven women and five men selected as jurors in the trial for Joaquin "El Chapo" Guzman—the notorious leader of the dangerous Sinaloa drug cartel.
At the time, Judge Cogan refused to let her off, saying he didn't see any "real hardship there." He added, "My concern is that if one gets off with a few tears, we're going to have a trail of tears."
Well, thanks to juror No. 1's well-timed doctor's note, she was dismissed from the case. Instead of replacing her with one of the six alternates, lawyers on both sides agreed to select a fresh juror, which they did Tuesday morning.
Coincidentally (or not), a second juror later complained that he would lose out on income if he continued to serve, even though he's unemployed. Like juror No. 1, the man was eventually dismissed from the case as well. Several others have expressed fear about serving on the jury.
For what it's worth, El Chapo has promised not to kill anyone (including jurors) from the federal trial, his lawyer said earlier this year.
61-year-old Guzman, dressed in a blue suit and tie, reportedly waved to his beauty queen wife, Emma Aispuro, who smiled back in the heavily secured courtroom. He shook hands with each of his attorneys and also gave a slight wave to the judge before taking his seat.
In opening statements before jurors, Assistant U.S. Attorney Adam Fels described Guzman as a man who went from small-town drug dealer to a kingpin capable of turning $10 million cocaine deals.
Fels accused Guzman of having an army of hundreds of men with assault rifles in Mexico and alleged that Guzman himself had a monogrammed diamond-encrusted handgun and a gold-plated rifle. "Guzman himself pulled the trigger and ordered the disposal of bodies," Fels said. "Money. Drugs. Murder. … That is what this case is about."
Guzman's defense attorney Jeffrey Lichtman said Guzman spent significant time behind bars in Mexican prisons, and the flow of drugs into the United States never slowed down. "Yet, he's blamed for being the leader. The truth is, he was the leader of nothing," Lichtman said.
Guzman's multiple escapes from Mexican prisons further fueled the myth that he was a dangerous drug cartel boss, Lichtman said. "A conviction of Guzman is the biggest prize the prosecution could have dreamed of," he told the jurors. "They claim he is the biggest drug dealer in the world. It's false."
Guzman, who has been held in solitary confinement since his extradition to the United States early last year, has pleaded not guilty to charges that he collected a multi-billion-dollar fortune smuggling tons of cocaine and other drugs in a vast supply chain that reached well north of the Mexican-United States border.
If convicted, El Chapo could spend the rest of his life in prison.
Be the first to receive breaking news alerts and more stories like this by subscribing to our mailing list.