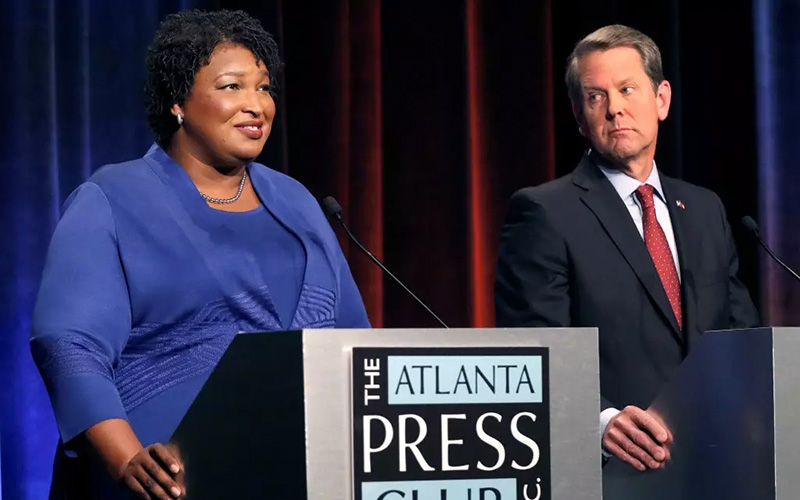 Stacey Abrams, the Democratic candidate for Georgia governor, has decided to decline to concede the tight race to Republican rival Brian Kemp Wednesday (Nov. 7), telling her supports to expect a December 4th runoff election.
'We are still on the verge of history, and the best is yet to come.' — Stacey Abrams says she refuses to concede as the Georgia governor race remains too close to call pic.twitter.com/frR0u4nS34

— NowThis (@nowthisnews) November 7, 2018
Abrams, who if successful would become the first female African-American governor in U.S. history, has gained 48.3 percent of the votes, compared to Kemp's 50.8 percent, at the time of reporting. Ted Metz, the Libertarian candidate, attracted 0.9 percent. But Abrams said that there are still more votes to be counted and that people should plan for a December 4 runoff election.

After a long night, Abrams pledged: "Georgia still has a decision to make. To all of Georgia's voters, including the 1.2 million who haven't shown up before, welcome aboard. If I wasn't your first choice or if you made no choice at all you are going to have a chance to do a do-over."

It has been a contentious and headline-grabbing race. In the state of Georgia, the top two candidates advance to a runoff if no candidate wins more than 50 percent of the vote. Kemp has, but Abrams said on Wednesday that "votes remain to be counted."

"There are voices that are waiting to be heard," she told supporters while taking to the podium this morning, in an address that was streamed to Facebook. "Across our state folks are opening up the dreams of voters in absentee ballots and we believe our chance for a stronger Georgia is just within reach. But we cannot seize it until all voices are heard and I promise you tonight we are going to make sure every vote is counted. Every single vote."

Kemp, who is the secretary of state who also oversees elections, is hoping to remain in power. He is accused of voter suppression. A lawsuit, filed on Tuesday, attempted to ban Kemp from having any involvement in the counting of votes because of his allegedly "clear bias." The suit was dismissed by Kemp's office as a "twelfth-hour stunt."

On Sunday, two days before the vote, Kemp claimed he was investigating a "failed attempt to hack the state's voter registration system." He alleged that it was somehow linked to the Democratic Party. In 2016, Kemp made a similar accusation, claiming that an intrusion attempt had been discovered on voting systems. The suggestion was widely-discredited.

In response, Abrams branded his hacking rhetoric a "desperate attempt" to distract voters. On Twitter today, her campaign wrote: "We will fight for every vote. The best is yet to come."
We will fight for every vote. The best is yet to come. #gapol pic.twitter.com/KKPqE9fMVw

— Stacey Abrams (@staceyabrams) November 7, 2018
Be the first to receive breaking news alerts and more stories like this by subscribing to our mailing list.