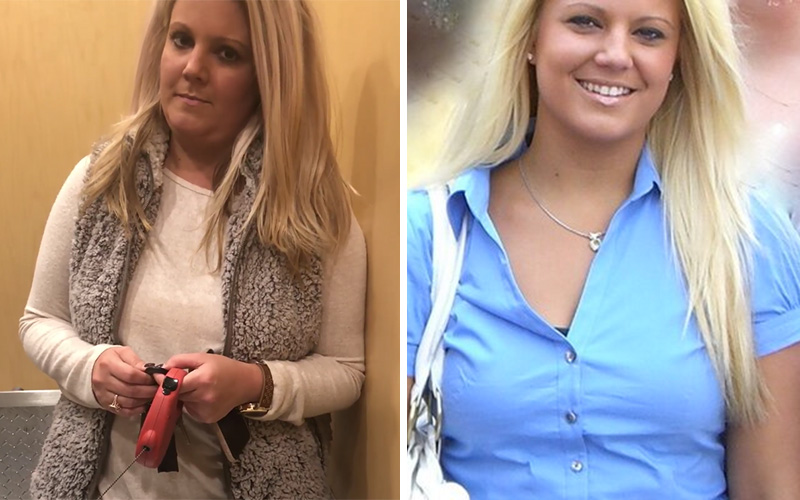 Over the weekend, a video surfaced showing a white woman refusing to let a black man enter his apartment building in downtown St. Louis.
D'Arreion Toles was returning home late from work Friday night (Oct. 12) when Hilary Brooke Thornton, who lived on the third floor of the Elder Shirt Lofts, demanded Toles provide proof that he lived in the building.
"Please move, ma'am," Toles can be heard saying in the video footage he recorded of the encounter, showing the woman—who was given the nicknames "Apartment Patty" and "Hallway Hilary"—with her dog on a leash standing in the doorway at the condominium complex. "I can," she responds. "Do you live here?"
"I've already answered that question," Mr. Toles, 24, replied as he continued to try to get into the building. "Excuse me… You are blocking me into my building. This is my building as well. So, I need you to get out of my way."
Refusing to move the hell out of the man's way, Hallway Hilary—who said she was "uncomfortable"—then asked Toles what unit he lived in and to see his key fob. When he declined to give her that information, she remained in his path.
"If you want to come into my building…" she began before Toles cut her off: "It's not your building, you're not the owner. Excuse me."
After Toles moved to pass Hallway Hilary, she followed him onto the elevator all the way to the front door of his loft.
Asked why she was following him, Hallway Hilary said "I would like to know whose friends [you are] … and why you're here" and then she tried to flip the script and say that if he did indeed live in the building, she was just interested in meeting her neighbor. "You didn't start off on a good note," he said. "I don't want no dealings with you."
After the video went viral on the internet, it didn't take long for social media to track the woman down and find out her place of employment.
It turns out Hallway Hilary works at another apartment building—Tribeca St. Louis Apartments to be exact—and management was far from pleased to learn that one of their employees was out here being racist.
According to a statement released from the complex, Hilary Brooke Thornton aka Hallway Hilary has since been fired.
"Tribeca-STL was recently shared a video containing a disturbing interaction that we believe is important to clarify," the statement read. "The video did involve one of our employees, but the event did NOT take place at Tribeca-STL and did NOT involve one of our tenants. The video is showing the employee in her private life at her own residence interacting with another person.
The statement continued: "The Tribeca-STL family is a minority-owned company that consists of employees and residents from many racial backgrounds. We are proud of this fact and do not and never will stand for racism or racial profiling at our company. After a review of the matter, the employee has been terminated and is no longer with our Company. At Tribeca-STL we want all residents, guests, and visitors to feel welcome, safe and respected."
Be the first to receive breaking news alerts and more stories like this by subscribing to our mailing list.