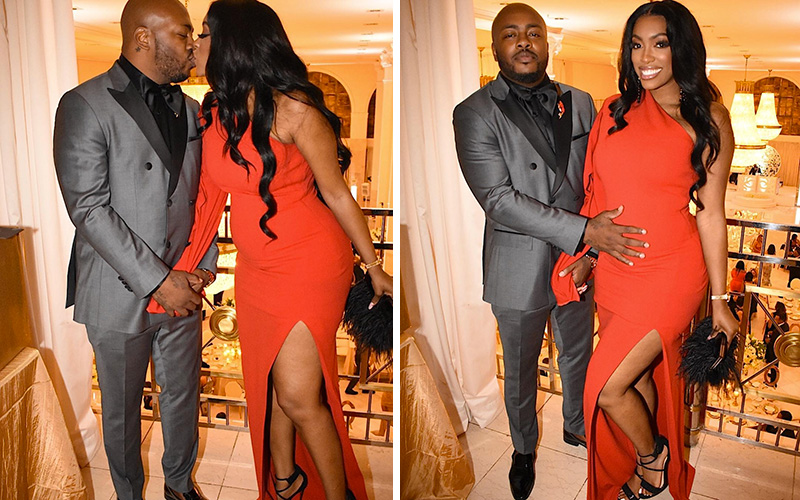 Porsha Williams from the Real Housewives of Atlanta recently announced her pregnancy and engagement to a man named Dennis McKinley, and now he's being accused of a number of disturbing things by his ex-girlfriend's daughter.
Earlier this month, Radar Online revealed that McKinley was involved in a legal battle with his ex-girlfriend, Shanise Thomason, before evicting her from their home.
https://www.instagram.com/p/BoZabnHgFJY/
According to court docs obtained by Radar, McKinley sued his ex for "trademark infringement, conversion and other wrongful acts" in connection to a company called Queen Virgin Remy—a hair weave and extension line they started back in 2011.
The lawsuit, which was filed in 2015 and has been proceeding for years, was finally settled on July 16th, 2018 after both parties agreed on a confidential settlement.
https://www.instagram.com/p/BoZb6JmAclZ/
Fast forward a few months, and now McKinley is being exposed by Thomason's daughter, Jamecia Simmons, for being a "fraud" and a "crook." And on top of that, Jamecia wrote in a now-deleted Instagram post that Dennis beat her mother when they were together and she was pregnant with his child.
Jamecia wrote:
"I have been quiet the whole time McKinley since my mom @hairbyaoki has been in this lawsuit with you but you will not lie & make her look bad. All this fakeness to get on TV. You ain't nothing but a fraud, crook & a thief. You out [here] holding Porsha stomach in pics but the whole time my mom was pregnant by you, you jumped on her and beat on her. Am I lying McKinley?"
She continued:
"All the hurt you caused my mom, I will never forgive you!!! You asked my mom to be your business partner in Queen Virgin Remy because you didn't have the money to start it, then you go & lie & take it from us. I finished school early to help build it & this is what you do? You put your name as the sole owner knowing you didn't even have the money or even a car to get around in."
According to Jamecia, Dennis is nothing but a scammer who's using Porsha so that he can be on television. She wrote:
"You have been trying to get on TV the longest, that's why you tried to settle with my mom before the show aired but everything you have done to people is gonna come out!!! [You] are the DEVIL & your karma is about to come back around."
Read Jamecia's entire post (via screenshots) below: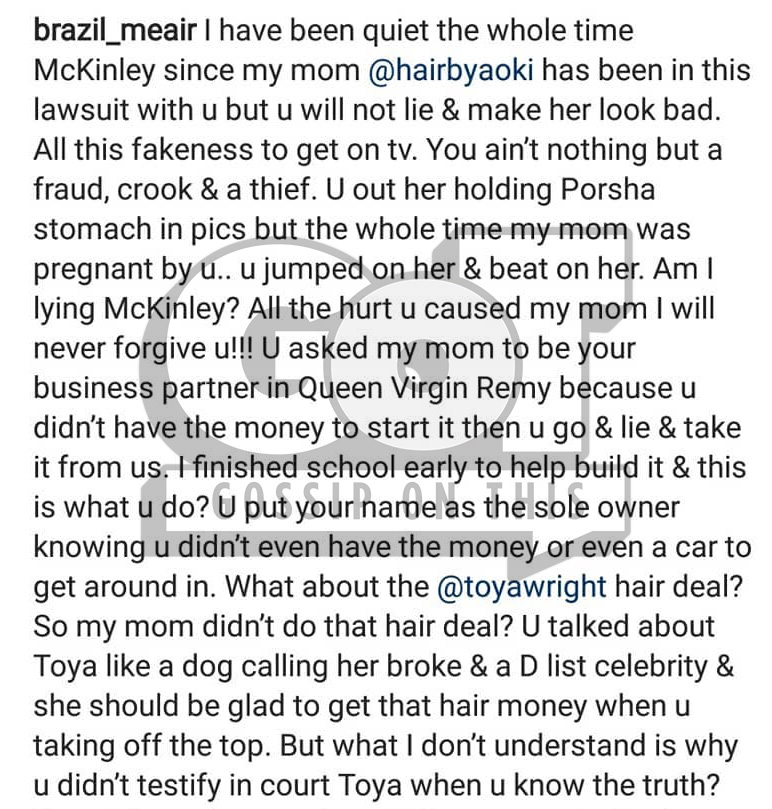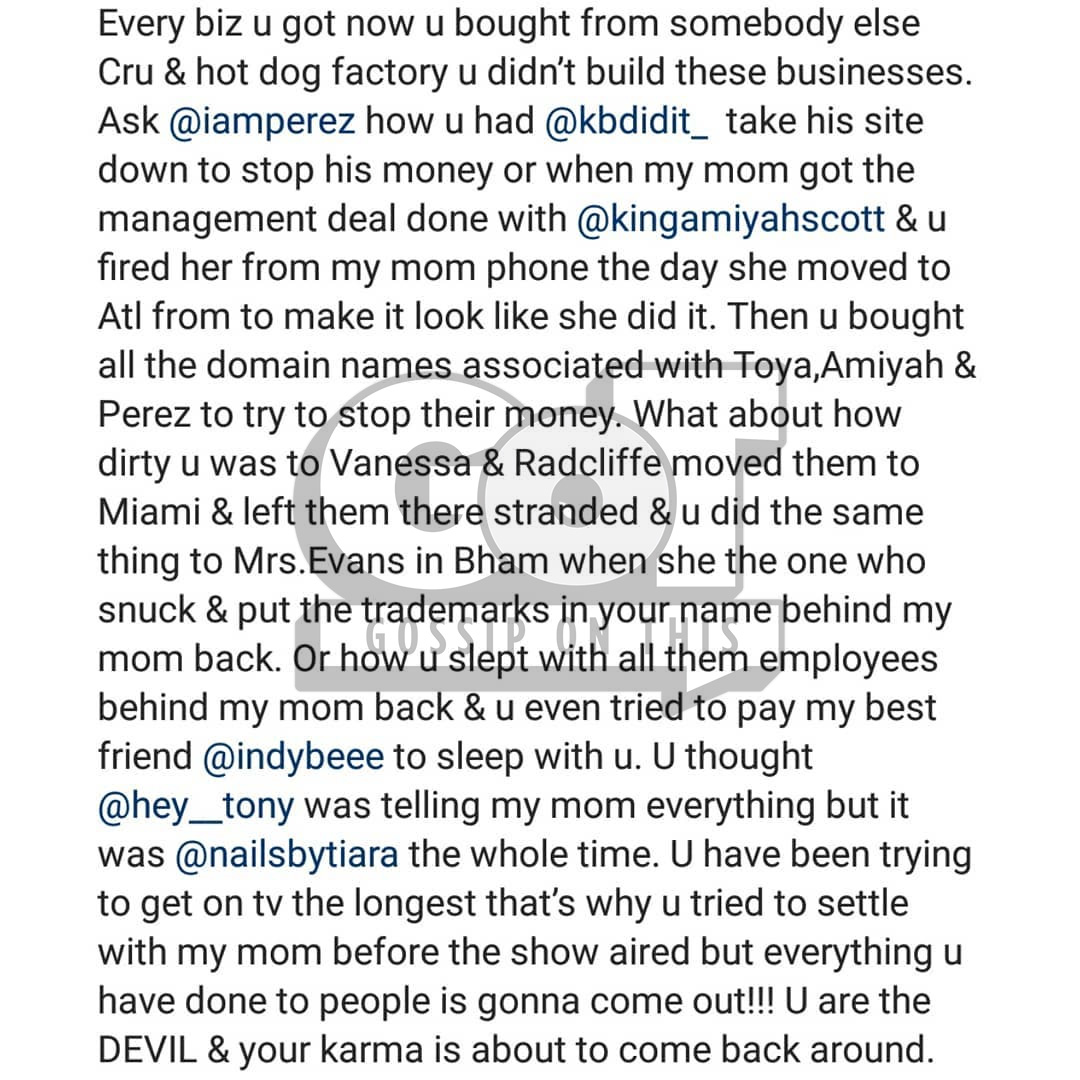 Shanise also shared a now-deleted post about Dennis, accusing him of calling her multiple times after her daughter's post went viral on social media.
"The sad thing is women will want a man so bad especially if they have money but don't do a background check to see who they stole it from or hurt to get it!!! @Porsha4real Get your man & tell him to stop calling!!! She's not answering!!! Leave My Daughter, Me & my Friends Alone!!!"

https://www.instagram.com/p/Boj0deKFkP9/
RHOA Season 11 premieres in just a few short weeks—November 4th to be exact—and judging from the trailer released by Bravo a few weeks ago, Dennis will be a huge part of Porsha's storyline as Kandi Burruss and Porsha's sister Lauren are both shown trying to warn her about him. "He's a dog alright," Kandi says in the trailer.
Be the first to receive breaking news alerts and more stories like this by subscribing to our mailing list.