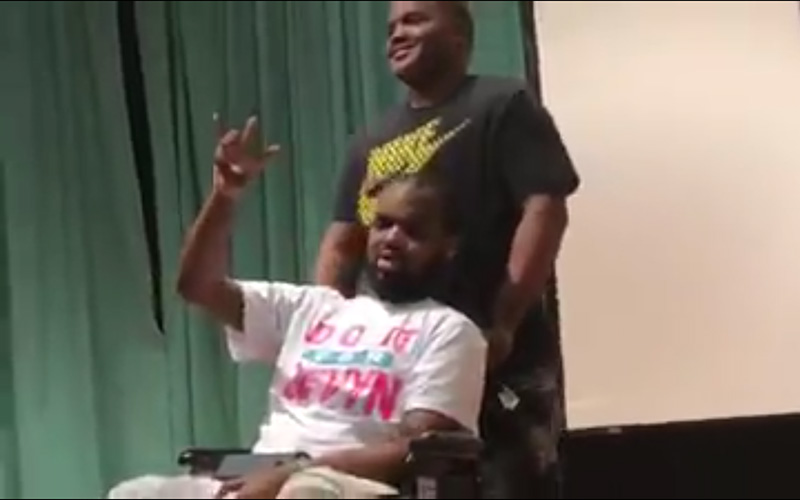 Devyn Holmes continues to be a living, breathing miracle after surviving being shot in the head earlier this year.
Back in April, a video went viral showing Holmes getting shot in the head by a woman playing with a gun. Not even six months later, another video has gone viral, and this time, it's of him being met with cheers in his first public appearance since being released from the hospital.
Last Saturday (Sep. 29), video footage of Holmes on stage at a gathering in Galveston County, Texas on his first day out of the hospital was shared on a Facebook page called "Do It For Devyn," which has been providing constant updates about his condition and miraculous recovery.
The crowd erupts in applause when Devyn, who celebrated his 27th birthday in May (a little over a month after the shooting) appears in his wheelchair.
The caption on the post reads:
Devyn had his 1st day out since April first/ Easter Sunday, and it was most definitely a night he will remember! We took him out to the #GCEAWARDS2018 and surprised the whole Galveston County with his appearance and the love and support shown was amazing!

We told Devyn if he wanted to attend he had to learn to sit up in a wheel chair on his own without being strapped down and he made it his goal to do so ? he just needed a little motivation and I know this night will motivate him to elevate in any way he can #KeepYoHeart3Stakks #GalvestonCountyStrongest #DoItForDevyn #FirstDayOut
Devyn's mother Sheree Holmes told ABC 13 her son was in tears when he heard the audience.
An update posted on Friday, September 21st shows a glimpse of Holmes' tremendous improvement. The video shows him doing leg exercises with a physical therapist, and after he's seen raising his left leg, the person behind the camera says, "He's never moved that [leg]."
Another video on the page, posted on June 28th, shows Devyn writing on a small whiteboard—another huge improvement for someone who was shot in the head at close range.
Another video, shared on July 21st, shows Holmes playing with his daughter Skyla. "You think you slick," she says laughing after her daddy hits her in the head with a pillow.
A video uploaded a few days later on July 23rd shows Devyn tossing a ball back forth with nurses.
And Devyn can be seen talking, thanking everyone for their prayers and support, in another video update from August 11th.
Holmes' mother said that he is now in rehab and took his first step on Saturday.
And as Holmes' condition improves and his physical therapy ramps up, the legal case against Cassandra Damper—the woman who shot him in the head—continues.
Damper was charged with aggravated assault causing serious bodily injury and tampering with evidence.
Be the first to receive breaking news alerts and more stories like this by subscribing to our mailing list.