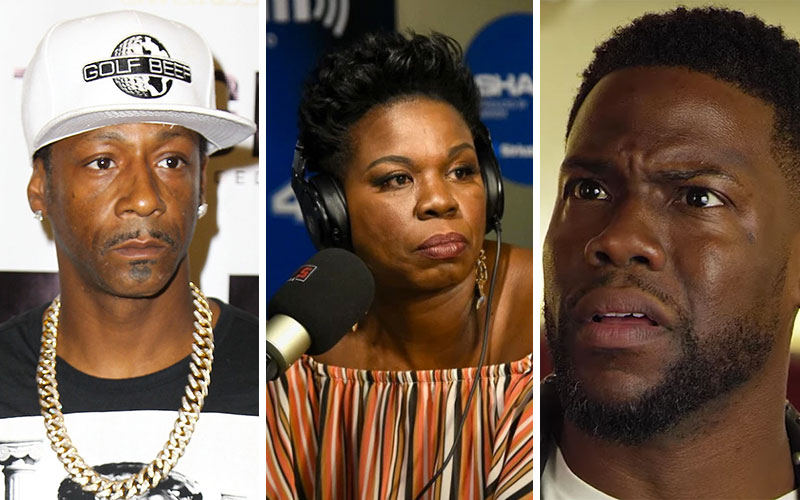 Leslie Jones did not take too kindly to being name-dropped by Kevin Hart amid his feud with Katt Williams.
On Friday, during an interview with the Breakfast Club, Kevin Hart went in on Katt Williams in response to his comments about Tiffany Haddish's career. In that same interview, Hart also claimed that Leslie Jones was one of the many female comedians who were "underneath the umbrella of Katt Williams," but said Katt didn't help her make it.
"So when you say Tiffany Haddish doesn't deserve, or isn't really a comedian, and these other women have worked hard, which they have," he said. "Shoutouts to Melanie Comarcho, shoutouts to Luenell, shoutouts to Leslie Jones, who are all underneath the umbrella of Katt Williams. Katt Williams, have you ever used your platform to f***ing bring the people that were under you up? You haven't!"
Well, according to Bossip, Leslie was most certainly not here for being brought into Kevin and Katt's beef. Read her statement below, in which she calls out both Kevin and Katt for not doing their part to help female comics:
"Real talk both of them n***as need to keep my name out they mouth unless they using it to eat my p***y REAL TALK!! None of those n***as put me on or any woman. While he talking about Katt, what did he do to put women on? He didn't help females, they [weren't] on his tour, F*** THAT N***A!! At least Katt put me on his tour. Kevin could have put me on a long time ago but he never respected me or my comedy, and trust, I can call his card, he [knows] I can. Both Kevin and Katt was the same to women like all these n***as in this game. Sh**ty. and still is. Women have never had it good. At least Katt put women on his tour or shows. How many shows back in the day didn't have a woman on them? Kevin, that MF told me one time I would never make it."
Leslie didn't stop there either. She went on to say that neither Katt nor Kevin helped with her career; Chris Rock was the one who really put her on, and even then, she still had to work hard to get to where she is today.
"So I'm calling all cards, I ain't got to lie. I made it without either one of them. Chris Rock was the one who put me on, and Neal Brennan, a WHITE comic/writer. Not them!! And I still had To work my f***ing a** off to make it happen!! So nobody is telling the truth! Everyone [needs] to shut the f*** up!! Before I tell what's really real!! And they all know I know. I haven't said sh** about anyone and if I do I keep it real and respectful and honest. What's upsetting me is anybody SAYING ANYTHING!! Shut the f*** up and do your f***ing job cause this ain't it. While y'all on columns downing each other and lying on each other no one is telling jokes. SHUT UP AND DO YOUR F***ING JOB!! Keep my name out your mouth I don't talk about any of you!!"
Whew, chile, the anger!
Be the first to receive breaking news alerts and more stories like this by subscribing to our mailing list.