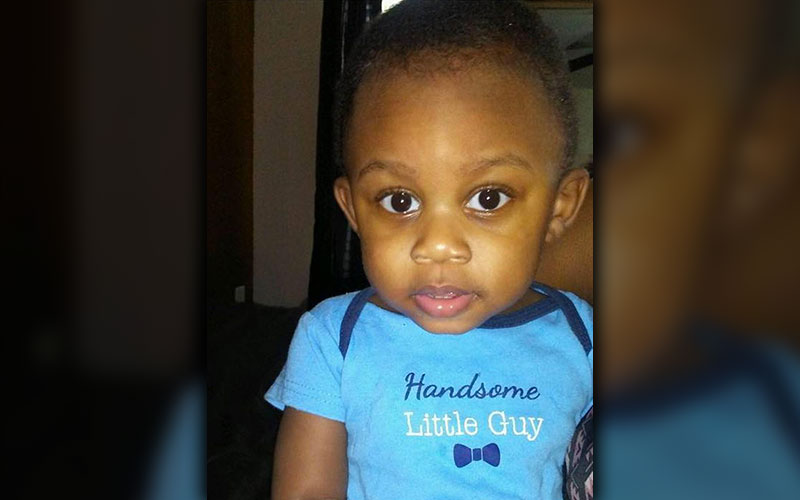 Search teams have recovered the body of a 1-year-old North Carolina boy who was swept away in rushing floodwaters from Hurricane Florence Sunday evening (Sep. 16).
Kaiden Lee-Welch was declared "missing" Sunday night, and after an hours-long search, his body was found Monday morning not far from where he and his mother encountered floodwaters in the small town of Marshville, NC.
Here's what you need to know:
1
Kaiden Lee-Welch's mother, Dazia Lee, said she drove around a barricade and lost control of her car after encountering floodwaters.
Dazia Lee was driving along North Carolina Highway 218 with her 14-month-old son, Kaiden Lee-Welch, to visit family when they arrived at a barricade around 8:30 p.m. Sunday night (Sep. 16).
Officials said Lee drove around a barricade that was blocking off a flooded road in the small town of Marshville (about an hour outside of Charlotte), and lost control of her car after the floodwaters took the vehicle and pushed it into a tree.
Lee later told officials that she drove around the barricade because it was slightly tilted to the side, and she thought the road was safe for travel.
Lee was able to free her son from his car seat, and they both got out of the car, but she lost her grip in the rough waters.
"I was hydroplaning. I was trying to do everything I could and it got worse when water gets in your car. You start to panic, you start to freak, you think you're sinking fast. Everything just happened too fast," Lee told Channel 9 News.
"When [the] water came in I was trying to calm my son. He was confused, that's all he was. He was just confused but I told him it's okay, don't panic, even though I was panicking, I told him don't panic," Lee said.
"I was holding his hand, trying to hold him, trying to pull him up," Lee told FOX 46. "I couldn't hold on anymore, and he let go."
The 1-year-old was swept away in the rushing waters of Richardson Creek.
Paramedics on the scene also had to be rescued when their ambulance got caught in the floodwaters.
2
Kaiden's body was found in about 10 feet of water. He was pinned between the car's front bumper and a tree.
After losing control of her car and witnessing her baby being swept away in Hurricane Florence's floodwaters, Dazia Lee was rescued and taken to the hospital.
Rescue teams spent several hours searching for the baby boy Sunday night, but Kaiden was nowhere to be found. They called off the search to wait for daylight.
Dive teams were sent out Monday morning, and that's when they found the boy's lifeless body near a flooded soybean field, not too far from the car, The Charlotte Observer reported.
Officials said Kaiden's body was found pinned between the car's front bumper and a tree in about 10 feet of water.
3
Kaiden was Dazia Lee's only child, who she described as "the sweetest boy you could ever have."
Sadly, Kaiden Lee-Welch was Dazia's Lee only child. "He had really changed my life," Lee told local NBC affiliate WCNC. "He's my only child and now he's gone."
Lee told NBC Charlotte she would never put her child in harm's way, but because she's not from that area, and the barricade wasn't in the road as it should have been, she had no idea the danger that lied ahead.
"I was about to detour, but I stopped. I saw cars coming in and out, so I thought it was safe," Lee said, holding back tears. Lee said she was driving on that road to bring Kaiden to visit his great-grandmother.
"She was a stranger to the area, driving to just be with her family," the Sheriff said. "Her car got caught in the water and was forced onto an open field."
Lee said Sunday night is a night she never wants to talk about again. "All I know is I've been traumatized, I've been through so much. There's no more that I can take," she said.
"He's the sweetest boy you could ever have," Lee choked through tears to FOX 46. "I did everything I could from the moment I was pregnant to the moment I lost him."
Be the first to receive breaking news alerts and more stories like this by subscribing to our mailing list.