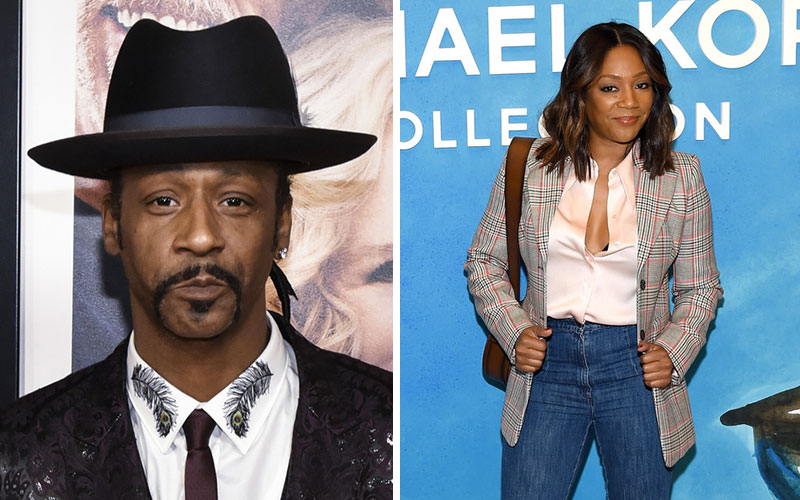 Katt Williams must be really feeling himself after recently winning an Emmy … because he went ALL THE WAY IN on a bunch of new comedians, especially Tiffany Haddish, saying that she has "not proven her ability to tell jokes" because she's never done a stand-up comedy tour.
The 47-year-old comedian was a guest on V-103's "Frank and Wanda In The Morning" radio show Friday (Sep. 14) and went on an epic rant on not only Tiffany Haddish, but also Kevin Hart, Jerrod Carmichael and Hannibal Burrus. However, he seemed to direct most of his attention towards the "Girls Trip" star.
"She's been doing comedy since she was 16. You can't tell me your favorite Tiffany Haddish joke. Why? Because she ain't done a tour yet. She ain't done a special. She has not proven the ability to tell jokes back to back for an hour to nobody," Williams said.
According to Katt, Tiffany's fame is the direct result of someone else's writing, and he says anyone would have earned critical acclaim reading the script for "Girls Trip," which Katt claims he saw way back in 2004.
"They all ready to down Mo'Nique and up somebody who has showed them Girls Trip. Did you think she wrote Girls Trip goofball?" Williams questioned. "[…] It's up to you whatever you want to believe, I'm the introduction to Tiffany Haddish in the movie School Dance."
Katt then went on to downplay Tiffany's "realness" by saying that the only reason the media likes her is because "she wanna sleep with a white man." He added, That's why the only thing she said was I wanna give it to Brad Pitt. She said she's got a diseased vajayjay ain't nobody checking for that."
YIKES.
Katt also bashed Jerrod Carmichael's upcoming comedy special and called Lil Rel ugly.
"They're going to let you do your special, Jerrod Carmichael, but nobody's gonna watch it. They're gonna let you be a star, Lil Rel, but you're ugly and white people don't believe in ugly stars. They believe that you have to be somebody women want to sleep with and men want to be, but because we're black they say 'oh you don't even deserve that.' So we get Kevin Hart, Lil Rel, Jerrod Carmichael, Hannibal Burress, just dudes that no woman would talk to in Lennox Mall, but you're making them superstars because you know ain't nobody gonna sleep with them."
Well, damn! Katt was on a roll wasn't he?
After the clips of Katt's interview went viral, Tiffany hopped on Twitter to offer a classy response to the comedy vet.
"It's official I made it!" she tweeted "@KattPackAllDay talked about me and didn't have his facts right! #Iwin #sheready I look forward to see you on Monday Katt, when we pick up our Emmys. I just want to shower you with REAL Love cause you need it, and I Love you."
She added also thanked Katt for increasing her following and called him "the best uncle ever."
It's official I made it!@KattPackAllDay talked about me and didn't have his facts right! #Iwin #sheready I look forward to seeing you on Monday Katt, when we pick up our Emmys. I just want to shower you with REAL Love cause you need it, and I Love you ? https://t.co/WVOgZvwLZn

— Tiffany Haddish (@TiffanyHaddish) September 14, 2018
@KattPackAllDay Thank you for the Plug my followers went up! You are the best uncle ever.

— Tiffany Haddish (@TiffanyHaddish) September 14, 2018