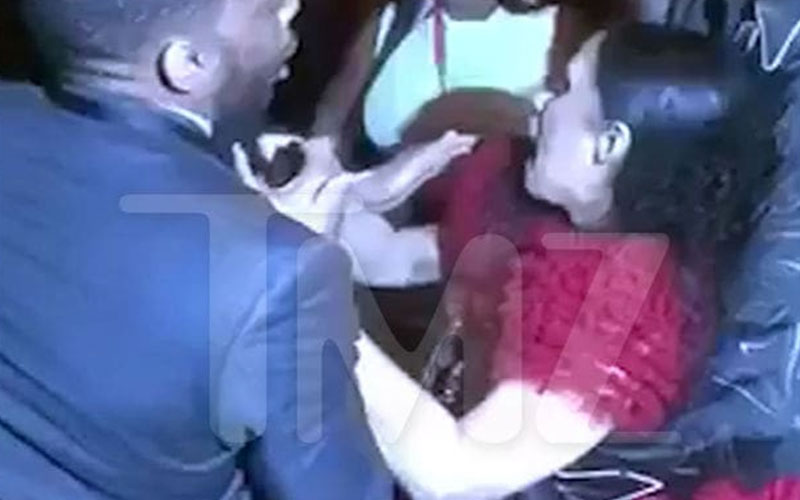 Cardi B turned a classy New York Fashion Week event into a Love & Hip Hop fight scene when she "aggressively approached" her rap nemesis Nicki Minaj and tried to physically attack her. "The wild skirmish included hair-pulling and shoe throwing," Page Six reported.
Cardi and Nicki, dressed in beautiful black tie gowns, were reportedly walking off the red carpet when they crossed paths and things got ugly real fast.
"It was bad," a source told Page Six. "They were separated by security, but Cardi was still trying to get at her. She took of a giant red shoe and threw it at Nicki — who was being blocked up against a wall by a huge security guard."
More via Page Six:
Cardi was then led into another room while Nicki was held back with security in front of her.

"There was a giant fist full of hair on the floor. One of Cardi's assistants came and grabbed it and took it with her." As for the shoe? Sources tell us someone from Nicki's camp was heard saying "keep it."

Summed up another source, "Wigs pulled, Cardi carried off." A source said that "Cardi was escorted out… She has a knot on her forehead from getting hit." Another source said, "it started because someone pushed Cardi from behind. She went flying." But a different source said it was Cardi who started it.

Another witness said that members of the rappers' entourages — including "Love and Hip Hop" star Rah Ali, who was with Minaj — got involved, and that Cardi B's dress wound up ripped. "It was ripped totally down the back. Her a– was showing," said a gobsmacked fashionista of the scene.

Another witness said of the melee, "It was everyone's people," and, "Cardi's standing there with her dress ripped and underwear showing and yelling with a bunch of guys holding her back."

One guest's video allegedly shows Ali "trying to go after Cardi after Nicki was against the wall, and Cardi screaming obscenities."
WHEW CHILE, THE GHETTO!
Video footage showing the scuffle has been shared all over the internet, but TMZ managed to compile into one big clip.
You can actually see Cardi take off her shoe and throw it at Nicki. You can also clearly hear Cardi saying "Like some sh** about my daughter again!" and "Keep f***ing playing with my kid bitch!" as she is being escorted out.
Watch below:
And here's another angle, showing Cardi's ripped dress:?
And here's another angle from the fracas, showing how Cardi's dress was ripped and her underwear was showing, corroborating Page Six's report:
Allegedly Cardi B & Nicki Fight at the Harpers Bazaar ICONS Party Tonight pic.twitter.com/yE4MPnAjZM

— PowerStarLive (@PowerStarLive) September 8, 2018
Be the first to receive breaking news alerts and more stories like this by subscribing to our mailing list.