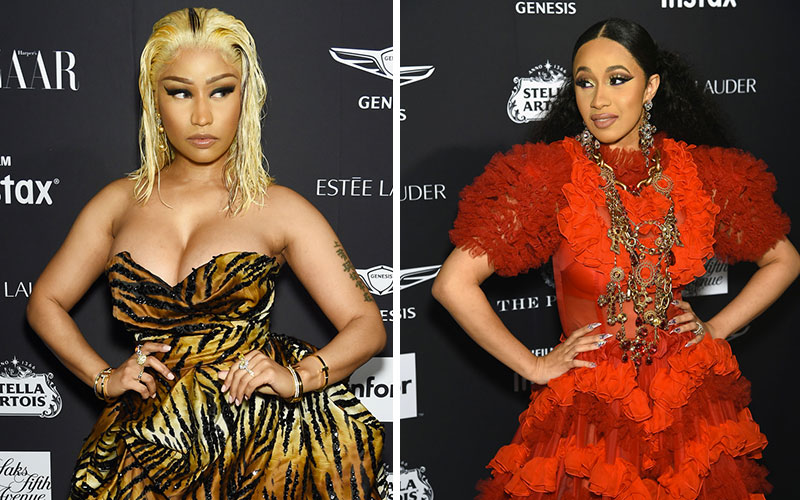 Cardi B says she has let a lot of things slide when it comes to Nicki Minaj, but she is NOT letting Nicki off the hook for coming for her parenting skills.
Cardi B was escorted out of a New York Fashion Week party hosted by Harper's Bazaar Friday night (Sep. 7) after trying to fight Nicki Minaj.
Video footage posted on social media showed Cardi being held back as she was escorted out of the party, and reports emerged that Cardi threw a shoe at Nicki after Nicki's bodyguards blocked her attempts to lay hands on her.
Amid all of the ruckus, Cardi ended up getting hit by someone (reportedly one of Nicki's bodyguards), and photos showed Cardi leaving the party with one shoe off and a knot on her forehead. Nicki later posted a video on Instagram, apparently driving away from the party, seeming completely unbothered.
Cardi, who just gave birth to her daughter Kulture in July, also took to Instagram shortly after leaving the event to explain her side of the story and why she decided to try to fight Nicki.
Without mentioning Nicki by name, Cardi freely laid out all of her issues with her rap nemesis, saying that Nicki tried to blackball her from the industry. But the last straw came after Nicki allegedly attacked her parenting skills.
"I've worked [too] hard and come too far to let anybody fuck with my success!!!!" Cardi wrote. "Bitches talk about that sh** in [their] raps but in real life they p***y!! This sh** really is for entertainment!!"
Nicki has yet to publicly address the altercation, but she has been updating her Instagram with photos of her at the party, including this one with her, Lala Anthony and Kelly Rowland:
Meanwhile, Twitter has been having a field day with the drama:
OMG Cardi B threw her shoe at Nicki Minaj WTF?? pic.twitter.com/PH8xd1QxDS

— gustavo (@gustavonever) September 8, 2018
Nicki and Cardi pic.twitter.com/Uf9uiv1U59

— ?????? (@cIoudaura) September 8, 2018
https://twitter.com/Taylucifer97/status/1038266290262237184
Me: it's time to sleep
Internet: Cardi B fights Nicki Minaj
Also me: pic.twitter.com/4TpRuC6Dm6

— lavell dior (@dmastin96) September 8, 2018
Me : I'm going to bed

Internet: Cardi b and Nicki got in a fight

Me coming back to the Internet pic.twitter.com/Cqk19ufOq4

— Sasha Fierce (@QBey12) September 8, 2018
Me : I'm going to bed

Internet: Cardi b and Nicki got in a fight

Me coming back to the Internet: pic.twitter.com/BIVIdYGDxR

— Weed Princess ?? (@TheAliciaGoku) September 8, 2018
Cardi to Nicki

— butter (@aphi_g) September 8, 2018
leaked footage of Cardi B throwing her shoe at Nicki Minaj pic.twitter.com/W1FmE7GUro

— frank costa (@feistyfrank) September 8, 2018
Literally this was Nicki when Cardi was trying to run up pic.twitter.com/cb26tQVBbM

— faith lehane (@korianndrr) September 8, 2018
me w this Nicki & Cardi beef bc im still vibing to Invasion Of Privacy & Queen ????? pic.twitter.com/Xyvzn34wKj

— spicebae. (@spicebae_) September 8, 2018
the uk waking up to the cardi and nicki minaj fight pic.twitter.com/Xf6n72qbne

— ikran (@ikran) September 8, 2018