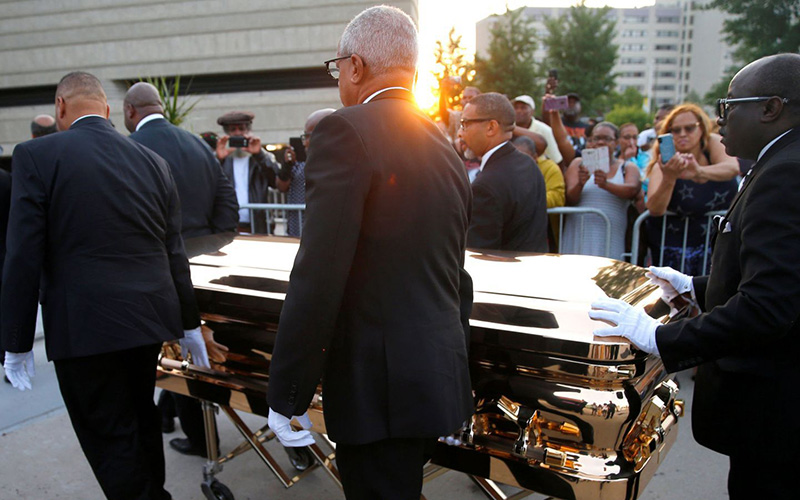 Aretha Franklin wouldn't be caught dead wearing the same outfit two days in a row. Literally.
The Queen of Soul had two public viewings over a two-day period at the Charles H. Wright Museum of African American History of her hometown of Detroit, Michigan, and on each of those days, she was wearing a new outfit.
As we all know and saw from the official photo of Ms. Franklin lying in repose in her golden open casket, on the first day, Tuesday (Aug. 28) she was dressed in all red. But on the second day, Wednesday (Aug. 29), she had an outfit change, and was wearing a light blue dress and matching blue pumps.
Thousands of more fans lined up outside the museum for Franklin's second and final public viewing there. Swanson Funeral Home Director O'Neil Swanson II said Ms. Franklin would be wearing a new outfit for another viewing Thursday at New Bethel Church, and she would undergo one final outfit change for her private funeral Friday at Greater Grace Temple.
Friday's funeral is invite-only, but will be live-streamed online and broadcast on television. It will feature appearances from a number of celebrities and music legends, and is reported to last at least 6 hours.
Former president Bill Clinton, Smokey Robinson, Rev. Jesse Jackson, Rev. Al Sharpton, Cicely Tyson, former U.S. Attorney General Eric Holder, Clive Davis, and many others will speak at the funeral, while Stevie Wonder, Ariana Grande, Jennifer Hudson, Fantasia, Chaka Khan, Faith Hill, and many more will perform at the service.
Aretha Franklin died on Thursday, August 16th at her home in Detroit after battling pancreatic cancer. She was 76 years old.
Be the first to receive breaking news alerts and more stories like this by subscribing to our mailing list.