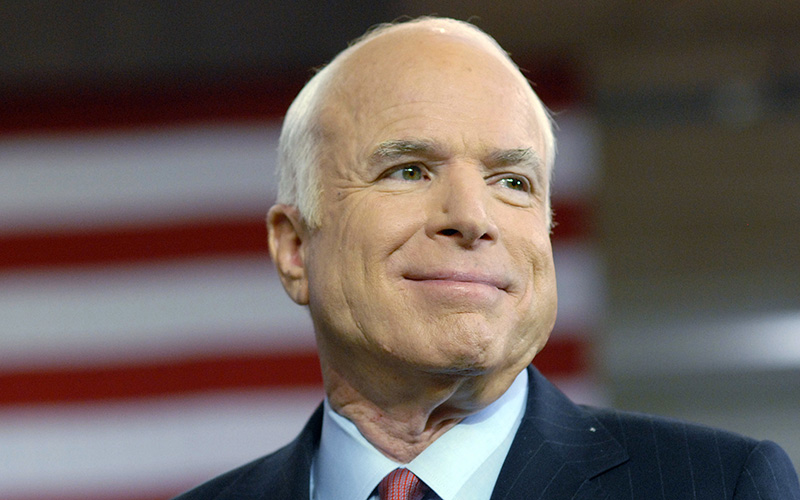 Senator John McCain, the 2008 GOP presidential nominee who was driven by a code of honor that defined and haunted him, has died, the Washington Post reports. He was 81 years old.
Just yesterday, the Arizona Senator's family announced that he had decided to stop treatment for the brain cancer he had been battling since being diagnosed in July 2017
"Last summer, Senator John McCain shared with Americans the news our family already knew: he had been diagnosed with an aggressive glioblastoma, and the prognosis was serious. In the year since, John has surpassed expectations for his survival. But the progress of disease and the inexorable advance of age render their verdict. With his usual strength of will, he has now chosen to discontinue medical treatment," the McCain family said in a statement.
The statement went on to say: "Our family is immensely grateful for the support and kindness of all his caregivers over the last year, and for the continuing outpouring of concern and affection from John's many friends and associates, and the many thousands of people who are keeping him in their prayers. God bless and thank you all."
Cindy McCain, the senator's wife, wrote in a tweet: "I love my husband with all of my heart. God bless everyone who has cared for my husband along this journey."
The senator's daughter, Meghan McCain, said in a tweet, "My family is deeply appreciative of all the love and generosity you have shown us during this past year. Thank you for all your continued support and prayers. We could not have made it this far without you – you've given us strength to carry on."
John McCain was a decorated Vietnam veteran who first rose to prominence after surviving torture over a 5-year period as a Prisoner of War in North Vietnam. He was captured in 1967 at a lake in Hanoi after his Navy warplane was been downed by Northern Vietnamese army during the Vietnam War.
He was elected in 1982 to the House of Representatives, where he served for two terms before his election to the Senate in 1987, where he spent the rest of his political career. During his time in office, McCain capitalized on his reputation as a "maverick" Republican, and first ran for President in 2000. He lost that presidential run, as well as a second one in 2008 to Barack Obama. In his 2008 presidential campaign, he infamously introduced Sarah Palin to the world, which many believe hastened the forces that brought Donald Trump to power eight years later.
After announcing his brain cancer diagnosis in July 2017, McCain made a dramatic return to the Senate floor to oppose the GOP effort to repeal and replace the Affordable Care Act—President Obama's signature healthcare bill, a decision that sparked a well-known beef between President Trump and McCain, which culminated with McCain stating that he did not want Trump to attend his funeral. He asked the White House to send Vice President Mike Pence instead.
Trump had previously said McCain was considered a war hero only "because he was captured" in the Vietnam War, and he only respected military figures who avoided being taken prisoner by the enemy. He also called McCain's "no" vote against Trump's plan to repeal and replace Obamacare "totally unexpected" and "honestly terrible."
John McCain was twice married. His first marriage was to a woman named Carol Shepp from 1965 to 1980. He adopted her two sons from a previous marriage: Doug, an American Airlines pilot, and Any, who is an executive at the family beer distribution company, Hensley & Co. John and Carol had one child together, a daughter named Sidney who was in the music business.
John's second marriage was to Cindy (Hensley) McCain, his current wife and now widower. They married in 1980 and wen ton to have three children: Meghan, Jack and Jimmy. They also adopted a daughter, Bridget.
John McCain ran for his sixth and last term in the Senate in 2015. After winning, he predicted in his victory speech to his supporters that campaign "might be the last." He added, "Thank you one last time for making me the luckiest guy I know."
McCain wrote in his final book, reflecting on his life as it came to an end: "It's been quite a ride. I've known great passions, seen amazing wonders, fought in a war, and helped make a peace. I made a small place for myself in the story of America and the history of my times."
Be the first to receive breaking news alerts and more stories like this by subscribing to our mailing list.