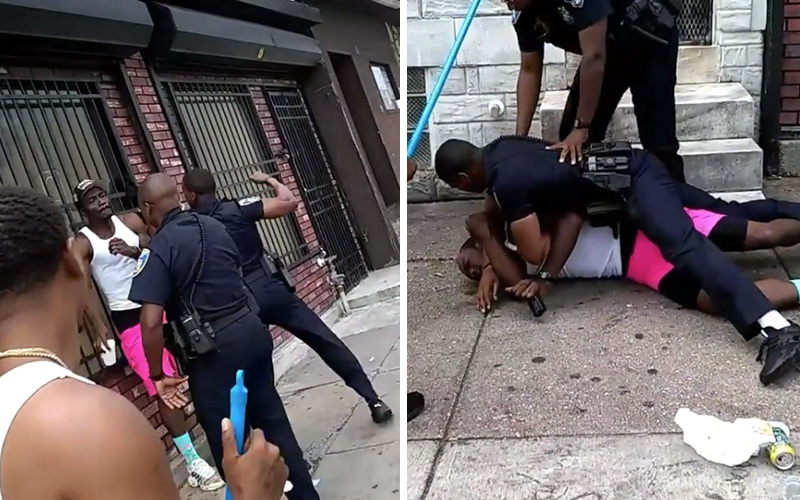 A Baltimore police officer is on paid suspension after a viral video showed him as the aggressor in a violent altercation with an unarmed man.
According to the Baltimore Sun, the incident occurred Saturday (Aug. 11) outside Q's Bar and Liquors in the 2600 block of E. Monument St. in East Baltimore.
While the video, captured by a nearby eyewitness, doesn't show what caused the incident to escalate to violence, it does show the entire physical altercation.
https://www.instagram.com/p/BmWIxUOnxkY/
The cop, who was identified as Officer Arthur Williams, can be seen pushing the man—26-year-old Dashawn McGrier—against a wall and placing his hand on his chest, which prompted the man's attempt to remove it. That's when Officer Williams started throwing punches.
The video shows Williams punching McGrier several times before shoving him into a wall and beating on him until he falls to the ground. Although McGrier appears to try to deflect some of the officer's punches, he does not punch back.
A second officer on the scene, who has not been identified, briefly placed his hands on McGrier's arm as he tried to avoid the repeated blows, but does not appear to try to stop the first officer from throwing punches.
Witnesses in the area say that Officer Williams knew McGrier from prior interactions, and said that McGrier may have been targeted in the incident, which is why he was initially talking back. "He knows his rights, and he felt as though his rights were being violated, and he took offense to that," one man said.
A woman who grew up with McGrier and considers him like a brother called the incident shocking.
"I was speechless. I was enraged. I was hurt. I was shocked more than anything. That is really something you don't expect," Shantel Allen said. "I truly feel as though this officer needs to be dealt with in a very serious manner, so none of his fellow officers or anyone else in the criminal justice system feels like they can use this kind of force. This is a crime. You can't just go around putting your hands on people."
The Baltimore Police Dept. said Saturday's incident began after two officers stopped McGrier, let him go, then approached him again to give him a citizen contact sheet. "When he was asked for his identification, the situation escalated when he refused," the department said. "The police officer then struck the man several times."
Attorney Warren Brown, who is representing McGrier, said his client had a previous run-in with Officer Williams back in June that resulted in McGrier being charged with assaulting the officer, disorderly conduct, obstruction and hindering, and resisting arrest. Brown said that in that incident and in the one Saturday, the officer targeted McGrier without justification.
Brown said in Saturday's incident, McGrier was sitting on the steps when Williams passed by in his vehicle. Then moments later as he was walking down the street, the officer, now on foot, told him to stop without giving him a reason.
"My client was saying, 'What is this all about? You don't even have probable cause,'" Brown said. That's when Williams began shoving McGrier, Brown said.
Brown said McGrier was not being charged with a crime, but was taken to a hospital and was having X-rays taken of jaw, nose and ribs to see if he suffered any fractures from the altercation.
"It seems like this officer had just decided that Dashawn was going to be his punching bag," Brown said. "And this was a brutal attack that was degrading and demeaning to my client, to that community, and to the police department."
Be the first to receive breaking news alerts and more stories like this by subscribing to our mailing list.