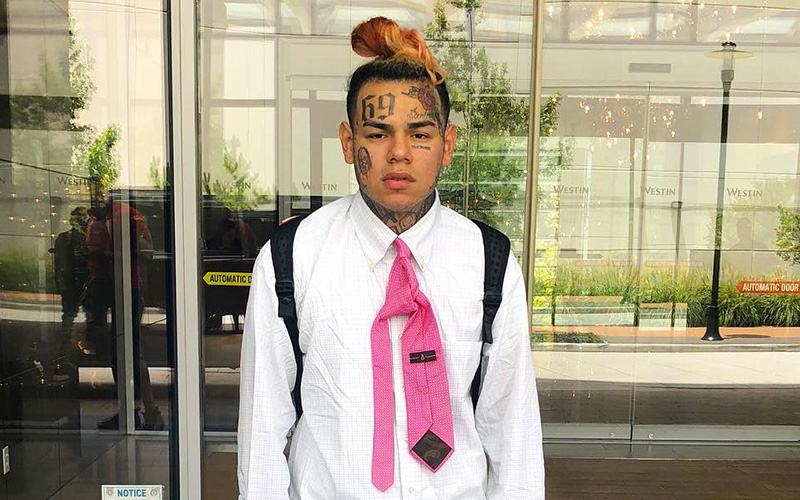 Tekashi 6ix9ine could spend the next 1-3 years of his life behind bars if prosecutors get their way.
The controversial rapper, whose real name is Daniel Hernandez, appeared in court Thursday (Aug. 9) to answer to charges related to a sexual misconduct case from 2015 in which he was charged with the use of a child in a sexual performance and was found guilty.
Tekashi 69 was accused of having sexual contact with a 13-year-old girl in February 2015 and later distributing at least three videos of the incident online.
According to the criminal complaint, in the first video, "the child engages in oral sexual intercourse with the separately charged defendant Taquan Anderson, while the defendant, Daniel Hernandez, stands behind the child making a thrusting motion with his pelvis and smacking her on her buttocks. The child is nude in the video."
The other two videos show the child sitting on 6ix9ine's lap while Anderson groped her breasts and later sitting naked across Anderson and 6ix9ine. The rapper claimed to have "no sexual contact" with the girl and denied knowing she was a minor.
Tekashi also claimed to be 17 years old at the time of the incident, although the birth date listed in the complaint against him and in his statement to the police shows he was actually 18 at the time.
The judge over the case gave him a conditional release and deferred his sentence for two years. The deal stated that Tekashi cannot get into any trouble of any kind, must complete community service hours, have a mental health evaluation, obtain his GED, and write an apology letter to the victim.
Had he met the terms of the deal, 6ix9ine would have essentially received a slap on the wrist—three years probation and he would not have to register as a sex offender. However, prosecutors are now saying that 6ix9ine violated the terms of his plea agreement by getting arrested in Houston and Brooklyn.
According to the Blast, the Manhattan D.A. is now recommending the rapper be sentenced to 1-3 years in a state prison and be registered as a sex offender.
Even though Tekashi has claimed he was a minor when the incident occurred, officials are adamant he should be "sentenced as an adult for the crime he committed against a child and accept the consequences of that conviction, including registration under the Sexual Offender Registration Act."
The letter to the judge states "Defendant has had over two years to demonstrate to this Court that the role he played in the sexual exploitation of a thirteen-year-old child was an aberration in his otherwise law-abiding life. He has failed to do so."
Tekashi 69 will be sentenced on October 2nd.
Be the first to receive breaking news alerts and more stories like this by subscribing to our mailing list.