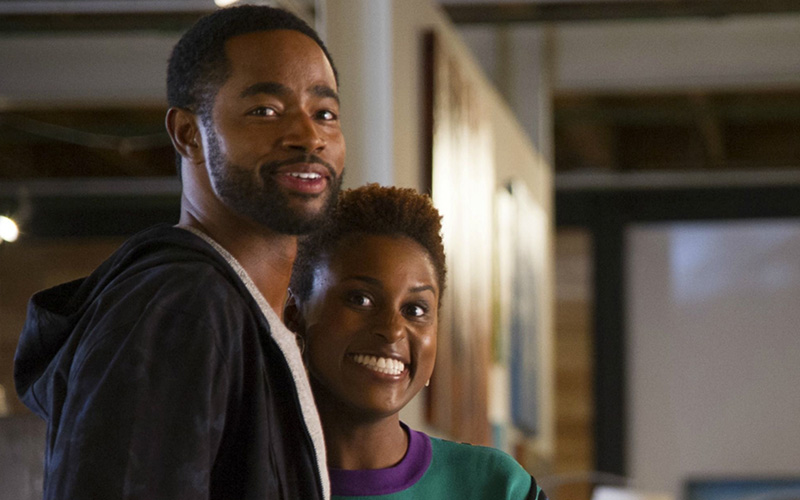 Good news: Insecure Season 3 debuts in a few weeks! Bad news (for #TeamLawrence): Lawrence, played by actor Jay Ellis, will not be a part of the show's third season.
Fans of the hit HBO series were thrilled when the Season 3 trailer was released online a few weeks ago, but when it got to the end, one question was on the minds of many: Where the heck is Lawrence?
Well, according to Insecure showrunner Prentice Penny and lead actress Issa Rae herself, Jay Ellis' character was completely written out of the show so that they could "stay as true to life as possible."
Issa explained during the third annual Insecure Fest in L.A. last weekend:
"We want to stay as true to life as possible. They had a great conversation at the end of season two and it was just about like, hey, she's moving on with Daniel [Y'Lan Noel], sometimes we have those conversations. You never see the exes again. And it's okay! You gotta explore life without Lawrence."
Penny added:
"At the end of the day, we're always trying to tell stories that are true and authentic. We were in the writers' room and we were initially talking about, Okay, well what is he doing?… Well, he's not in her life right now. It was hard to make stories around that.

"We just said, well, if he's not around, he's not around. Let's just deal with the reality of what her life is now. Let's be true to that, when you breakup and you have closure."
Like it or not, it seems Lawrence's exit will make way for new potential suitors in Issa's life. "It was also like, well where is Issa in her life right now? What would challenge that? And you'll see lots of people who are her love interest kind of come in and out," Penny teases.

And there won't just be one new guy, but a few. "Or guys?… Guys! Maybe. I think people will be rooting for her like they kind of always do, to make the right choice."
So, there you have it, folks. Lawrence will NOT be a part of Insecure Season 3, but that doesn't mean that he won't be written back into the show in future seasons. #LawrenceHive, keep hope alive!
Insecure Season 3 will premiere on HBO on Sunday, August 12th at 10:30 p.m. EST. Watch the trailer below:
Be the first to receive breaking news alerts and more stories like this by subscribing to our mailing list.