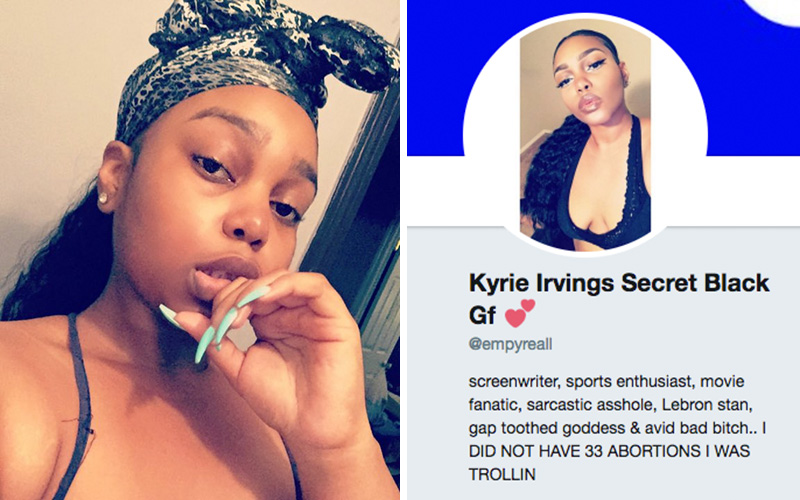 A woman who set social media on fire this weekend with a tweet celebrating her engagement "after being a side hoe for 6 years" and having "33 abortions" says she was just joking.
On Thursday (Jun. 28), Twitter user @empyreall went viral on the internet after she tweeted a photo of her hand with an engagement ring, and wrote: "After being the side hoe for 6 years, 33 abortions, and putting his mama in the hospital after running her over in a jeep Cherokee after she called me by his actual girflriends name, he proposed and I said YES!!!"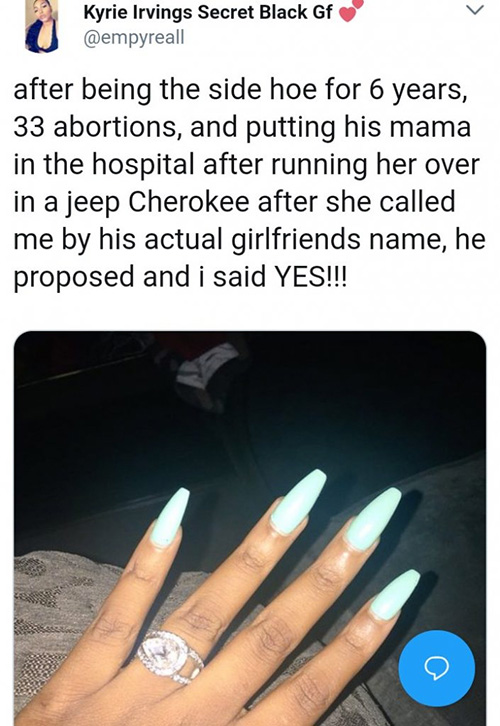 Upon first glance, anyone with common sense should be able to tell that she wasn't being serious, because, aside from the "side hoe for 6 years" comment, 1.) who brags about getting 33 abortions? And 2.) why would she boast about running over her future mother-in-law and putting her in the hospital?
Folks didn't even take the time to visit her profile either, which says "screenwriter, sports enthusiast, movie fanatic, sarcastic a**hole, Lebron stan, gap toothed goddess & avid bat bitch."
And besides that, 33 abortions over six years? That would equal to at least 5 abortions per year, which is about one every other month. I believe that at some point the abortion clinic(s) she was going to would look at her like, "GIRL… Do you need some birth control or Plan B or something? Because abortions are not supposed to be used as contraceptives."
A number of websites also ran with the story, which also gave it legs and made people believe it even more. And while some were able to understand right off the bat she was joking, others were not amused.
33 abortions and you would be in your grave right now ? I hope people aren't that stupid

Congratulations ??

— Global Citizen (@Alicia_Ncume) June 29, 2018
?? I can't RT @empyreall: after being the side hoe for 6 years, 33 abortions, and putting his mama in the hospital after running her over in a jeep Cherokee after she called me by his actual girlfriends name, he proposed and i said YES!!! https://t.co/RZx6c8ONlw

— Britney ? (@BRiT__BRaT_) June 28, 2018
lmao congrats. RT @empyreall: after being the side hoe for 6 years, 33 abortions, and putting his mama in the hospital after running her over in a jeep Cherokee after she called me by his actual girlfriends name, he proposed and i said YES!!! https://t.co/JwnMrRkCrF

— lord of the wolves. (@beerbellyboodha) June 29, 2018
33 abortions?! ?RT @empyreall: after being the side hoe for 6 years, 33 abortions, and putting his mama in the hospital after running her over in a jeep Cherokee after she called me by his actual girlfriends name, he proposed and i said YES!!! https://t.co/0YjcbxP5Bc

— ?????åq??????å??????? (@PlatinumBeautee) June 29, 2018
Why even….nvm. RT @empyreall: after being the side hoe for 6 years, 33 abortions, and putting his mama in the hospital after running her over in a jeep Cherokee after she called me by his actual girlfriends name, he proposed and i said YES!!! https://t.co/3incUi0XG6

— Lo (@Adorelola) June 29, 2018
33 abortions…. Wtf

— IG@Official_nelsonz?? (@nelsonebuka10) June 29, 2018
Y'all just say anything RT @empyreall: after being the side hoe for 6 years, 33 abortions, and putting his mama in the hospital after running her over in a jeep Cherokee after she called me by his actual girlfriends name, he proposed and i said YES!!! https://t.co/XU4kU9gAtL

— Crip Gallagher (@2Tanks_DRE) June 29, 2018
33 abortion's in 6 years ?? Bitch a mass murderer ????? https://t.co/Rv0QlN2zHn

— Dae'ja? (@xxDaee) July 1, 2018
The tweet gained so much traction that @empyreall had to follow-up and let people know that she was JK: "so….y'all do know this is a joke right? LMAOOOOO." She added, "I laid the sarcasm on thick and people still believing me."
so…..yall do know this is a joke right? LMAOOOOO.

— Kyrie Irvings Secret Black Gf ? (@empyreall) June 28, 2018
???? i laid the sarcasm on thick and people still believing me. ??? https://t.co/76KsKKhd5a

— Kyrie Irvings Secret Black Gf ? (@empyreall) June 28, 2018
"So let me make this PERFECTLY clear. I have NOT been a side chick for 6 years," she said in another tweet. "Nor have I had 33 abortions. NOR am I engaged. IDK why y'all take dark humor from twitter and run with it. But if you gone make articles about it, put the tweet that said it was a joke too."
so let me make this PERFECTLY clear. i have NOT been a side chick for 6 years. nor have i had 33 abortions. NOR am i engaged. idk why yall take dark humor from twitter and run with it. but if you gone make articles about it. put the tweet that said it was a joke too. lmaooo

— Kyrie Irvings Secret Black Gf ? (@empyreall) June 30, 2018
She also updated her bio with this: "I DID NOT HAVE 33 ABORTIONS I WAS TROLLIN."
Twitter seemed relieved that the whole thing was just a joke, with some expressing shock that they didn't know that from the jump:
Lol yes. The 33 abortions gave it away.

— Mac'rilla & Da Chimps (@DickHurts28) June 30, 2018
Lmfao the fact that someone believed you had 33 abortions ???????

— GiGi (@ciaobellllllaaa) June 30, 2018
33 abortion's how they not know it was a joke people ?????

— Lesia_BdatB (@LBdatb) June 30, 2018