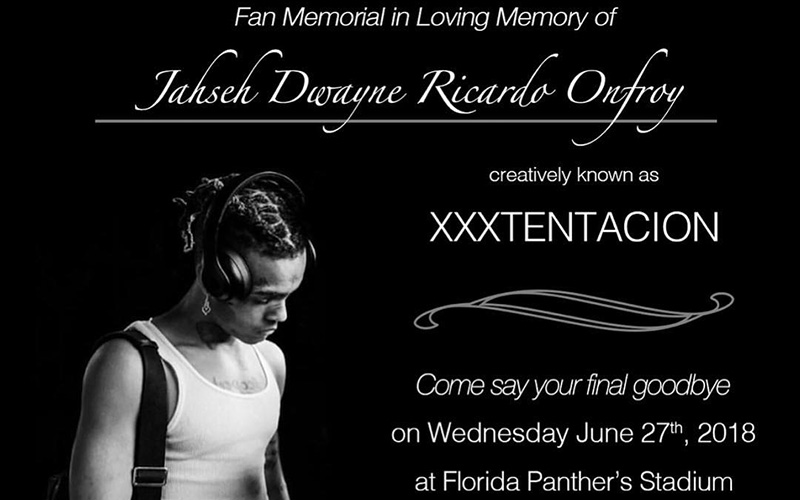 A public memorial service for XXXTentacion is scheduled for Wednesday, June 27th, 2018, and, in addition to relatives and close friends, friends are invited to attend the funeral. To accommodate the expected huge turnout, XXX's funeral will be held at the BB&T center—a 20,000-seat arena in Sunrise, Florida.
According to the late rapper's attorney, J. David Bogenschutz, the service will include an open-asking viewing. However, cell phones and cameras will be prohibited at the event, according to a flyer announcing the memorial on his Instagram page. Admission is free.
"Come say your final goodbye on Wednesday, June 27th, 2018 at Florida Panther's Stadium from 12pm to 6pm," reads the flyer. "No cellular devices or cameras will be allowed. Please leave them at home or in your vehicle. Any person found with any device of the sort will be immediately turned around at [the] gate or escorted out and will not be allowed back on the premises."
https://instagram.com/p/BkXuEzhAOiY/?utm_source=ig_embed
The no cell phone policy is likely a reaction to the videos floating around the internet showing XXXTentacion lifeless with no pulse right after he was shot in his vehicle.
20-year-old XXXTentacion, whose real name was Jahseh Dwayne Ricardo Onfroy, was gunned down last Monday afternoon (Jun. 18) while leaving a motorcycle dealership in Deerfield Beach, Florida. According to eyewitnesses, he was shot in the neck and died instantly at the scene. The incident report states there was a brief struggle between XXX and his shooter before he was killed.
One of XXX's suspected killers—22-year-old Dedrick D. Williams, who reportedly stalked the rapper and waited for him to leave before robbing and shooting him— was arrested two days later and was charged with first-degree murder. He's being held at the Broward County jail with no bond. His accomplices, two other men, have warrants out for their arrest and are still at large.
XXX's death has resulted in increasing streaming numbers for the late artist. The day after his death, his song "SAD!"—a single from his latest album ?—broke the Spotify record for most single-day global streams, which was previously held by Taylor Swift. Today, Billboard reported that the song had skyrocketed from No. 52 to No. 1 on the Hot 100 chart.
X's mother, Cleopatra Bernard, announced last week that he was expecting a child with his girlfriend. The baby is due before the end of the year.
XXXTentacion also reportedly took good care of his family just months before he was murdered. According to TMZ, he spent close to $2 million buying four houses for several close family members
Be the first to receive breaking news alerts and more stories like this by subscribing to our mailing list.