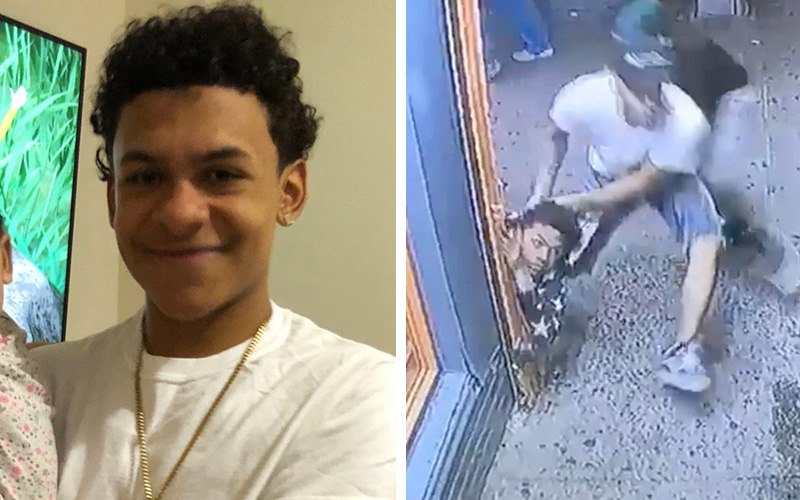 A New York City community is searching for answers after a 15-year-old boy was stabbed by a group of men and left to die on the street in plain view of people nearby who watched in horror.
According to reports, Lesandro Guzman-Feliz was stabbed multiple times with a machete after getting into an argument with a group of men in a bodega near his home in the Bronx Wednesday night (Jun. 20).
Surveillance video footage from outside the store released to the public shows the moment the horrific scene unfolds.
The video shows five men—at least two with their faces covered with shirts—dragging Guzman-Feliz outside and stabbing him all over his body, including both sides of his neck.
One of the attackers can be seen hacking at the teen with a machete while another one punches him over and over before the group speeds off in two separate cars.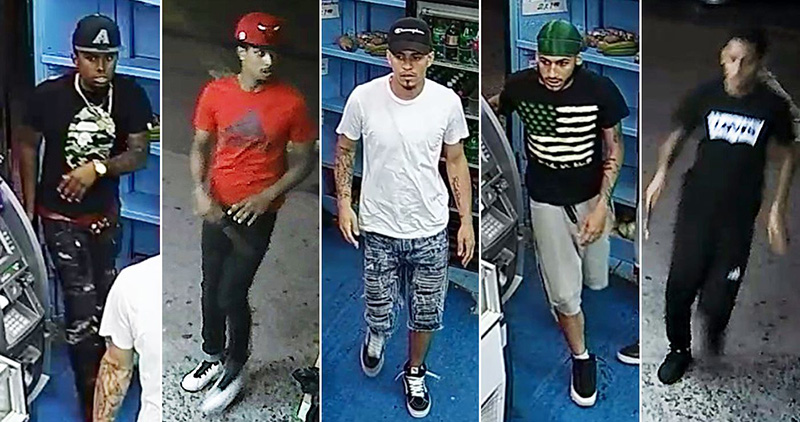 Guzman-Feliz was left bleeding to death and screaming on the corner with his hands raised before running across the street to a hospital, police said.
Police said Guzman-Feliz knew the suspects and the stabbing may have been gang-related, though Guzman-Feliz—who had no criminal record—was not a part of a gang. He reportedly ran into the Zesarina Grocery on East 183rd Street after being chased by the group.
"He tried to run into the store because he thought he'd be safe. They dragged him from the store like a dog," Guzman-Feliz's 17-year-old sister, Genesis Collado-Feliz told the New York Post. "They were grown men and he was only 15."
Collado-Feliz described her younger brother as a "good kid" who enjoyed playing video games like Fortnite and 2K "like every 15-year-old," she said.
Several videos of the incident have been widely circulated on Facebook. In one video, taken from outside a window several stories above the violent scene, bystanders can be heard screaming, "Oh sh**! Stop!"
Another graphic video posted on Facebook shows Guzman-Feliz covered in blood with his eyes wide open sitting on the sidewalk near St. Barnabas Hospital while people around him scream hysterically.
People can be heard telling the boy, who was referred to as "junior," to "keep [his] eyes open" and "keep talking."
Guzman-Feliz eventually died of his injuries. The murder weapon hasn't been recovered and the teen's murderers were still at large, police said. Some people have said that the teen's murder was a case of mistaken identity.
Social media has reacted to the news of violence, making the hashtags #Justice4Junior and #JusticeForJunior go viral on Twitter.
Junior ran to the hospital & made it outside of the hospital when he was sitting there taking his last breaths with cops around not getting help. Watching this 15 year old bleed to death and took no action. I'm honestly so damn tired of the police in the States #JUSTICEFORJUNIOR

— Ty (@tbrezzzyy) June 22, 2018
They killed a 15 year old KID. Five "MEN" against one KID. They stabbed him, beat him and dragged him before leaving him to die. He used the last of his strength to get to a hospital but was recorded and questioned by police instead of being rushed to the ER. #JusticeforJunior pic.twitter.com/6SCIgmBb5u

— Pableaux (@tonyduhVo) June 22, 2018
If I'm that family Im pressing chargers everyone in that store who watched him get dragged out of the store and didn't intervene or call police , poor family going be missing they baby forever taken so young #justice4junior

— DreamVille Wade (@natethakid412) June 23, 2018
THAT BOY RAN HIMSELF TO THE HOSPITAL??? WHAT ABOUT THE PEOPLE IN THE STORE? THE FUCKIN COPS?? DUMBASS COPS LET HIM BLEED TO DEATH TRYNA GET A STORY FROM HIM. SO MUCH FOR KEEPING EVERYBODY SAFE. #justice4junior

— HOT GIRL DES (@dessireeexo) June 23, 2018
Every second counts in emergencies. He should not have been sitting slumped over while bleeding to death, with folks in his face. Not to mention all of those vehicles and NObody rushed him to the hospital—not even the police. Shame on it all. #justice4junior.

— Jermaine Watkins ?? (@JermaineWatkins) June 23, 2018
"The world is a dangerous place, not because of those who do evil, but because of those who look on and do nothing"- Albert Einstein #JUSTICEFORJUNIOR

— DJ RANYE (@RanyeSpins) June 22, 2018
No one did anything… this is so sad. Condolences to his family ??????#JUSTICEFORJUNIOR pic.twitter.com/FqlBmRDVIq

— Maddy (@its_maddyyyyyy) June 22, 2018
I just saw one of the saddest videos of a boy's life being taken away from him & nobody tried to help him..I'm deeply saddened for him & his loved ones. Love & appreciate your young friends & family while they're here, we're losing too many young lives #JUSTICEFORJUNIOR

— ????????? ? (@spanishcvndy) June 22, 2018
Can you imagine what he must've been thinking during his last moments? The fear he must have had? And just wanting to be with his mother? And loved ones? Omg! That shit hurts my soul. #JUSTICEFORJUNIOR

— soul mama ? (@ariellaarie) June 22, 2018
#Justiceforjunior WHAT ARE WE DOING TO OUR YOUTH?! I am crying my eyes out for you junior & for your family. You are my brothers age. Your momma & family shouldn't have had to watch you leave this earth so soon & so tragically.

— Becky G. (@iambeckyg) June 23, 2018
Bronx native Cardi B has even weighed in on the incident and called out New York police for being quick to "harass" residents, but not help.
"What piss me off the most is that these BX cops be harassing the sh** outta people then they see a boy bleeding to death and ask what happen?" she wrote on Instagram alongside a picture of the teen's mother holding onto Guzman-Feliz as he lay on a hospital gurney. "How bout you call the ambulance like ya be calling for back up when ya see nikkas smoking in front of a building !!!!!"
A GoFundMe has been started for the teen's family that has so far raised more than $30,000.
The NYPD has released photos of the men suspected of murdering Lesandro Guzman-Feliz, the New York Daily News reported. (Click here to scroll to the top of the post to see the photos.)
"They are actively investigating several promising leads and have gotten several tips from the public that they are working right now," a senior police official said Friday.
Anyone with information was asked to call the NYPD's Crime Stoppers Hotline at (800) 577-TIPS. Calls are confidential.
Be the first to receive breaking news alerts and more stories like this by subscribing to our mailing list.