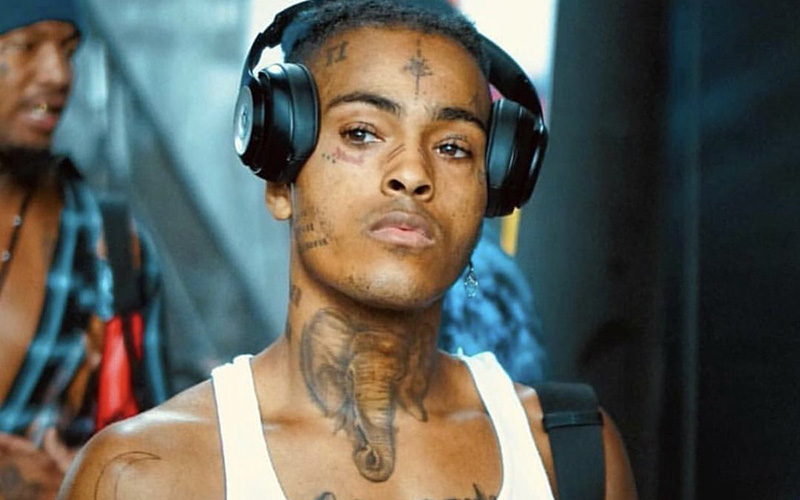 XXXTentacion's tragic shooting death has unsurprisingly led to a renewed interest in his music. As is the norm when any popular artist dies, their fans rush to buy their music, and in more recent times, their streaming numbers instantly shoot up.
In XXXTentacion's case, his Amazon album sales have skyrocketed more than 700,000%, his "SAD!" single rose to the top of iTunes' top songs chart, beating out Beyoncé and Jay-Z's new single "Apes**t," and his ? album (which features the song "SAD!") climbed to No. 3 overall on the iTunes charts. "SAD!" also leapt to No. 2 on Spotify's U.S. chart, and it's likely that his albums ? and 17 will see a jump on the Billboard 200 chart as well.
The renewed interest in XXX's music has also led to a number conspiracy theories about his rumored third album, with many fans believing that the rapper didn't actually die, but faked his death to promote an album called No Pulse, which isn't really as crazy as it sounds, considering the stunts XXXTentacion has pulled in the past.
The No Pulse album promo theory, which has been perpetuated heavily on social media (especially Twitter), points to things like XXX's face tattoo not being visible in the crime scene video, and the lack of blood on his body or on/in the car, as clues that he's actually still alive and simply faking his death. But those are just conspiracy theories, as XXXTentacion's death has been extensively documented and was confirmed multiple times by Florida officials.
Also, the below photo shows blood on the seat's headrest after his body was removed: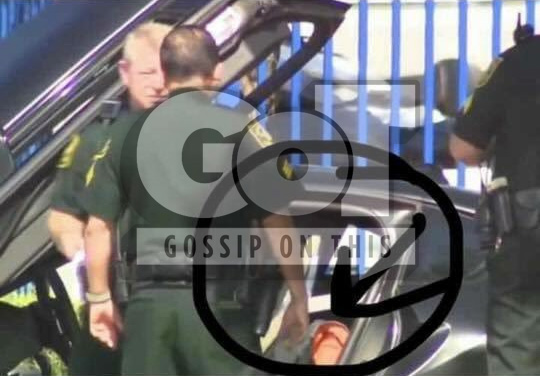 And this photo shows that the man in the video, did, in fact have tattoos on his face, but the angle/lighting obscured them: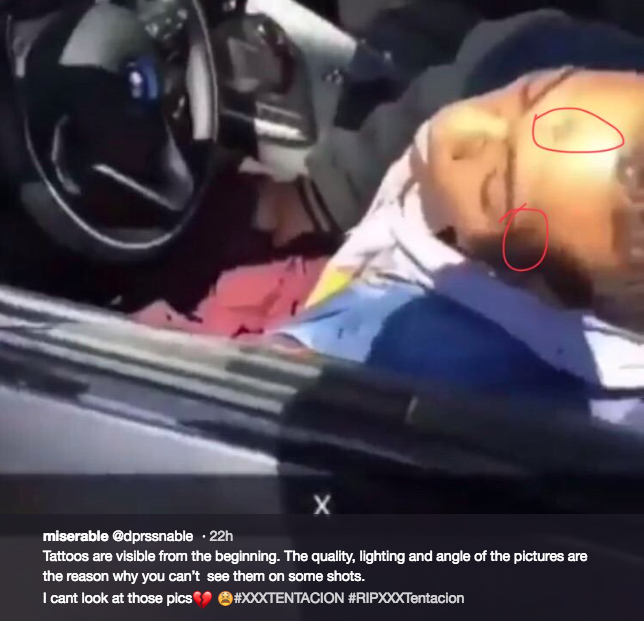 As for the reports that he was planning to release an album called No Pulse, those are completely false as well, as there is no evidence that he was working on an album with that title. As a matter of fact, that title completely contradicts the album title that XXX had been teasing months before his death: Skins.
X first revealed plans to release Skins back in April when he posted a photo of yellow construction tape on Instagram with a caption that read "skins 'the album' coming soon." The photo received more than 500,000 likes, but X took it down shortly after. A few weeks later, he provided fans with an update on the album by posting a message on his IG story that read: "I'm just getting started, next album will be done very soon."
Some of X's fans have pointed out that witnesses said X had "no pulse" after he was shot, speculating that this was a clue to the title of the rumored album.
One user wrote: "He's not dead. He has an album coming out in the next few days/week called 'no pulse'. It's to promote the album & to prove that no one cares about people until they're dead."
A user replied to that tweet, saying: "Sis they're not going to go through all this trouble and they're not going to make millions of people cry to just prove something. he's dead."
The original user replied: "Yeah [I know] that but he probably would have already come out to say it was just a test and also if u record an album or song before u die then the record label u were signed with can release it that's probably what they're doing."
Take a look at more fan theories below:
https://twitter.com/lupita73775484/status/1009144043845005312
XXXTentacion's death is just a PRANK. it's his surprise for his upcoming MV "No Pulse" spread the news

— PHILIP (@chadphlpboston) June 19, 2018
https://twitter.com/HostileKiba/status/1009071320162848768
#xxxtentacion #x #RIPXXXTentacion X might actually be alive. Compare his tattoos with the tattoos that are shown in the vid of him in the car. His forehead is completely clear + he said that his next album is going to be called "no pulse". What do y'all think? pic.twitter.com/ApboAzhEQ2

— Grzegorz Rzeski (@GrzegorzRzeski) June 19, 2018
Fans also pointed to a video of XXXTentacion claiming to "still be alive," but that clip was from 2017 after it was rumored that he committed suicide by hanging himself from a tree, which turned out to be a publicity stunt to promote his new video at the time.
The conspiracy theories have no doubt caused a lot of confusion online.
In addition to confirmation from Broward County, Florida officials, X's manager released a statement confirming his death. "On June 18, 2018, Jahseh Onfroy—known worldwide as XXXTentacion—tragically passed away from a gunshot wound in Deerfield, Florida," the statement reads. "It is with great sadness that the news is confirmed in this official statement by his team—manager Solomon Sobande, EMPIRE, Bob Celestin, Esq. and AKW PR. In deference of his family , friends and loved ones and in light of further investigation, we ask that their privacy is respected at this time."
The statement continued: "XXXTentacion touched the lives of millions around the globe and will forever reside in the hearts of countless fans who listened to his music, attended his concerts, and felt the glow of his uncontainable, undeniable, and unique spirit. News about memorial services to be issued forthcoming."
AN OFFICIAL STATEMENT REGARDING XXXTENTACION pic.twitter.com/bxMOPx2yTB

— A|K|W PR (@AKWPR) June 19, 2018
Diplo took to Instagram to pay tribute to the rapper right after his death and revealed that he and Skrillex were planning on helping produce Skins. "He texted me this weekend, it was one of his goals to get me & Skrillex to finish his next album … I Invited him to LA this week. I was wondering if he was gonna come."
It isn't clear whether or not Skins was finished (or close to being finished) at the time of XXXTentacion's death, or whether the album will ever see the light of day, but it's very possible that even if it isn't officially released, select tracks will be either leaked online or released by his label.
An unfinished version of the song "BAD!" was posted on YouTube a few months ago, and it's believed to be one of the last songs XXX worked on before he was killed. It's also rumored to have been on the tracklist for Skins.
XXXTentacion was gunned down as he left a motorcycle dealership on the afternoon of June 18th, 2018. Police are still looking for two suspects who they believe fled the scene in a dark SUV.
Witnesses told cops a Louis Vuitton bag was stolen from the rapper's car, sparking the theory from police that his shooting was the result of a robbery. Authorities are offering a $3,000 reward for any information leading to an arrest.
Be the first to receive breaking news alerts and more stories like this by subscribing to our mailing list.