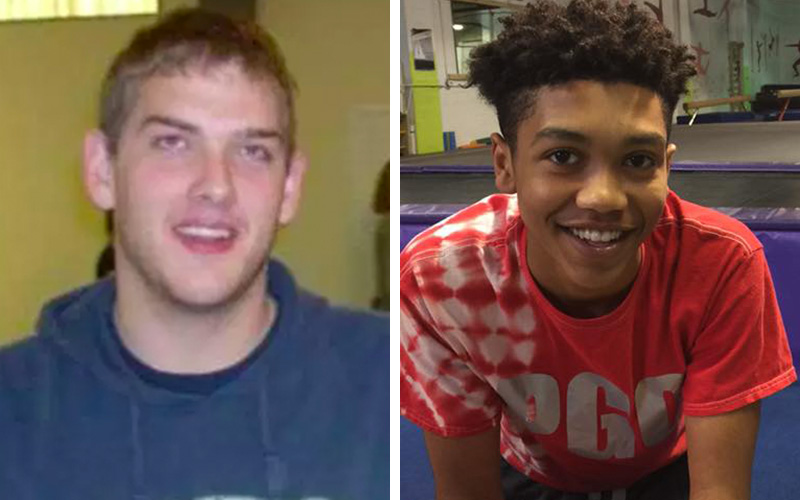 The East Pittsburgh police officer who shot and killed 17-year-old Antwon Rose while he ran away from cops during a traffic stop Tuesday (Jun. 19) has been identified as 30-year-old Michael Rosfeld, according to the Pittsburgh Post-Gazette.
Rosfeld had only been on duty in East Pittsburgh for three weeks and been sworn in just 90 minutes before the shooting. He was placed on paid leave after the shooting and is being represented by an attorney from the law firm of Marshall Dennehey Warner Coleman & Goggin.
Rosfeld told Pittsburgh's Action News 4 he and his family are trying to deal with what happened and said the entire situation has been difficult for them. He said he's not ready to talk about the shooting and why he shot Antwon Rose. He added that he has received a lot of support from others in law enforcement and is not paying attention to the media coverage. Rosfeld told the news station he was not aware that part of the incident was captured on video.
Authorities said Rosfeld pulled over the car Rose was in Tuesday night because it matched the description of a vehicle used just minutes earlier in a shooting in a neighboring town. As Rosfeld took the driver into custody, Rose and another not-yet-identified passenger jumped out of the car and ran.
Video footage recorded by an eyewitness shows Rosfeld shooting Rose in the back as he fled the scene. After gunshots were heard, the person recording the video gasps in shock and can be heard saying, "Why are they shooting at them? … All they did was run and they're shooting at them?"
The teen, who lives in Rankin (a borough in Allegheny County, Pennsylvania about 8 miles south of Pittsburgh), was taken to McKeesport Hospital via ambulance and was pronounced dead at 9:10 p.m.
An eyewitness told WTAE-TV that she saw the whole thing go down from her porch. She said she saw officers approaching the vehicle with their guns drawn, and when the officers handcuffed the driver, that's when the two passengers opened their doors and took off running. She then heard shots fired.
Police processing suspects gray car along Grandview Ave in East Pittsburgh. County investigators believe this car was involved in a separate shooting in N Braddock where man was wounded. Suspects fled. 1 suspect shot, another in custody and police still searching for the third. pic.twitter.com/xz1AuURF78

— Mike Holden (@WPXIMikeHolden) June 20, 2018
The shooting occurred in East Pittsburgh, Pennsylvania, a borough with about 2,000 residents in Allegheny County that is about 15 minutes outside the city of Pittsburgh. According to police, the incident began with another shooting in neighboring North Braddock. The 22-year-old male who was shot in the shooting police were initially responding to was taken to the hospital and survived.
Police said Officer Rosfeld fired three shots and Rose was hit three times. Allegheny County Police Department Superintendent Coleman McDonough said he "briefly saw" the video footage of the shooting.
"It's important, however it has to be taken in the context of the entire investigation," he said. "It's a snapshot in time and while important, it will be factored into the larger totality of the investigation."
McDonough added, "I understand in today's atmosphere any time a young man is killed there's cause for outrage in some areas. However, I would urge people to give us time to conduct an objective investigation, to gather facts. As you know, social media is so prolific now, some of the initial postings on social media that came out directly after this incident were inaccurate and inflammatory. So I would urge that people in the community give us a chance to conduct an investigation and I guarantee that's what they will get from the Allegheny Police."
McDonough said there are rare times when shooting someone in the back can be justified.
"It's very complex, there are a lot of dynamics. There is something called a reactionary gap between the time a human perceives a threat and is able to act on it," he explained. "Things happen, people turn around and things. I'm not saying that any of that applies to this situation because it's too early and we can't make judgments. Ultimately, our findings will go to the district attorney and he will make that judgment whether or not this was a justified use of force by a police officer."
The investigation into Rose's shooting is ongoing. Police said two firearms were found in the car Rose ran from, but authorities have said they didn't find a gun near Rose or on his person after he was shot.
Bystanders said Rose was not armed and had his back to officers when he was gunned down. Allegheny County District Attorney Stephen A. Zappala Jr. did say that the teen had an empty handgun clip in his pocket though.
McDonough said the officer was conducting a "felony traffic stop" and ordered the driver out and had him "prone" on the ground. He said the officer also gave a command to the other occupants in the vehicle and that's when they took off running. McDonough said he believes police gave Rose a verbal order before the shots were fired.
McDonough said he was confident the vehicle officers pulled over was the one used in the shooting. He said it matched the description given by eyewitnesses and had damage to the back window that was possibly caused by gunshots returned by the shooting victim during the first incident.
The driver of the vehicle was released after being interviewed by detectives and was not charged. The driver told police he worked as a jitney, an unlicensed cab driver, and was working in that role Tuesday night, according to the Post-Gazette. Police confirmed the driver had worked as a jitney in the past.
The other man who ran from the vehicle was not apprehended, and police are asking him to turn himself in "so that he can give a comprehensive description of what occurred."
Rose's shooting death at the hands of police has sparked outrage in the community and all over the United States. A rally was held in East Pittsburgh Wednesday amid a heavy rain shower.
East Pittsburgh Mayor Louis Payne said that less than 2,000 people live in the tiny borough, and they're still trying to understand what happened. He also said that this is the first time during his 20-year tenure as mayor that he's ever heard of a police firing their weapon.
"I've been a mayor for 20 years and long before that I don't think a police officer's discharged their pistol or weapon in all that time and unfortunately it had to be now," Payne said. "We can't change what happened, nothing can change what happened. All we can do is remember Antwon, pray on it and dwell on it and make something good come out of his life."
Attorney Fred Rabner, who is representing Antwon's family, said the teen's death is a tragedy "whose narrative has sickeningly become all too familiar — a young black man shot by an over-zealous, poorly trained, police officer." Rabner continued, "The facts, while limited, have already revealed that this is yet another senseless act of violence where a police officer sworn to uphold the law and protect its citizens, shoots a child indiscriminately and cowardly in the back."
Antwon did not have a criminal record and, before Tuesday, had no involvement with the police. "We shouldn't have to add that he had no past criminal involvement, but in this climate we have to stress the same to all the police brutality apologists," Mr. Rabner said. "We owe it to him to ensure his death was not in vain and that he and his family receive the justice they rightfully deserve."
Mr. Rabner, who represented Leon Ford, a man who was shot and paralyzed by Pittsburgh police in 2012 said Antwon having an empty clip in his pocket, or the fact that police found two firearms inside the car he was in, doesn't matter. "None of [that] would play into the evaluation as to whether this was a reasonable action by the police officer, or a good shoot," he said. "He is running away, empty-handed, and he is shot in the back. Period."
Mr. Rabner said under the law, "it's what the officer knew at the time, first of all. Second of all, whether the action was taken to protect his safety and interest or others' safety or interest. There was no risk at all to the officer."
According to WPXI-TV, Rose attended Woodland Hills High School in Pittsburgh and was a rising senior.
"The Woodland Hills School District acknowledges the gun violence that occurred recently within the neighborhoods that our district serves," Licia Lentz, the school district's Assistant Superintendent said in a statement. "We are urging the communities to help us call a ceasefire to end this gun violence to keep our community safe for our children … Our thoughts are with the victim's family and the entire Woodland Hills Community."
School District Superintendent Al Johnson told the New York Times that Rose "was an excellent student" who had been taking Advanced Placement classes. Along with Antwon's death, Johnson said, "we've lost four students to gun violence."
S. Lee Merritt, a lawyer representing Antwon's family said in a statement Wednesday night: "We know very little about the circumstances surrounding his death at this early stage. We must emphasize that rumors of him being involved in a separate shooting are unsubstantiated. We know that he was not armed at the time he was shot down, that he posed no immediate threat to anyone, and that, significantly, the driver of the vehicle he occupied was released from police custody."
Mayor William Peduto of Pittsburgh said in his own statement, "This is a devastating situation and I am saddened for Antwon Rose and his family."
Gisele Barreto Fetterman, wife of Braddock, Pennsylvania Mayor John Fetterman, wrote on Facebook that Antwon helped volunteer at the Free Store, an organization she created that helps provide goods to people in need. She said when he was 14, "and only a few weeks into summer vacation," he asked about volunteering at the Free Store and he "was scheduled to return this summer." She added, "His life was just starting, he was part of a wonderful family and he was SO LOVED by so many and he didn't deserve this."
Mrs. Fetterman spoke to the NY Times about Antwon's politeness when he would stop by to help on Saturday mornings. "He would always call me Ms. G or Ma'am," she said. Fetterman told KDKA-TV Antwon "was a funny, goofy kid who loved chasing children around the store."
Duquesne Mayor Nickole Nesby wrote on Facebook: "He volunteered for me as well. He prepared excel spreadsheets and scheduled for our Movies in the Park on Friday's. My heart is broken."
Rose once worked during the summer at a children's gymnastics and fitness center in Pittsburgh, its owner, Kimberly Eads Ransom, wrote on Facebook Wednesday. She said the photo of him circulating on social media, showing him smiling next to a little girl, was taken in her gym when he worked there.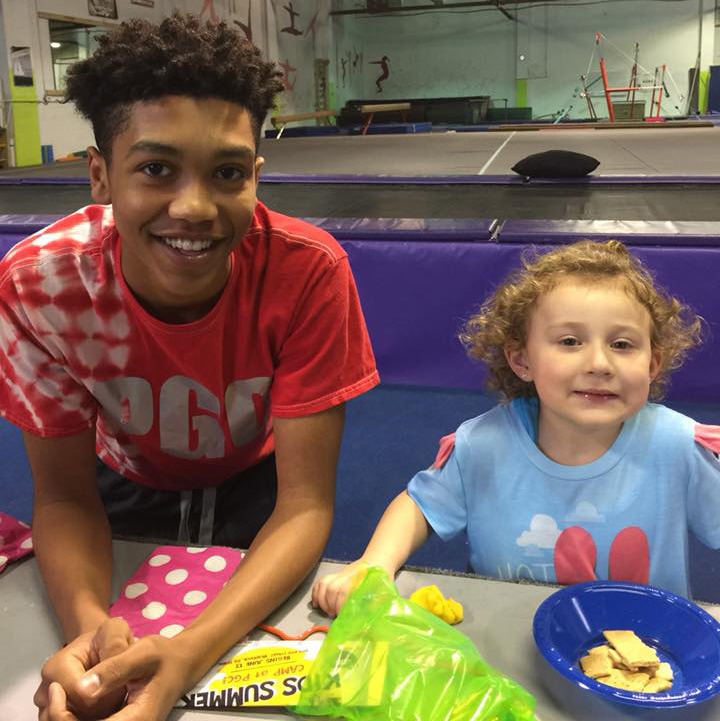 "He was fantastic and I have nothing but great things to say about him," she wrote. "He showed up in a 3 piece suit to his job interview in the middle of July heat in a gym. We loved him. The kids loved him. He was valued and we won't forget him."
18-year-old Raemon Prunty, a childhood friend of Antwon's who also volunteered at the Free Store, said the last time he spoke to him was three days ago. Prunty said that as a young black male, he, too, would have done the same thing Antwon did. "If I was in Antwon's shoes, I would have ran," he said. "It's out of fear."
Be the first to receive breaking news alerts and more stories like this by subscribing to our mailing list.