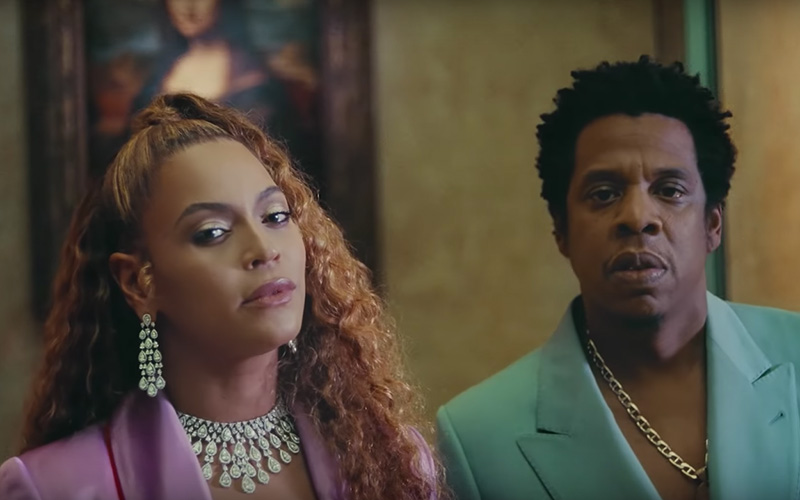 PUT SOME RESPECK ON THEIR NAMES!
To coincide with the release of their surprise joint album Everything Is Love, Beyoncé and JAY-Z, collectively known as "The Carters," have also dropped the official music video for the project's lead single "APES**T."
Get to know the most prominent art works featured in Beyoncé & JAY-Z's #APESHIT music video.https://t.co/6w5MWyc01a @vulture pic.twitter.com/91HpbP0xGG

— BEYONCÉ LEGION (@BeyLegion) June 17, 2018
In the video, The Carters take over the world-famous Louvre museum and show off their appreciation for high art, pastel suits, dancing and more.
2) The first shot of the duo is in front of the Mona Lisa, the most recognizable portrait in the museum. People from around then world flock to the Mona Lisa to take their picture with her (i.e. next image). Beyoncé (and Jay-Z I guess) is visually asserting herself as Mona Lisa. pic.twitter.com/smpysAEDyy

— Queen Curly Fry (@itsmeheidi_h) June 17, 2018
One iconic scene shows a black woman picking a black man's afro right in front of the Mona Lisa, which also just so happens to be the album cover for Everything Is Love. "Whole lotta gangin," raps Beyoncé.
can I just thinkpiece it for a sec? bc we ain't talking about this cover enough. not only did they take over the Louvre, but their lead image is of a blurred out Mona Lisa—a high standard for Eurocentric beauty—and highlighted a BW picking a BM's fro. Black IS beauty. Powerful. pic.twitter.com/KUzY4Bna4J

— Don Fonso ???? (@fonzfranc) June 17, 2018
WATCH THE VIDEO FOR "APES**T" BELOW:
Be the first to receive breaking news alerts and more stories like this by subscribing to our mailing list.