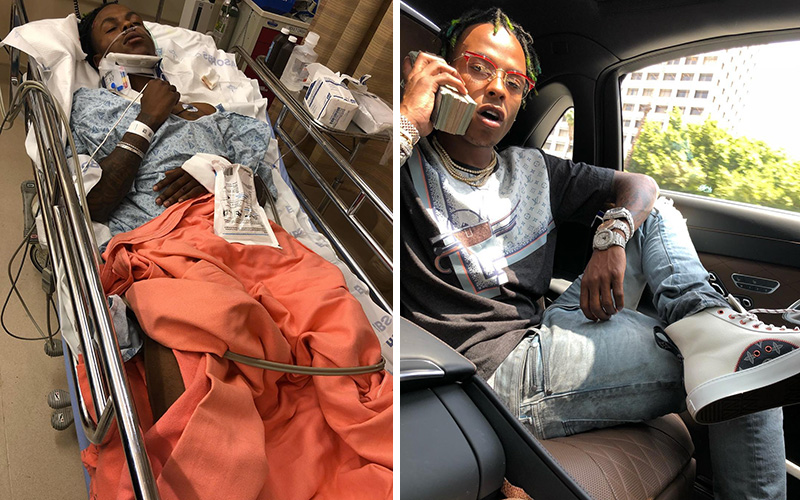 What's happened to Rich the Kid? Is he OK?
Fans of Rich The Kid have questions after he (or someone) posted a photo on Instagram showing the rapper lying unconscious in what appears to be an emergency room hospital bed.
He has a neck brace on, is hooked up to an IV and is being given oxygen through the nose. The photo on IG has no caption, leading many to wonder what the hell is going on.
Because of the neck brace, it seems he was injured as the result of an accident (perhaps a car accident?) of some sort. But without details, that's all just speculation.
https://instagram.com/p/BkDB312hWwu/?utm_source=ig_embed
Comments on the post range from praying hand emojis to jokes about Lil Uzi Vert. "See now u know to leave uzi alone," joked one commenter. "@liluzivert must have caught him lacking," said another.
RTK hasn't been having the best month so far. After Lil Uzi Vert ran up on him and caused him to hide behind the counter at Starbucks, leaving many to question the status of his street cred, he was attacked by a taxi driver who threw objects at his car yesterday.
While the past 30 or so days haven't been good to Rich, 2018 has certainly been his year.
Interestingly enough, news of the rapper's mysterious hospitalization comes a few hours after the rapper was celebrating earning eight platinum plaques this year on his Instagram story. "Eight plaques in 2018… EIGHT!" he said. "Y'all n**gas need to catch up! Eight plaques, I'm winning!"
The badge of honor accounts for some of his biggest hits to date, including "New Freezer" and "Plug Walk," from his debut studio album The World Is Yours. He also posted a video to IG his story showing him in the studio working on new music, captioning the clip "Back 2 work!"
Be the first to receive breaking news alerts and more stories like this by subscribing to our mailing list.