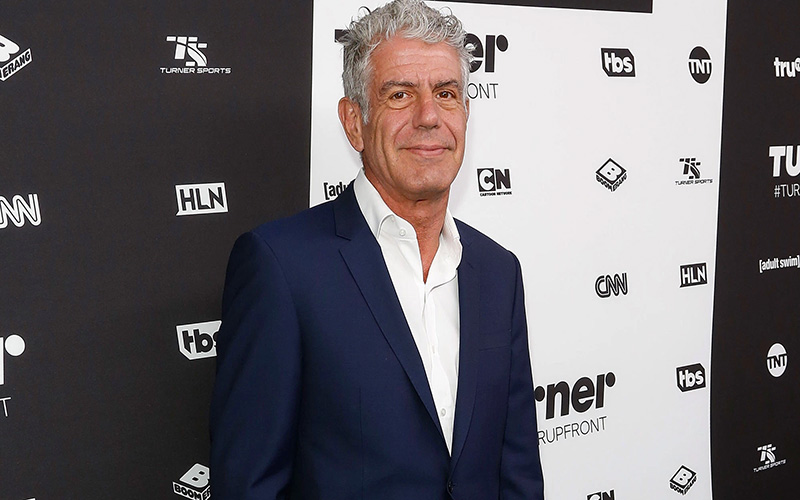 Anthony Bourdain, beloved chef and TV host, has died of an apparent suicide at the age of 61.
According to CNN, Bourdain was found dead by his friend Eric Ripert in his hotel room in France early Friday morning (Jun. 8). The two were on location shooting an episode of Bourdain's award-winning show Parts Unknown, CNN reported.
"It is with extraordinary sadness we can confirm the death of our friend and colleague, Anthony Bourdain," CNN said in a statement Friday morning. "His love of great adventure, new friends, fine food and drink and the remarkable stories of the world made him a unique storyteller. His talents never ceased to amaze us and we will miss him very much. Our thoughts and prayers are with his daughter and family at this incredibly difficult time."
Bourdain first made his as a chef and then an author. His famous book, "Kitchen Confidential: Adventures in the Culinary Underbelly," was published in 2000.
Bourdain was perhaps best known as the host of the award-winning CNN series "Parts Unknown," in which the chef and author took viewers around the world exploring the human condition and helping audiences think differently about food, travel and themselves. He was an advocate for marginalized populations and campaigned for safer working conditions for restaurant employees.
Bourdain received practically every award within the industry along the way, including the Peabody Award in 2013 when judges honored him and Parts Unknown for "expanding our palates and horizons in equal measure."
"He's irreverent, honest, curious, never condescending, never obsequious," the judges said. "People open up to him and, in doing so, often reveal more about their hometowns or homelands than a traditional reporter could hope to document."
Bourdain was once called "the original rock star" of the culinary world and "the Elvis of bad boy chefs" by the Smithsonian.
In 1999, he wrote a New York Article titled "Don't Eat Before Reading This," which later became his best-selling 2000 book "Kitchen Confidential: Adventures in the Culinary Underbelly," which set him on a path to international stardom.
Bourdain's first foray into television was "A Cook's Tour" on the Food Network before moving to the Travel Channel with "Anthony Bourdain: No Reservations," which was a breakout hit and earned two Emmy Awards and more than a dozen nominations.
He joined CNN in 2013 and quickly became one of the most famous faces on the network. Season 11 of "Parts Unknown" premiered on the network last month.
Bourdain told People in an interview in 2016 that while he was "living the dream," traveling 250 days a year working on projects like his CNN show, it did come at a cost.
"I have the best job in the world and I'm very grateful for that," he said. "And I don't plan on walking away from that any time soon, I can assure you—but it comes at a cost."
That "cost" Bourdain was referring to was the dissolution of his marriage to mixed martial artist Ottavia Busia. At the time, he compared his lonely life on the road to the David Bowie song "The Space Oddity."
"I relate very much to that," he said, "like I'm sitting in a tin can orbiting the earth for much of the time … I now wake up alone in a lot of faraway places looking at beautiful vistas and doing interesting things. But the truth is I'm alone for most of that time."
Anthony Bourdain's death by suicide comes just days after fashion designer Kate Spade was found dead in an apparent suicide after hanging herself in her Manhattan apartment Tuesday (Jun. 5).
Bourdain leaves behind an 11-year-old daughter, Ariane, with his ex-wife Ottavia, and his girlfriend of the past year, Asia Argento.
According to a recent survey from the U.S. Centers of Disease Control and Prevention, suicide seems to be a growing problem within the United States, with rates increasing by 25% across the country over nearly two decades ending in 2016. The government report found that at least 25 states experienced a rise in suicide by more than 30%.
If you are considering suicide, or you suspect someone you know is considering suicide, please call the National Suicide Prevention Lifeline at 1-800-273-8255.
Be the first to receive breaking news alerts and more stories like this by subscribing to our mailing list.