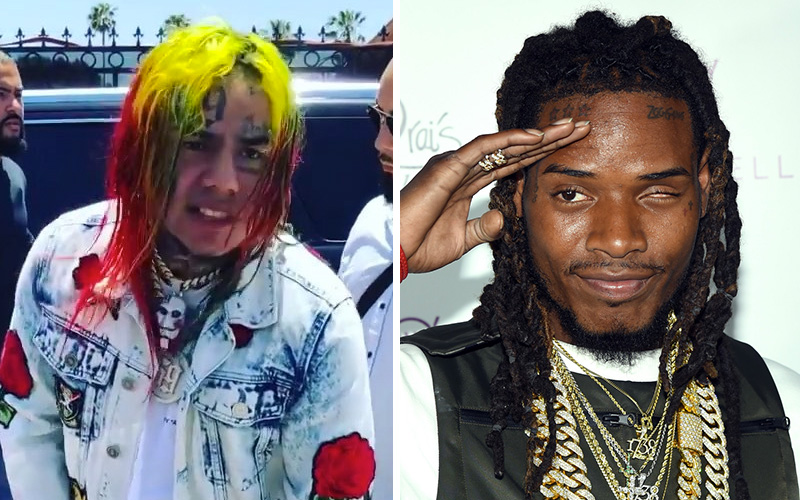 Tekashi 6ix9ine wants the world to know that he did NOT get into a shootout with Fetty Wap's crew.
Reports emerged this week that the "Gummo" rapper got into a confrontation with Fetty Wap's crew that ended in shots being fired.
The story goes that Tekashi and his crew were at a recording studio in L.A. Wednesday night (May 30) to hang out with Fetty Wap, but Tekashi never made it past the front door because Fetty's crew stopped Tekashi and his clique from entering.
An alleged confrontation between the two crews ensued, which eventually led to someone pulling out a gun and firing shots in the air. Police were called, but by the time they showed up, everyone had already left. Cops say they recovered shell casings from the scene and were looking for the shooter.
But according to Tekashi, none of that is true because he and Fetty Wap are "brothers." In a now-deleted video he posted on Instagram, Tekashi hopped out of a black SUV and set the record straight about the rumored shootout.
"A lot of niggas saying that niggas shot at my man Fetty Wap, ain't nobody shoot at Fetty Wap, that's my brother, we don't shoot at my friends," Tekashi said.
He then announced that he's still in L.A. and untouched before calling out GBE. "Still in f**kin L.A. man. A lot of n**gas, they big mad. I don't believe they raps. Tell 'em to pull up, I'm out here man," he said.
Tekashi wrote in the caption of the post, "TMZ I love y'all but that's not true Fetty Wap MY brother. The clock still ticking…. I don't believe y'all raps. Y'all gonna have to prove it I think niggas just take credit for other people's gun."