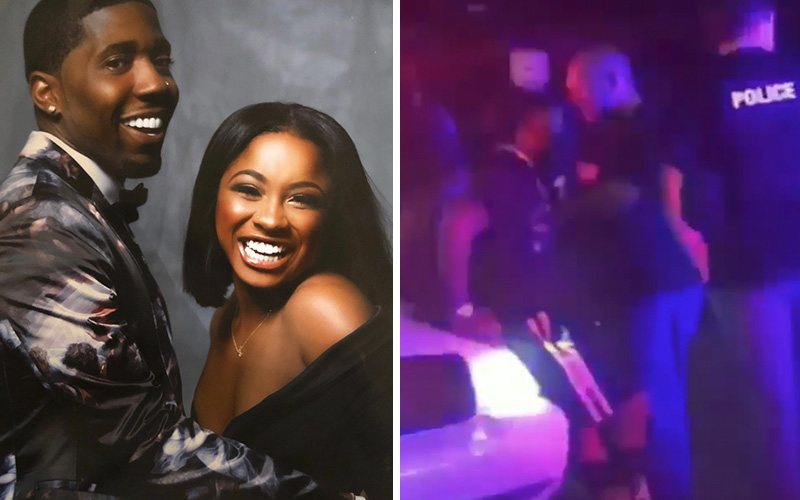 It looks like Reginae Carter and her older boyfriend YFN Lucci landed themselves in some trouble with police Friday night (Jun 1) in Knoxville, Tennessee.
Reginae, the 19-year-old daughter of Toya Wright and Grammy-winning rapper Lil Wayne, had social media concerned as reports emerged that she and YFN Lucci, a 27-year-old rapper from Atlanta, were arrested.
According to some reports, Reginae and Lucci were both detained and taken into police custody after a fight and a shooting at an after-hours spot (i.e. liquor house).
Video footage showing the couple's run-in with Knoxville police went viral on the internet, however, Reginae assured fans via her Instagram story that she was NOT arrested. "I'm okay guys. I am not in jail btw," she wrote.
Lucci himself wrote on Twitter, "EVERYTHING IS OK."
EVERYTHING IS OK ?

— IG: YFNLUCCI???? (@YFNLUCCI) June 2, 2018
An eyewitness told Urban Islandz that the pair was pulled over and placed in handcuffs. They were eventually let go without any charges or an official arrest. "They weren't under arrest, but for some reason the cops felt it necessary to detain them at least for a few hours," the witness said.
Commenters on the live video, which was posted on Facebook, seemed to be disappointed with Reginae, who is a straight-A student at Spelman College in Atlanta.
One commenter told Reginae to be careful, saying, "Hood boyfriends are the best they said. When are these young girls gonna learn? This is Not how college goes….. I pray its a misunderstanding no one needs or deserve jail. This isn't gonna end well this reckless lifestyle young free and in love…Don't we all know this stage????"
Another commenter surprised to see the teen in a messy situation involving police wrote, "This girl never been in any kind of trouble her whole life and now all of a sudden. The thug life ain't for you sis. What happens when you wanna be in that life so bad. Smart decisions Lil mama. That dad you always bragging about worked so hard so you never even had to step foot in the hood. Lucci wrong af forever having her around a crowd she shouldn't be around anyway. So quick to be down and try to end up with the pics in the shade room.When you thought you were ready to be a ride or die chick."
Reginae and YFN have been dating for a few months now. The couple sparked dating rumors back in February and have been spotted out together on several occasions, including on Memorial Day Weekend when they were spotted on a boat with some friends in Miami (above). Some commenters pointed out how "questionable" the photo looked.
Reginae and Lucci have also posted numerous photos of them "boo'd up" on their respective Instagram pages.
https://www.instagram.com/p/Bh-S1nKgQEQ/?taken-by=colormenae
https://www.instagram.com/p/BgygINlg0H_/?taken-by=colormenae
https://www.instagram.com/p/BjPw-ogAUW5/?hl=en&taken-by=yfnlucci
https://www.instagram.com/p/Bi8D9QqgyFu/?hl=en&taken-by=yfnlucci
Be the first to receive breaking news alerts and more stories like this by subscribing to our mailing list.