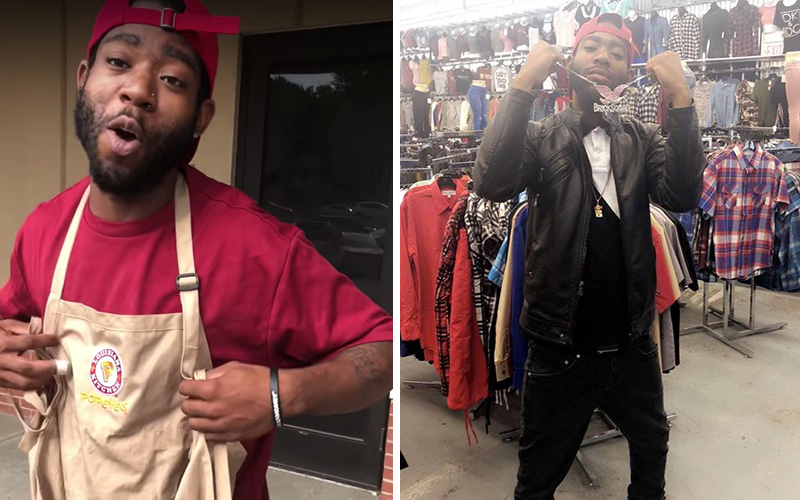 The man who went viral last week for "quitting" his "job" at Popeyes by hilariously singing the lyrics "I don't really wanna work here no more" admits that the whole thing was fake.
Armed with a portable mic and speakers, a man walked into a Popeyes restaurant last week and announced his "resignation" with a catchy song.
"So I got an announcement… I'm quitting my job today," he said before breaking out into song. "I don't really want to work here no more," the man melodically sang over the beat while customers chuckled and whipped out their phones to record the moment. "I quit!" he yelled after singing and rapping for nearly two straight minutes.
The clip, which was originally uploaded to Facebook and YouTube last Tuesday (May 15) and posted on Twitter the following day, became an instant viral hit. As of today, on Facebook, it has so far racked up more than 3 million views and 53,000 shares. And on Twitter, it has been watched over 5 million times, with over 145,000 retweets and 300,000 likes.
According to the man in the video—Cedrick Workuff from Kansas City, Missouri—he never really worked at Popeyes in the first place. He said he and his cousin Marco Summers (the man behind the camera) just wanted to spread a little positivity and bring some humor into folks' lives with the viral clip.
"It's something me and Marco wanted to put in the works," Workuff told KSHB. "It wasn't planned. It was all improvised. Only the idea was planned."
Summers said that other videos he's made have been picked up by celebrities and TV shows like Right This Minute. He said his inspiration comes from his own experiences.
"I've been through most of the stories I talk about. Instead of letting them damage me, I make them something funny," Summers said. "It's opening a door for people to laugh at situations like that."
Cedrick and Marco hope to turn their stories into a TV show one day.
"If we don't make people smile, we failed," Summers said. "Our main missing is to bring back peace and love through laughter," said Workuff.
Although it's slightly disappointing that he didn't actually quit by reworking one of the hottest tracks of 1998, but it still takes guts to go into a random Popeye's, break into song ,and then theatrically throw your apron on the floor. There were apparently no hard feelings: Shortly afterward, Workcuff posted a picture of a box of Popeye's chicken on Facebook. "Still had to get some anyway lol," he wrote.
While it's a bit disappointing to find out that he didn't actually quit his job by remixing one of the hottest tracks of the 90's—Big Pun and Joe's "Still Not A Player"—it takes guts to waltz into a random Popeyes and break into song.
And, apparently, there are no hard feelings between him and the restaurant. Not too long after filming his viral clip, Workuff posted a photo of a box of Popeyes chicken on Facebook. "Still had to get some anyway lol," he wrote.
Also, according to a more recent post, Cedric says he was signed by Gucci Mane's 1017 Bricksquad label, though we're inclined to believe this is also a joke too, considering he never worked at Popeyes.
Be the first to receive breaking news alerts and more stories like this by subscribing to our mailing list.