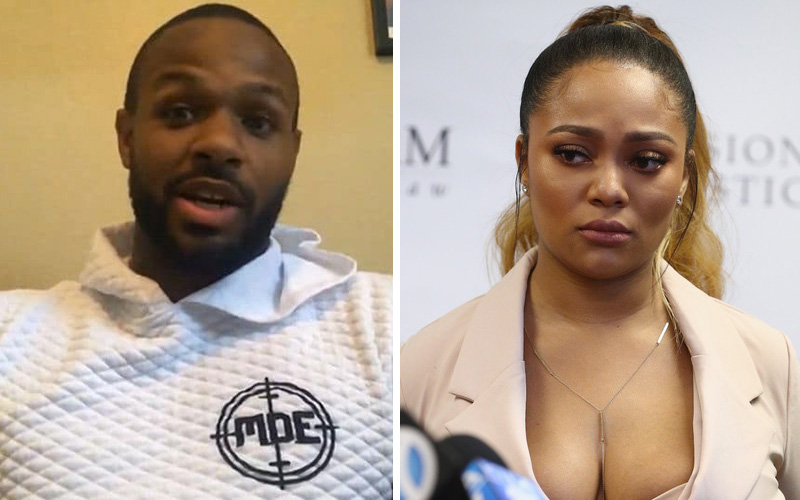 Teairra Mari's ex-boyfriend Akbar Abdul-Ahad is adamant that he did NOT leak their sex tape, and he plans to prove his innocence in court.
Abdul-Ahad's denial comes on the heels of Teairra's "revenge porn" lawsuit against him and his friend 50 Cent. Mari alleges the pair attempted to tarnish her image and bring upon emotional distress by sharing sexually explicit video and photos of her online
Teairra alleges in her suit, which was filed by her attorney, Lisa Bloom, that Akbar logged into her Instagram account and posted the video, which included an image of her with semen all over face. She said in a press conference Thursday (May 17) at Bloom's office that Akbar shared the video and photo after she ended their relationship when she found out he had been cheating on her. She said he was able to post the images to her IG account because he had her password.
The Love & Hip Hop Hollywood star said after she broke up with Akbar, he told her his phone had been stolen, and that was when she realized he was planning to post their sextape.
Teairra said she deleted the post on IG as soon as she saw it, but that's when 50 Cent got involved. According to the lawsuit, Fiddy posted a black-and-white screen grab of her with ejaculate on her face to his 18 million IG followers along with the caption: "Damn baby, This reality TV sh*t going [too] far… what you doing this for? get the strap."
But Akbar said in an interview with TMZ that he isn't the one who leaked the footage. He says he knows exactly who did it (a woman, he alleged), but he isn't naming names. "She knows I didn't do it," he said. "I know I didn't do it. The person will be revealed, like, you don't realize who it was, it was a woman who did it."
He also said Teairra's lawsuit was just her putting on an act for the world because that's what she does. "She's an actress," he pointed out. On top of that, he claims they were just hanging out days before she filed her lawsuit, so she can't be that hurt, right?
Akbar said he didn't see the lawsuit coming, but "Lisa Bloom has a hard on for 50," which is why he believes Teairra filed the lawsuit in the first place.
In response to Teairra's suit, Akbar said he plans to countersue for defamation, alleging that she and Bloom attacked him and his character in that press conference.
Be the first to receive breaking news alerts and more stories like this by subscribing to our mailing list.