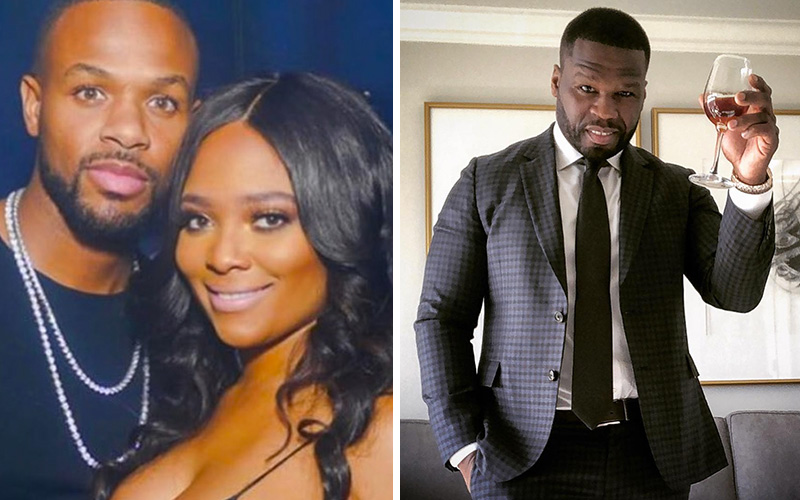 Teairra Mari has filed a "revenge porn" lawsuit in Los Angeles Superior Court against her ex-boyfriend Akbar Abdul-Ahad and rapper 50 Cent, alleging that the two attempted to tarnish her image and bring upon emotional distress by sharing sexually explicit video and photos of her online.
Teairra alleges in the suit that Abdul-Ahad logged into her Instagram account and posted the video, which included an image of her with semen all over her face.
She said in a press conference Thursday (May 17) at celebrity attorney Lisa Bloom's office that Akbar shared the video and photo after she ended their relationship last week when she found out he had been cheating on her. She said he was able to post the images to her IG account because he had her password.
Teairra said she believes Akbar posted the explicit footage as a way to get back at her because she didn't want to be in a polyamorous relationship, as he had suggested. "Right after that, he posted a sex tape and obscene photo of me," she told reporters.
The Love & Hip Hop Hollywood star said after she broke up with Akbar, he told her his phone had been stolen, and that was when she realized he was planning to post their sextape.
Teairra said she deleted the post on IG as soon as she saw it, but that's when 50 Cent—a friend of Akbar's—got involved. According to the lawsuit, Fiddy posted the black-and-white screen grab of her with ejaculate on her face to his 18 million IG followers along with the caption: "Damn baby, This reality TV sh*t going [too] far… what you doing this for? get the strap."
"Even after Instagram took the picture down, he had no remorse, no regard," Mari said, noting Fiddy's bad track record of "slut-shaming," including a case where he had to pay $7 million to Rick Ross' baby mama for posting a sex tape clip of her online in 2008.
Bloom said that she and Teairra would be "seeking a significant punitive damages award against [50 Cent]."
Teairra said 50's actions were a brazen attempt to "slut shame" her that's causing her "significant long term emotional injuries, requiring psychiatric services." She added that she's suing both 50 and Akbar for revenge porn, invasion of her privacy and emotional distress.
Posting sexually explicit photos and/or videos of former sex partners without their permission is a misdemeanor in the state of California, and violators could face up to six months behind bars. Last month, a man was ordered by a U.S. district court in California to pay $6.45 million in damages after he posted an ex-girlfriend's naked pictures and videos online.
For his part, Akbar Abdul-Ahad has denied posting the photos and video, but Teairra and Lisa ain't buying it.
"We do have a very significant piece of evidence that points to him, I'm not going to reveal what that is at this time," Bloom said. "But we have strong reason to believe it's him." Mari added, "I'm just devastated, I'm heartbroken, I loved this man."
According to CBSLA, Teairra Mari's impromptu press conference at Lisa Bloom's California office was filmed by VH1 cameras for Love & Hip Hop Hop Hollywood. "She's doing this to get a message out, to stand up for herself," Bloom said.
Be the first to receive breaking news alerts and more stories like this by subscribing to our mailing list.