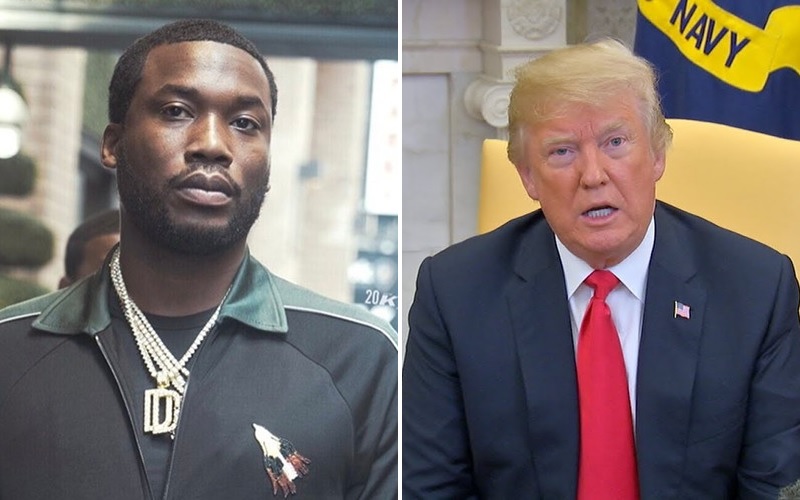 Meek Mill skipped out on the chance to discuss prison reform with President Trump at the White House. And a late-night phone call from JAY-Z may have influenced the Philadelphia rapper's decision.
Meek—who was released from jail on bail last month—was scheduled to participate in a prison reform summit hosted at the White House on Friday (May 18). The summit included Trump, members of Congress, activists, and victims of the flawed U.S. criminal justice system.
However, Meek abruptly backed out of the meeting, fearing his presence would distract from the true intention of improving the criminal justice system. Meek said in a statement:
"I was originally scheduled to be part of a panel on Prison Reform at the White House to help shed light on the issues within the system. Unfortunately, the focus turned to the President and myself which concerned me that it might take away from creating a positive result from today's discussions.

"As a result, I decided not to attend so that the focus would be solely on fixing our prison system. Most importantly, I remain fully committed to improving our criminal justice system."
TMZ earlier reported that JAY-Z called Meek Thursday night and told him that meeting with Trump would potentially "be problematic for [Meek's] image and for the cause."
Though this late-night convo with Jay could have influenced Meek to say no to 45, he reportedly sought advice from several black celebrities, and a rep for the rapper says he made the decision on his own.
"I wanted to make it clear that TMZ's report was false that Jay convinced Meek not to attend. Meek made that decision on his own."
A rep for JAY-Z also tells TMZ that he "did not force or even convince Meek to cancel the White House trip."
During Friday's summit, Trump touted "personal accountability" and condemned "those who take advantage of society's generosity" when discussing inmate rehabilitation and recidivism.
"However, if we want more prisoners to take charge of their own lives then we should work to give them the tools to stand on their own two feet," he added.
Comprehensive prison reform bills are currently being pushed in the Senate and House. The House bill—backed by the Trump Administration—would provide $50 million for prisons to implement job training and education programs. Critics argue the bill doesn't do enough.
The Senate bill, however, has bipartisan support.
Meek Mill's recent 5-month stint in jail sparked a national debate last year. The rapper was sentenced two to four years in prison for probation violations stemming from his 2008 drug and gun convictions—a sentence that many, including prosecutors in the case, felt was too severe.
Celebrities like JAY-Z and fans rallied behind Meek Mill while he was in jail.
Be the first to receive breaking news alerts and more stories like this by subscribing to our mailing list.