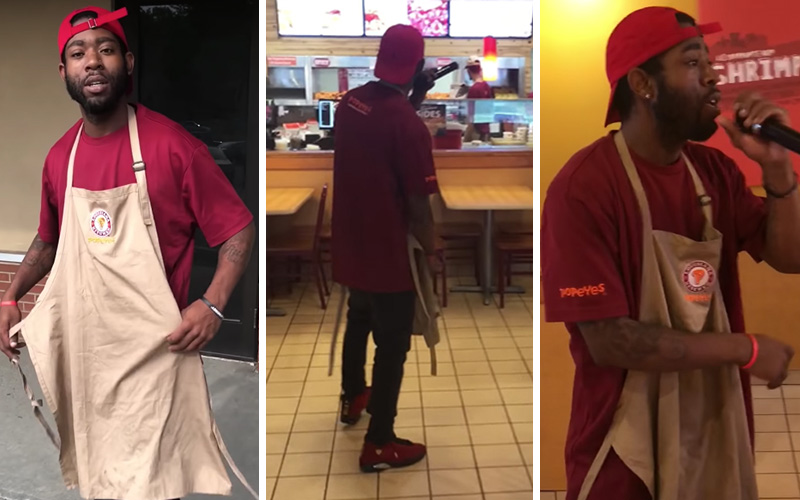 For most people, quitting their jobs is usually as easy as simply not showing up to work or submitting a resignation letter. But for one man, those methods of saying "I Quit!" were just too basic for him.
Instead, he recorded a video, in which he strolls through a Popeyes restaurant singing "I Don't Really Wanna Work Here No More"—a remix to Big Pun and Joe's "Still Not A Player," which features the lyrics, "I don't wanna be a player no more."
The clip, which was originally uploaded to Facebook and YouTube on Tuesday (May 15) and posted on Twitter the next day, became an instant viral hit. On Facebook, it has so far racked up more than 2 million views, and on Twitter, it has been seen a little over 4 million times, with nearly 120,000 retweets and 250,000 likes.
"I'm outside my job, I'm ready to quit this mug bro," the man says to the camera. "I'm tired of this muhf**ka bro. Listen, I come in here and slave all the time They think I'm about to just go in there and be like, 'I quit, I quit. Nah, n**ga, I'm about to go in there and sing this sh*t."
And that's exactly he did. Armed with a portable mic and speaker system, the man walked right into Popeye's and quit his damn job in the most hilarious way possible.
"So I got an announcement… I'm quitting my job today," he said before breaking out into song. "I don't really want to work here no more," the man melodically sang over the beat while customers chuckled and whipped out their phones to record the moment. "I quit!" he yells after singing and rapping for nearly two straight minutes.
Perhaps the best moments of the video came when this guy—a Popeyes employee—danced in front of the camera. Twice:
I was bored. You're welcome. pic.twitter.com/DNawfTjWhm

— Misery without company (@__selfmedicated) May 17, 2018
already done my guy lol pic.twitter.com/VHZddxnzEr

— Misery without company (@__selfmedicated) May 17, 2018
I love us. FOR REAL.
Be the first to receive breaking news alerts and more stories like this by subscribing to our mailing list.