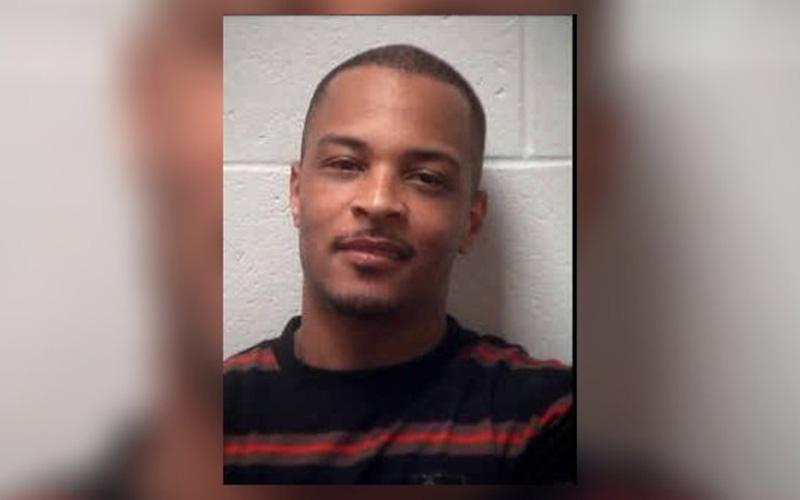 In today's #LivingWhileBlack news, Atlanta-based rapper T.I. made a bold attempt to re-enter his gated community this morning, but upon realizing he had misplaced his keys, an argument ensued with a security guard who refused to grant him access to his own Henry County neighborhood. T.I. was eventually arrested around 4:30 a.m. early Wednesday morning (May 16).
According to the Atlanta Journal-Constitution, T.I. (real name: Clifford Harris Jr.) was arrested on misdemeanor charges of simple assault, disorderly conduct and public drunkenness.
Prior to his arrest, T.I. attempted to contact a friend, who came out to assist, but also ended up in handcuffs over an outstanding warrant. According to police, T.I.'s friend, 40-year-old Marquinarius Holmes, was arrested on outstanding charges out of Clayton County for not having proof of car insurance.
The AJC has the full story below:
The music star, whose legal name is Clifford Harris Jr., was arrested after returning to the Eagle's Landing Country Club community in the 100 block of Eagle's Landing Way around 4 a.m.

T.I. said he observed the security guard, Euwan James, sleeping, according to the police report.

After T.I. woke up the guard and asked to be let in because he didn't have his keys, James initially refused, the report states. James said T.I. started using profanity and yelled at him to open the gate, the report said. James eventually opened the gate and let T.I. in, but T.I. told police James wouldn't give him his name or his supervisor's name when asked.

After T.I. parked his car at his home, he walked back to try to get James' name, the report said. James said T.I. threatened him and said "come outside so we can deal with this man to man."

The officer said in the report that he smelled "overwhelming" alcohol on T.I.'s breath, and that the rapper admitted he had a drink while walking back to the guard's shack.
T.I. was released from the Henry County Jail around 8 a.m. Wednesday after posting $2,250 bond. He did not appear before a judge, the AJC reported.
Later Wednesday, the rapper told TheBlast.com that the county's law enforcement presence is basically "white cops in a very white area."
In a statement to the media, Tip's attorney Steve Sadow said the rapper "was wrongfully arrested" and accused the guard of refusing him entry after the superstar's wife confirmed he "should be let in immediately." Sadow also said the police weren't interested in hearing his client's side of the story when they arrived on the scene and "wrongfully chose to end the situation by arresting" him.
BREAKING: Just got this from T.I's attorney about this morning's arrest pic.twitter.com/1XslGVXxHx

— Tyisha Fernandes (@TyishaWSB) May 16, 2018
T.I. has since addressed the arrest in an Instagram Live video while celebrating his youngest son Major's 10th birthday, calling it "nonsense" and "small potatoes," adding that God "will deal with the craziness."
Be the first to receive breaking news alerts and more stories like this by subscribing to our mailing list.