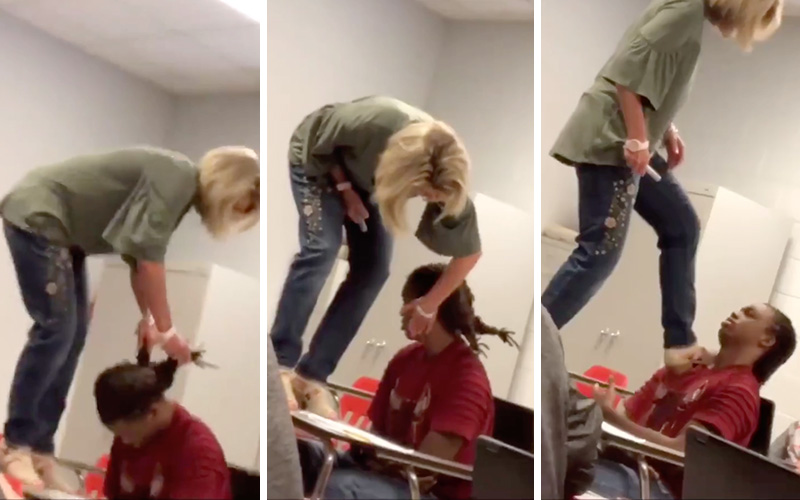 Shocking video footage showing a South Carolina teacher pulling a sleeping student's hair and nudging him with her foot has gone viral online.
In the minute-long video clip, which was uploaded to Snapchat by another student, the teacher, later identified as Lisa Houston, slaps the student's face, pulls his hair and, at several points, pushes his shoulder with her foot in a ridiculously desperate attempt to wake him up. Also, at the beginning of the clip, it sounds like she tells him to "smell [her] toes."
WATCH HERE:
The fact that the teacher is white and the student is black hasn't been lost on some viewers.
"Oh no this white teacher did not put her foot on a Black high school student," wrote one Twitter user. "Who is this trash teacher? What high school is this? This woman needs to be fired ASAP!!" tweeted another.
Another Twitter user wrote, "Nope. This teacher stepped on a student and kicked him with her foot in a ridiculous attempt to wake him up. Which teacher's inservice program taught this technique? #really"
A headline on the site AfroPunk reads: "OH NO THIS WHITE TEACHER DID NOT PUT HER FOOT ON A BLACK HIGH SCHOOL STUDENT…"
Meanwhile, others are defending the teacher's actions and don't see the big deal. We posted the video clip on our Facebook page, and some users don't believe Ms. Houston did anything wrong.
One user wrote, "Ok it looks like she's jus playing with him.. she's probably one of those young teachers that relate to the students… everyone is laughing… not everything on Facebook is a bad situation."
Another said, "Are ya really bot seeing she was being playful and waking him up? If she really wanted to be ugly towards him she would have got him in trouble with the principal or had an officer come in!! Some teachers actually like their students! Don't over react or try to see something that isn't there!"
The incident reportedly happened at Palmetto High School in Anderson, South Carolina. According to WYFF News 4, Lisa Houston has resigned following the release of the video. She claims the incident was "all in fun" and she and the student had a close relationship.
"If you ask any kid I've taught, they'll tell you I kid around with them, make them stay awake and laugh with them," she told WYFF 4 in a statement. "Nobody sees the rapport I have with this child or any other kid I've taught." She continued, "I know the video looks bad, but if you don't know the situation, you don't know what's going on. But it was not a malicious act. It was all in fun. I want the public to know that I love the student and our rapport with each other was great. I would have never done anything to hurt him."
The student's father said he and the teen's mother were concerned about the video, however, they declined to comment on the footage. Houston said the student made a statement to the school, but the district said that due to privacy rights, they couldn't release that statement to WYFF.
The Anderson District One Superintendent's Office said in a statement, "Although the district is unable to comment in detail about the matter, the administration took seriously what occurred, and the teacher, who has had an exemplary record of teaching performance, decided of her own accord that she would retire in the best interest of her school."
Houston's attorney, Ryan Beasley, also said in a statement to WYFF, "My client has a 27-year, unblemished record teaching in the public schools. She is devastated over what has occurred. This short clip does not tell the whole story. We are confident that as more facts come to light, her reputation as an excellent and loving teacher will be restored."
Be the first to receive breaking news alerts and more stories like this by subscribing to our mailing list.