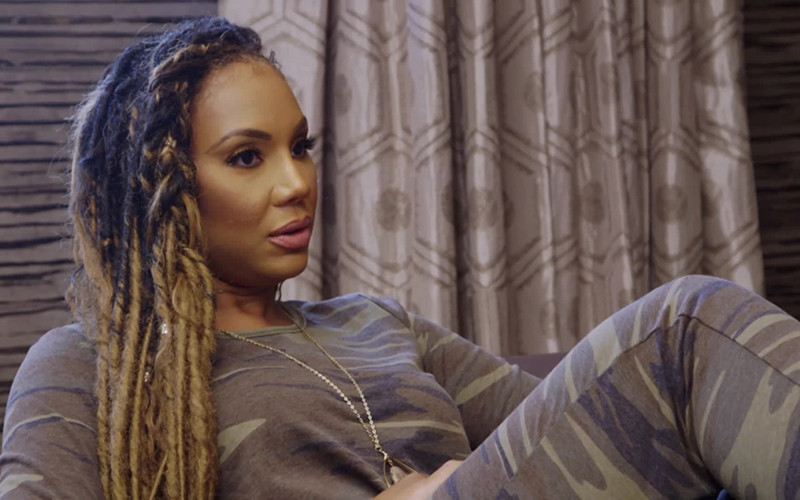 Tamar Braxton is doing it again. She is defending estranged husband Vince Herbert to the point that she's refusing to promote the new season of Braxton Family Values unless producers stop trying to portray him as a villain.
Season 6 of BFV premieres tomorrow, but sources say Tamar has refused to promote the show because she feels her own family wants to vilify Vince and perpetuate reports he's abusive for ratings.
"We're told show cameras have captured Tamar and Vince as they steer through their pending divorce, but Tamar feels the family's using fake storylines to drum up ratings and frame Vince as a villain. We're told she's pissed her kin would 'stoop so low for personal gain' and unless producers edit out what she feels are lies … she'll refuse to promote it."
Since Tamar filed for divorce last year, there have been several reports that Vince has exhibited abusive towards her, including a Christmas Eve incident, Tamar herself alluded to on social media.
Despite the allegations—which were also exacerbated by her mother—Tamar has continued to publicly deny the rumors and defend Vince, most recently during a joint appearance on The View.
"All of the other allegations are just not true," Vince, defending himself, said on The View. "I love this lady with all my heart, I love my family with all my heart and I will never stop fighting for my family and trying to make it be great."
In a new BFV clip, Evelyn Braxton, the Braxton matriarch, continued to slam Vince saying her daughter was "miserable" in her marriage.
"She had the big house, and let's keep it real, people, she was miserable. So sometimes big is not always better. It just depends on who you're in there with. Oh, did I say that?"
Braxton Family Values premieres Thursday (March 22) on WE tv.
Be the first to receive breaking news alerts and more stories like this by subscribing to our mailing list.