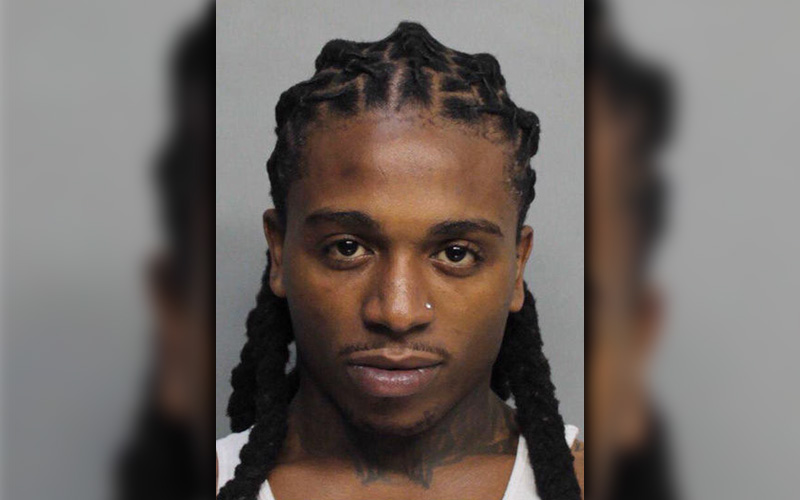 Jacquees has zero tolerance when it comes to the law.
The "At the Club" singer was arrested in South Beach, Miami on Wednesday (Mar. 21) for failure to obey a lawful command and driving without a seat-belt.
According to a police report, an officer noticed Jacquees driving a black Lamborghini without wearing a seat-belt and attempted to pull him over. Jacquees allegedly didn't follow the officer's command and continued to drive down the road.
"The defendant did not obey my command and instead kept driving the vehicle at a low rate of speed with heavy traffic, still northbound on Ocean Drive," arrest documents state. "The defendant asked why he was being ordered to pull over and he was advised because of him not wearing a seat-belt."
The officer was eventually able to get Jacquees to pull over and asked him to show his license, which he refused to do. He was then ordered to get out of the vehicle and stand on the sidewalk. He allegedly refused to do this as well and told cops to not touch him.
"The defendant was then ordered to exit the vehicle," the documents said. "He then stopped the vehicle and abruptly opened the door and exited. He refused to comply and instead stated 'do not touch me.'"
By this time, a large crowd of Spring Breakers gathered in the area and the officer had to call for backup before putting Jacquees in handcuffs.
"If the defendant would have complied since he was being pulled over, this incident could have been avoided," the report said.
Footage of the incident captured by an onlooker showed Jacquees being aggressively yanked up by officers.
Jacquees was booked on $1000 bond and released hours later.
Following his arrest, the Cash Money singer posted a picture of him all smiles on a jet ski. He captioned the photo, "Can't nobody stop what's destined for me #CaniTakeADiveInYourOcean."
https://www.instagram.com/p/Bgm3vTvlf8i/?hl=en&taken-by=jacquees
Be the first to receive breaking news alerts and more stories like this by subscribing to our mailing list.