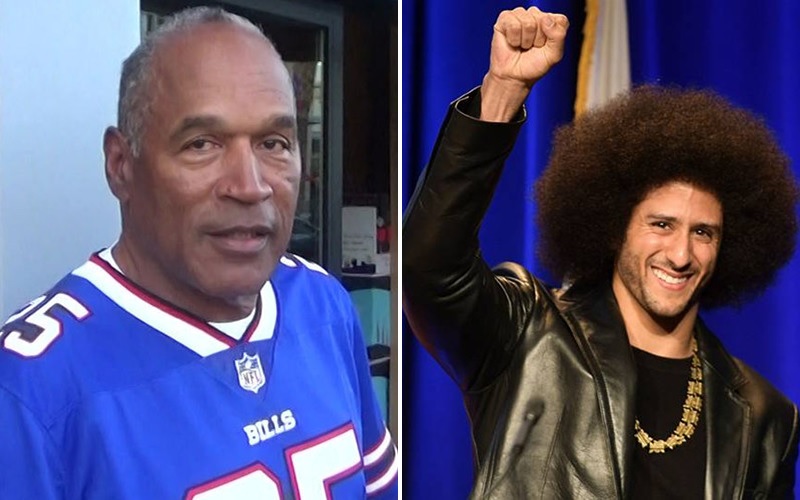 O.J. Simpson sat down for his first major interview since being released from prison. Though he refused to discuss his famous murder trial, he sure had a lot to say about a few other hot-button topics, including Colin Kaepernick and Donald Trump.
Simpson's in-depth interview with Buffalo News was published Friday (March 16). As one of the first black athletes to "transcend race" and did everything imaginable to distance himself from Black America and racial injustice, Simpson slams Colin Kaepernick for protesting police brutality.
"I think Colin made a mistake," Simpson said of Kaepernick choosing to kneel during the National Anthem in protest of racial inequality in America. "I would always stand for the flag," Simpson said.
"I really appreciate what [Kaepernick] was trying to say. I thought he made a bad choice in attacking the flag…

"When he did it the first time, I thought, 'Well, you took a gamble, and I give you credit.' But it was him continuing to do it where he made the biggest mistake."
Simpson then made a reach by comparing the American flag to the Bible and why neither should be disrespected because of racists.
"I grew up at a time when deacons were in the KKK. I don't disrespect the Bible because of those guys. The flag shouldn't be disrespected because of what cops do. The flag represents what we want America to be."
Again, Kaepernick and other NFL players who joined in the protest have repeatedly said that they are NOT protesting the flag, but that still goes over people's heads who are committed to silencing black people and have no interest in ending racial inequality.
Anyways, the current POTUS was one of the main people to object to Kaepernick exercising his First Amendment right. And here comes Simpson agreeing with him and describing Trump as a "fun guy."
"He would have been fun," Simpson said of Trump who attempted to buy the Buffalo Bills, the NFL team Simpson played most of his career with.
"Ain't no doubt about it. The one thing I can say about The Donald is The Donald is fun.

"Well, for a dude — and I consider myself a dude — Donald is a man's man. He would be a fun guy. But that's hanging out. … If the Bills weren't winning, it would have been tough."
Prior to his trial, Simpson and Trump had a friendly relationship. The two were golfing buddies and Simpson attended Trump's 1993 wedding to Marla Maples.
Buffalo News even notes that Trump said he believed Simpson was framed for the murders of Nicole Brown Simpson and Ron Goldman during a 1995 interview on The Howard Stern Show. Trump has only had negative remarks to say about Simpson in recent years, though.
Still considering him a friend, Simpson did say that he "probably" wouldn't vote Trump.
"I only know two of my friends I'd vote to be president," he said. "Some of my best, best besties I would not vote to be president. That has no bearing on it, you know?"
O.J. Simpson's full interview is available on the Buffalo News website.
Be the first to receive breaking news alerts and more stories like this by subscribing to our mailing list.