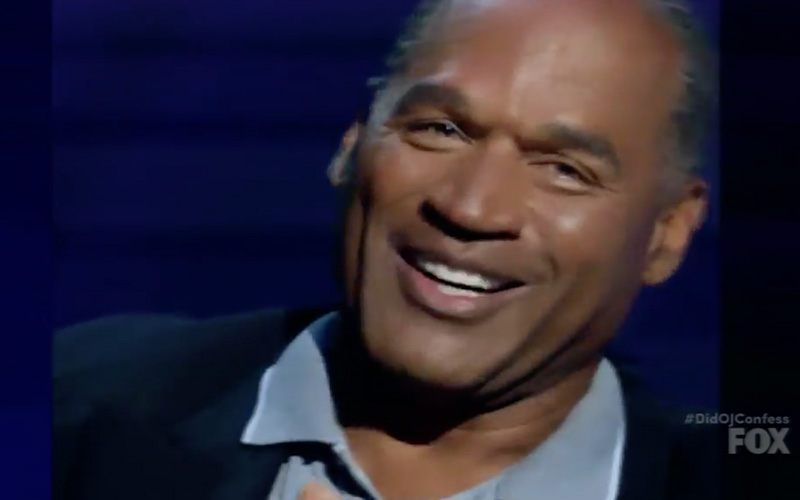 O.J. Simpson has basically confessed to the murders of his wife Nicole and her friend Ron Goldman.
In a TV special that aired on Fox Sunday night (Mar. 11) called "O.J. Simpson: The Lost Confession?" the disgraced former NFL star described a "hypothetical" account of what "allegedly" happened the night of June 12, 1994 before the bloody bodies of Nicole Brown Simpson and Ronald Goldman were discovered.
At the beginning of Simpson's televised conversation with Judith Regan—the woman who published his "If I Did It" book—he initially hesitated, claiming "it's not easy to discuss," which is weird, considering this is all supposed to be "hypothetical," right? And beyond that, why would someone recount a "hypothetical" situation if they were 100% innocent?
Speaking "hypothetically," Simpson claimed that on the night of June 12th, a friend of Simpson's named "Charlie" told him Nicole had something going on at her house, which "allegedly" sparked the fatal chain of events.
"This guy Charlie shows up, a guy who I recently became friends with," said Simpson. "And I don't know why he went by Nicole's house, but he told me, 'You wouldn't believe what's going on over there.' And I remember thinking whatever's going on over there, it's gotta stop."
Simpson said "hypothetically" (of course) he and his (imaginary) "friend" Charlie drove to Nicole's house with a cap, gloves, and a knife ("for the crazies," he said) under the seat of the car, which they parked in an alley.
Simpson said he was confronted by Ron and Nicole, who told O.J. to get the f**k off her property. O.J. said things got a little heated, and Nicole fell and hurt herself. Simpson added Goldman got in a karate stance, which prompted O.J. to say, "Well, you think you can kick my ass?"
Simpson then claimed, "At that time, I think Charlie had followed this guy in, to make sure there was no problem, and he brought in the knife. I took the knife from Charlie, and to be honest, after that, I don't remember, except I'm standing there and there's all kinda stuff around. Blood and stuff."
As O.J. continues his "hypothetical" account of "alleged" events, he suddenly bursts into a fit of hysterical laughter, which is an odd thing for someone to do when they're "hypothetically" discussing their wife's murder, even if it was more than 20 years ago.
Anyhow, long story short, Judith Regan said in a panel discussion moments after O.J.'s "hypothetical" recounting of the "alleged" events that O.J. basically confessed to Nicole and Ron's murders.
Oddly enough, even though O.J. insisted he didn't remember the murder itself, he remembered possibly leaving the glove behind. "I had no conscious memory of doing that [leaving the glove], but obviously I must have done it because I left the glove there," he said.
The TV special and accompanying "If I Did It" book with O.J.'s confession was originally scheduled to be released in 2006, but they were both pulled after an outcry from the families of Nicole Brown and Ron Goldman, with Fox boss Rupert Murdoch himself even apologizing. A year later, a Florida bankruptcy court awarded the rights to the book to the Goldmans, and they published it in 2007.
The families of Brown and Goldman were aware the unseen footage from the canned TV special would be televised this year and gave the broadcast their blessing. "Their thinking is we know he's free again, we know him and we'll think he'll hang himself in this interview by implicating himself, so let's see it. Let everybody see it," said executive producer Terry Wrong.
According to Wrong, the confession tapes were originally shelved because the families were worried Simpson would profit from it. "They feared O.J. would be paid," Wrong said. "The decision was made not to do it… Eventually, it was brought up to Fox executives that these tapes existed still… I went and looked and sure enough, it was incredibly riveting."
Thanks to projects like the Academy Award-winning documentary "O.J.: Made in America" and the FX miniseries "American Crime Story: The People vs. O.J. Simpson," there has been a ton of renewed interest in Simpson and this case, which was described as the "trial of the century" back in the 1990's.
Despite being acquitted in October 1995 for Nicole and Goldman's murders, a civil suit later found him responsible for their deaths and he was ordered to pay $33.5 million in restitution to the victims' families.
Simpson was later convicted of multiple felonies, including kidnapping, burglary, and armed robbery after a 2007 incident in Las Vegas, and faced up to 33 years in prison. He was released on parole in October 2017.
Be the first to receive breaking news alerts and more stories like this by subscribing to our mailing list.