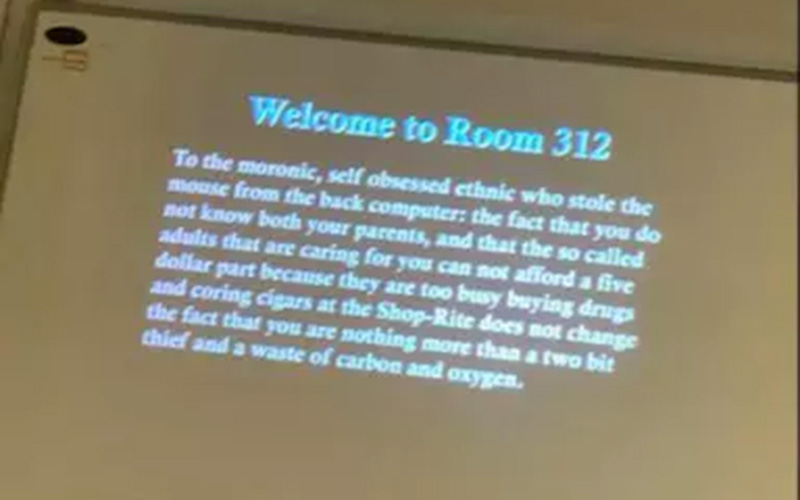 A Lousiana math teacher is under investigation after leaving a racially charged message on a whiteboard in his classroom.
In a message accusing one of his students of stealing a computer mouse from his classroom, Pickering High School teacher Randolph Perez wrote:
"Welcome to Room 312. To the moronic, self obsessed ethnic who stole the mouse from the back computer: the fact that you do not know both your parents, and that the so called adults that are caring for you can not afford a five dollar part because they are too busy buying drugs and [scoring] cigars at the Shop-Rite does not change the fact that you are nothing more than a two bit thief and a waste of carbon and oxygen."
Britny Taylor, a senior at Pickering High, shared the message on her Facebook account, which has gone viral since the day she posted it. Taylor also accused Perez of calling her "white trash" and "dumb" on another occasion.
"I just wanna repost, I deleted it before but no one can do anything to me at the school cause I made him go viral, I think he's mean, you think he's sweet and it's cause of his chemo but no he's mean! He called me white trash cause I was talking in class but so was everyone else, he called me dumb cause someone locked my locker and I can't remember 3 numbers, he says that If were just sitting in class doing nothing, we'll be going to jump start, basically not college, getting our GED, you can say whatever you want about him but you are not in school anymore, you are not in his class 2 times a day like me, I get the full vision and hearing of what this man says and this is uncalled for. Thank you!"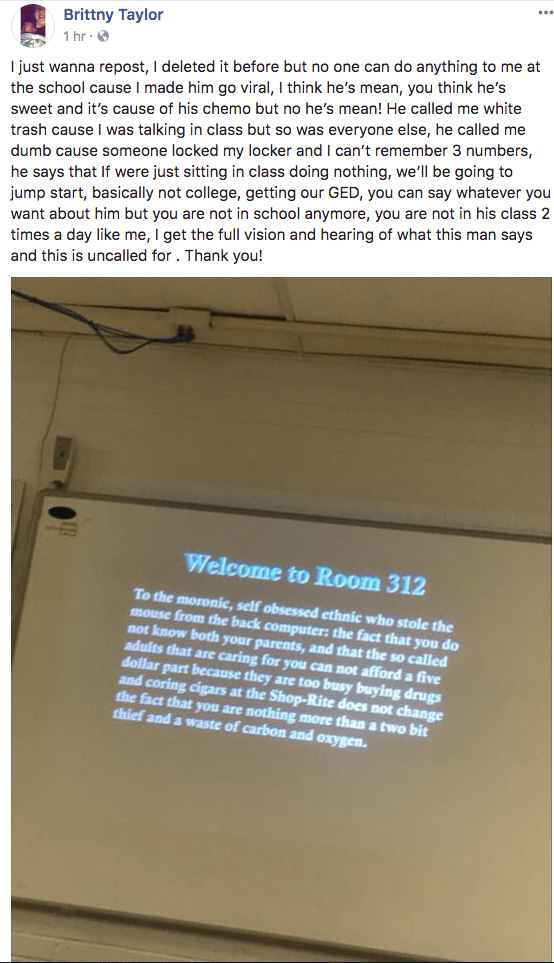 In a phone call with BuzzFeed News, Taylor said that Perez found the message hilarious and encouraged students to take a picture of it and share it with other students.
"When I first walked in, he was walking around the class saying whoever took it is probably on food stamps and welfare," she said.
Taylor also told the website that when she made the school's principal Dana Donaldson aware of the racist message, she laughed at her and didn't believe her. BuzzFeed tried to reach out to Perez and Donaldson, but didn't get a response from either.
Vernon Parish Schools Board Assistant Superintendent Mike Kay issued a statement saying that the district is taking the issue very seriously and has already opened an investigation.
"We're looking into the situation," Kay said. "I can tell you that the viewpoint that was posted on that board was nowhere near the stance of the Vernon Parish School Board. We don't subscribe to those beliefs, nor do we condone that action."
Kay also promised to deal with the situation as soon as the teacher Randolph Perez returned from vacation.
"If I do in fact find out that this was done, then we will take swift action on it. It's a difficult situation, but I can assure you that we will be addressing this, and it will be dealt with severely," he said.
Be the first to receive breaking news alerts and more stories like this by subscribing to our mailing list.