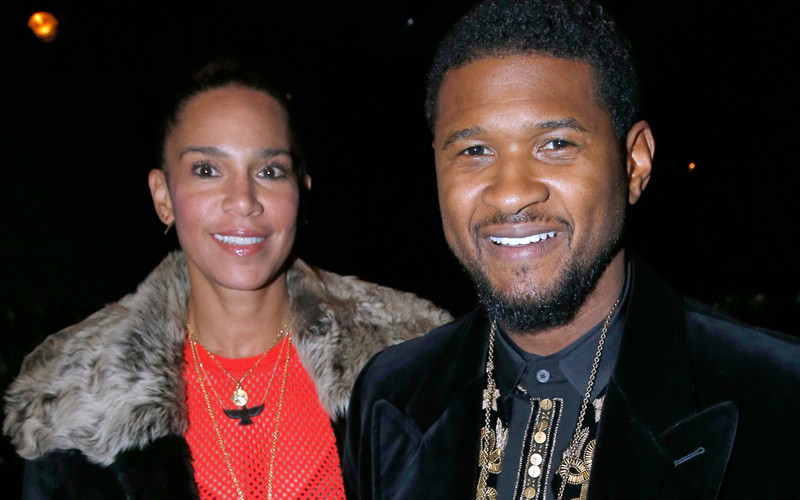 Usher and his wife Grace Miguel have decided to go their separate ways after two years of marriage. The split comes after several people have accused the singer of giving them herpes.
The couple released a joint statement on Tuesday (March 6) exclusively to Us Weekly.
"After much thought and consideration, we have mutually decided to separate as a couple. We remain deeply connected, loving friends who will continue supporting each other through the next phases of our lives. The enormous amount of love and respect that we have for each other will only increase as we move forward."
A source tells Us the couple has been separated for a few months. TMZ last photographed them together in December.
Another Us source noted Usher "was in a good mood and hugging people hello" at a pre-Oscar party last week.
Usher, 36, and Miguel, 48, have been together for nearly 10 years and eloped in September 2015. The two began dating in 2009, shortly after Usher divorced his first wife Tameka Foster.
While divorce documents have not yet been filed, the couple's relationship was most likely tested last year due to Usher's herpes scandal last year. It was revealed Usher paid a woman $1.1 million after infecting her with the STI.
Several women and one man then came forward to claim Usher also infected them without first disclosing that he had herpes. The lawsuits, including one seeking $20 million, began to pile up as Usher and his legal team attempted to discredit the allegations.
Grace stood by her man throughout the scandal. "People are people, living their lives," she told TMZ in November when asked to address her husband's accusers. Sources also told the site Grace was unbothered by the allegations and wasn't "giving the lawsuit[s] any weight."
2018 has seen the hype around the scandal dissipate, but it's possible it put a strain on the couple's relationship.
Be the first to receive breaking news alerts and more stories like this by subscribing to our mailing list.