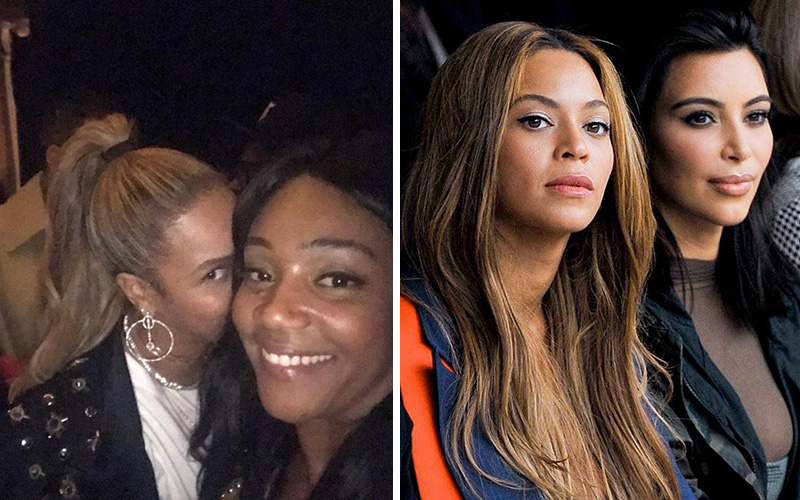 Beyoncé may or may not have tossed a little shade towards Tiffany Haddish and Kim Kardashian in her new song with DJ Khaled, JAY-Z and Future.
Early this morning, DJ Khaled released a new song featuring Beyoncé, JAY-Z and Future called "Top Off." Following verses from Jay and Future, instead of singing, Beyoncé flexes her hip hop muscles by "sing-rapping" her own verse, which included an apparent reference to Kim Kardashian and an obvious reference to Tiffany Haddish.
"I'm the only lady here, still the realest n**ga in the room; I break the internet, top two and I ain't number two," she says. "My body, my ice, my cash, all real, I'm a triple threat. F**k it up and then leave, come back, f**k it up and leave again."
"Breaking the internet" became a thing after Kim Kardashian's infamous Paper Magazine cover. And in the years since, Beyoncé has basically broken the internet a time or two herself, like in February of last year when her Instagram post announcing she was pregnant with twins went viral and received over 11 million likes, taking the crown for Most Liked Instagram Photo of 2017.
We've all heard about the rumors surrounding Beyoncé and Kim's relationship (or lack thereof), so it's no surprise that she would throw a little shade Kim K's way, but that doesn't take away how timely and hilarious it was.
And Twitter was all the way here for it. Just like they were here for her apparent response to Tiffany Haddish running her mouth to reporters about private Carter family moments.
At the end of her "Top Off" verse, Beyoncé says, "If they're tryna party with the queen. They gon' have to sign a non-disclosure, ayy." So we're just going to assume that's her way of telling Tiffany Haddish to HUSH YO MOUTH, GIRL. And unsurprisingly, Tiffany doesn't mind adhering to Bey's new standards for people who sit with her.
"I Love Beyonce part! Everything she said rang so real to me. Just know I will sign A NDA any day For Beyoncé," Tiffany wrote about Beyoncé's verse. "But also know this I will fight for Beyoncé. I Love that woman she is a Gift from God."
I Love Beyonce part! Everything she said rang so real to me. Just know I will sign A NDA any day For Beyoncé. DJ Khaled – Top Off (Ft. JAY Z, Future & Beyonce) https://t.co/9Ing2kNq14 via @YouTube

— Tiffany Haddish (@TiffanyHaddish) March 2, 2018
But also know this I will fight for Beyoncé. I Love that woman she is a Gift from God.

— Tiffany Haddish (@TiffanyHaddish) March 2, 2018
Kim K has yet to respond to the possible Beyoncé shade, and honestly, she should probably keep it that way because she don't want no smoke with the BeyHive. Check out Twitter's response to Bey's "Top Off" verse below:
https://twitter.com/gawdcompIexx/status/969535748864118785
beyoncé really collected tiffany haddish and kim kardashian and said pic.twitter.com/Tvff39satD

— lucas (@lucaskoenig47) March 2, 2018
Beyoncé said Tiffany Haddish has to sign an NDA to party with her pic.twitter.com/7PnN8GjEXD

— when music made us all U…NITE (@youngtraveIIer) March 2, 2018
Beyoncé really threw shade @ Tiffany Haddish talmbout "If they tryna party with the queen they gotta sign a non disclosure!" ? A deeply private legend

— Taureau Du Robinet (@aedlein) March 2, 2018
https://twitter.com/Alongcamejay_/status/969538853525708800
Well I hope Tiffany Haddish enjoyed partying with Beyoncé because that was her last time ?

— ? (@Pleigher) March 2, 2018
Beyoncé said "I break the internet, top 2 & I ain't number 2" ????

Kim K after hearing that: pic.twitter.com/ikQggeq3E9

— Elroy Bartholomew (@lurkinSINCE86) March 2, 2018
Beyonce shaded Kim Kardashian & Tiffany Haddish lmao ? #TopOff

— Ali (@Ali_Givenchy) March 2, 2018
https://twitter.com/_Philanii/status/969558817490046977
So Beyoncé DEFINITELY threw bars at Kim Kardashian ??? #TopOff

— Class ? (@CLASSIKMATERIAL) March 2, 2018
Beyonce has subtle shade for Kim Kardashian & Tiffany Haddish on #topoff the song was trash but I'm a messy bitch who lives for drama pic.twitter.com/BSA1XLg0pr

— Demonirican ? (@Moscathoe) March 2, 2018
https://twitter.com/dope_since91/status/969552828564934656
Beyonce:"If they're tryna party with the queen
They gon' have to sign a non-disclosure, ayy"
Kim Kardashian and Tiffany Haddish I am sooo sorry that queen B had to call you out like that but this is a bop#TopOff pic.twitter.com/qCXAoADG3l

— michelle (@_michellejeann) March 2, 2018
https://twitter.com/RlCHEYY/status/969540536116785152